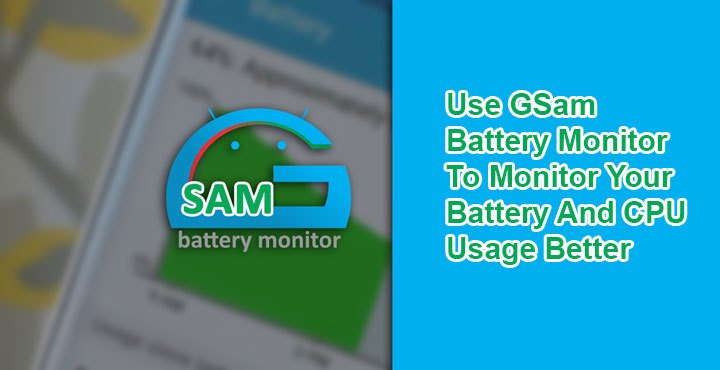 There's no denying that Android as an OS has come a long, long way from what it used to be in its early days. But there still are certain areas where Android needs to improve upon and with the two developer preview releases of Android O, it seems Google is still not seeing those shortcomings. Android's built-in monitoring tools such as the Battery and CPU usage stats are still not accurate enough 10 years later. Although the built-in battery usage stats provide some idea as to which apps are draining the battery, it pales in comparison to the charts and graphs provided by GSam Battery Monitor.
GSam is equipped with a wide array of graphs detailing the user about almost every technical aspect of the device's performance. Even the battery usage is more detailed compared to the stock Android tools. The app is available for free but is ad-supported. To its credit, the ads aren't as intrusive and there are no annoying pop-ups. Moreover, the ads can be turned off in the app preferences without paying anything.
Don't miss: The Facts and Myths About Smartphone Battery
Download GSam
[googleplay url="https://play.google.com/store/apps/details?id=com.gsamlabs.bbm"/]
Features
Hunt down those battery draining Apps with the App Sucker
Always know your battery state and time left estimates with an optional status bar notification
Overlay the stock battery icon with the icon pack add-on.
Dig deep into how an App uses your battery – including wakelock details
Sort your app suckers by things such as CPU & sensor usage, app wakelocks, wake time, and kernel wakelocks.
Set a custom time reference to see stats over a certain period of time.
See time remaining estimates based on current and historical usage
See historical averages – how long does your battery usually last?
Add a widget to your home screen showing the battery status and time remaining
Include all sorts of great battery information in your DashClock widget using the included DashClock Extension
Download or create your own icon themes
Set customizable alarms for various charge states, temperature, and battery health
How to use GSam Battery Monitor
GSam probably used to require a lot of permissions, but the latest version of the app that we tested requires absolutely no permissions. The only two permissions listed in the App permissions section are Storage and Telephone, but you don't have to grant those either. Once installed, simply launch the app, and you should see the main menu right away. You'll notice some of the data is not yet available. Give the app some time to calculate those and monitor your device so that it can show you a more accurate representation.
Related article: 5 Best Battery Saver Apps to Make Your Android's Battery Last Longer
Monitor Battery and CPU Usage
Finding out which app that you can live without is sucking your battery with GSam is a cinch. This is because compared to the stock Android battery usage stats, GSam lists more apps and you can choose whether you want to see stats since the last boot, last full charge or even since the last screen unlock. This can be done by tapping the delta icon on the bottom bar.
Tap on App usage or the App usage icon at the bottom bar, and you can see a list of all the apps that have been eating your battery. These are sorted in descending order of their battery usage, so the most notorious ones are right at the top. Another useful piece of information here is background usage. An app you use regularly is more likely to appear higher up in battery usage stats.
So how do you distinguish between the apps you are actively using and the apps that are silently sucking your battery in the background? Use the various filter options provided by GSam. These can be accessed by tapping the downward arrow icon in the upper-right. You can choose to see apps by the % power usage in the background or the CPU usage in the background apart from the other options.
This is mostly enough when you're trying to find out that battery leeching app. But, GSam also provides a number of graphs that you can find by tapping the square-ish gallery/pictures like icon on the bottom left. That's some pretty advanced stuff. GSam really displays battery and CPU usage on Android devices in a very detailed way and thus help you put a check on the battery drain.
Must read: Save Battery and RAM by Stopping Apps Running in the Background