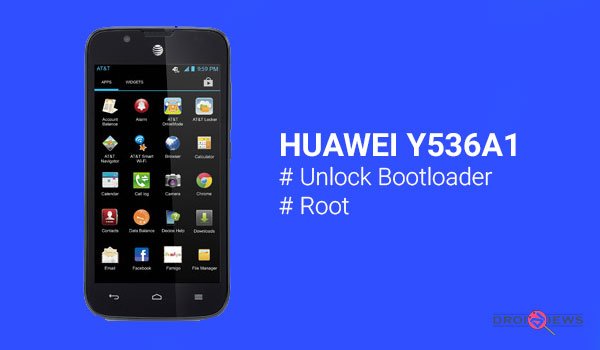 We have covered tons of articles on rooting the latest Android devices by popular OEMs like Samsung, Sony, HTC, Motorola etc. Some other not-so-known devices get left behind the list and we wouldn't like that kind of behavior. Huawei is one such Android phone manufacturer, which does not bear the kind of popularity that most other OEMs do, but besides that Huawei is a huge manufacturer of internet dongles, routers, repeaters etc. So we have decided to help our Huawei Y536A1 users to unlock their device's bootloader and root it, following the simple procedure below.
Huawei Y536A1 is also known as Huawei AT&T Tribute or Fusion 3. It comes with a sharp and big 4.5-inch display, 5-megapixel rear camera, Kitkat 4.4.3 out-of-box, with 2 GB RAM and 4 GB internal storage. Attempts have been made previously by many users, but no confirmation was reflected in return, until now. XDA member stevotdo has managed to compile a boot image (kernel) with root, which can be booted on the device from the bootloader mode, finally serving to root Huawei Y536A1.
For, now there is no custom recovery available for the device at the moment, but we are expecting to see one very soon.
Warning!
Rooting voids warranty, DroidViews or any of its community members shall not be held responsible for any damage to your Huawei Y536A1. Perform everything on your own risk and understanding.
Before You Begin
Backup your device completely, this includes storage, SMS, contacts etc.
Charge your device to at least 60% battery life
Enable USB debugging on your Android device. If you don't know how follow our guide.
Download and extract the required Android tools package: Link
Unlock The Bootloader
Unlocking a Huawei bootloader is similar to that of Motorola, requiring a unlock code. This unlock code could be acquired from Huawei itself. This requires the user to send an email to the company and then receiving the code in response.
You will need to send an email to [email protected], with subject as Request Unlock Code, containing the following content.

Serial Number:

IMEI:

Product ID:

Model: HUAWEI Y536-A1

Serial number and IMEI could be found under Settings.
Product ID (an 8-digit code) for the Huawei model could be found out by typing in the following code in the dialer:

* # * # 1357946 # * # *

Fill in the appropriate details of your Huawei device and send the email to the mentioned address.
You will receive a response mail with the unlock code for your device, which will be used to unlock.
Connect your device now and reboot into bootloader using the following command.

adb reboot bootloader

Enter the command to unlock:

fastboot oem unlock <unlock-code>

Here replace <unlock-code> with the unlock code you get in the email response.
For example:

fastboot oem unlock 1531461291861883

You will receive the output and your Huawei Y536A1 is now bootloader unlocked.
Root Huawei Y536A1
Rooting requires booting a modified boot image file using a fastboot command.
Download the image file: huawei-Y536A1-root.img
Transfer the image file to the android-tools folder.
Connect your Huawei Y536A1 to the PC via USB cable.
Open the android-tools folder. Press SHIFT key and right-click on an empty space inside the folder.
Select Open command window here from the pop-up menu that comes up.
Enter the command to reboot your device into fastboot mode:

adb reboot bootloader

Boot the kernel image using the following command:

fastboot boot huawei-Y536A1-root.img

And then, reboot the device:

fastboot reboot
Finally, you've successfully unlocked bootloader and rooted your Huawei Y536A1. The process was extremely short and easy to follow. Tell us what have you planned to do with your rooted Android phone via comments below. Provide us with your feedback, it is valuable to us and help us build a better community.