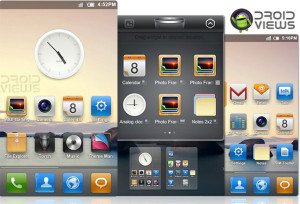 A big advantage of going for Android is that you can enjoy millions of third party apps and choose from thousands of custom ROMs developed for various Android devices. One Android device is as different from the other as one manufacturer from others. Thus different styles run over the same hood. Since Android OS is open-source, it can be modified by a developer to suit his personal taste or that of a certain type or class of people. You can not imagine an Operating System for mobile phones that are more generous and flexible. Of the ROMs that are most popular among Android users, the two are most popular: the CyanogenMod ROM and the MIUI ROM.
Personally, I have tried almost all major ROMs on my Samsung Galaxy S2, but ever since I started using the MIUI ROM, I fell in love with it. I think this is the best ROM for Android phones. MIUI is stylish, fast, battery-friendly and customizable. In this small article, we would try to understand what really MIUI is, how it can be customized, and dig into some tips and tricks about this great ROM.
Introduction to MIUI:
MIUI is an open-source ROM based on Android 2.3.7 (now ICS too) and CyanogenMod 7.1 sources. It was initially developed by a Chinese start-up  Xiaomi Tech in the Chinese language. Xiaomi added a number of apps to enhance the basic framework; those include MiTalk, MiNotes, MiBackup, MiMusic, and MiGallery and so on. MIUI was originally developed as closed-source software but went to an open-source development model under the Apache license in February 2012.
MIUI releases new updates on every Friday that is provided over-the-air, and direct download too. The official Chinese version is then translated in various languages by independent authorized developers. Currently, there are 21 franchisers from different countries who release the translated versions of the MIUI ROMs. Click on the country flags below to download the latest ROM in your native language. (Right-click on the images and open link in a new tab.)
The word 'MIUI' is made of 'MI' and 'UI'. According to Lei Jun, the CEO of Xiaomi Tech, 'MI' stands for Mobile Internet and Mission Impossible, while 'UI', a more familiar abbreviation, means User Interface. Based on Android OS and CyanogenMod elements, MIUI is very close to the iOS user interface. It has replaced Android's App Drawer function with iPhone's on-homescreen-app feature.
Major Features of the MIUI ROM:
T9 smart dialer, easier and faster calls
Group sending short messages for festivals
SMS, contacts, call logs backup
Over 100 themes created by fans available
Original third-party theme-changing program
Massive online themes for your choice
Precise interception of harassing calls and junk messages
Desktop folders encryption, hiding important programs
Unique guest mode, hiding all messages and call logs
MIUI Developer Team, over 1,000,000 MIUI fans
A weekly update of new features
Keep up with the latest Android system
How to Apply MIUI Themes:
Copy the .mtz theme file to SD Card/ MIUI/Themes folder on your device
Then go to Settings> Themes and apply the theme you like.
MIUI gives you the freedom to apply all or selected elements of a theme. For example, you could apply the icons of one theme, lockscreen from another theme, and so on.
To do this go to Settings> Themes> Edit Theme, then select the element you want to change.
If your device runs MIUI v4/JB, just tap on the "Themes' icon on your homescreen, select the theme you want to use, then apply.
Please note that in some cases, due to some system error, the themes on your device are not applied fully or partially. In such a situation, you can try the following: (a) try to apply the theme directly from the MIUI/Theme folder via File Manager; (b) Boot into CWM Recovery and Wipe Dalvik Cache from Advanced option and reboot device; (c) if any of these two methods do not work for you,  your last option is to reflash the ROM (preferably the latest version).
MIUI ROM Tips and Tricks
Launch Preview Screen
You can launch the MIUI homescreen preview feature by simply swiping your fingers across the screen horizontally or vertically. Besides, you can also do it by swiping your two fingers on the two opposite ends of the homescreen. You can also add/remove screens from here. By pressing and holding a screen, you can easily change its position.
Taking a Screenshot
The in-built screenshot feature is something special about the MIUI ROMs. To capture a screen from anywhere, you will have to go to Settings> Toggle Settings> Customize Toggles and drag the Screenshot option to the list of featured toggles. Now open the toggle drop-down menu on the screen you want to capture and press 'Screenshot'. The captured image will be saved to MIUI/screen_capfolder.
Setting Up Toggle Items
MIUI also makes it easier to directly configure the options of the toggle screen. When you pull down the notification bar, you will see the Toggle settings for plenty of options such as Airplane Mode, Bluetooth, GPS, Data, Lock, etc.  Normal pressing of the icons turns on or off a particular feature, while by long-pressing an option, you can directly go to the setting options of that item. You can move them up or down by long pressing the option.
Moving the App Icons on Homescreen
If you want to move an app icon from on-screen to another, here is a way that will help you do that faster.  Just press and hold the icon you want to move with one finger-tip, and with another finger slide the screen left or right to move the icon to the target screen. Another way to perform this action is this: press and hold the icon and drag it to the desired screen.
Changing or Adding More Icons on Bottom
Many people keep using MIUI on their Android device without knowing the fact that they can change the icons on the bottom of the homescreen. MIUI does not only let you change the bottom bar shortcut icons, but configure up to 6 app icons of your choice. In this way opening the apps you frequently use becomes easier. Just drag the app icon between two icons to add a new one, or drag an icon over another to replace that app shortcut.
Turning on the Torch Easily
If there is sudden darkness around you, or you need to turn on the torch feature, you can do it easily by pressing a single button. You need not unlock the screen and tap on the Torch icon. Just press and hold the Home button on lockscreen to activate the torch. This is very smart! Isn't it?
Launching Music Player from the Lockscreen
Want to listen to your favorite song? Just double-tap the clock on the lockscreen to bring up the music player. In fact, the music player app is always present on the lockscreen, but it remains in a hidden state.
Quickly Uninstalling an App
If you are using the MIUI ROM on your device, you need not go to App Manager to uninstall an app like you did in the stock ROM. MIUI makes it simpler and easier. Press and hold the app icon you want to uninstall and drag it to the trash bin on the top of the screen.
Quick Access to Shortcut Menu
You can quickly access the shortcuts menu bar in the Calls, SMS or Contacts app by tapping  the contact image. Moreover, you can quickly access the dialer or messaging interface by dragging down the call and message icon on the lockscreen.
 Quick Deletion of a Message or Call Entry
In the SMS or Dialer app, swipe left or right any entry will bring up the Delete mode.
Poor Battery-Life with MIUI?
If you feel that you are getting a poor battery-life since you installed the MIUI ROM on your device, you need to boost the battery. Follow the tips below:
Different ROMs have different configurations for the device's battery. Sometimes, your device gives the Low Battery warning and the battery icon on the status bar shows empty battery even when it is not discharged actually. This is a common issue when you switch to a different ROM. To solve this problem, boot your device into ClockworkMod Recovery Mode. Then go to 'advance' option and select 'wipe battery stats'. Reboot your device and you will notice a significant improvement in the battery-backup of your phone.
Another way to get a better battery-life is to calibrate the battery of your device using the following method:

Turn your device ON and Charge the device for 8 hours or more.
Unplug the device and Turn the phone OFF and charge for 1 hour.
Unplug the device, and  Turn it ON. Wait for 2 minutes then Turn it OFF and charge for another hour.
Your battery life should improve up to 30%.
I hope this article will help you customize your Android device running MIUI in a smarter way and make your experience with MIUI better. If you know of some other tricks, please share with me and I will update the post.