Everyone including me were swarming over to get an invite just to get a hands on with the OnePlus 2 this time. This experience brought back a huge Deja-Vu to us, well in a bad way. Some of us got lucky, while some are still testing out their luck. I luckily was able to catch hold of an invite, and right away place my order. The hype is now all in place, for now that I can fully have a look at the device.
Now that the OnePlus 2 is in my hands, I decided to test the Software more, instead of the hardware. As we all know, the best processor has been used to power the Adreno 430 GPU, backed up by a whooping 4 Gigs of RAM. While the OnePlus 2 sports some really good specifications, at an incredibly low price, it is the software which fascinates users like me.
I've been a user of OxygenOS on my OnePlus One, and believe me, I personally hated it. But, with the 2.0 version of it being used in the OnePlus 2, it now seems quite good. Let's have a look at the 3 best features to use in OxygenOS, shall we?
Buttons – An Extra Cheesy Option
If you've known the OnePlus One, or even CyanogenMod OS quite well, you might have used the option where you can choose between on-screen and off-screen buttons. I personally like on-screen buttons on my OnePlus One, but now that the OnePlus 2 has a physical home-button (not really), it seems kinda awkward to have two of them. OnePlus surely knew what they did with this ROM, and added some extra cheesy options to choose from.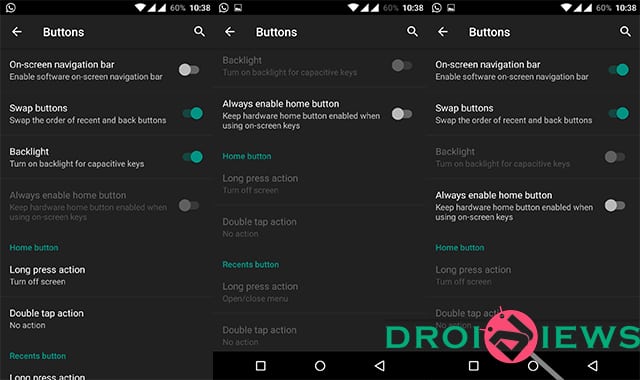 First off, you get the option to choose between on-screen and off-screen buttons as expected. Moreover, you also can choose whether or not to still continue using the fingerprint scanner as a home-button. When enabled, you've practically got two home buttons on your device (wait, what?!), and when disabled, that button cum touch pad acts like a fingerprint scanner only.
Change Icon Packs Without The Need For A Launcher
Android with no doubt is the only mobile OS which lets you personalize it the way you want to. There's practically nothing you cannot do once you have some basic necessities on an Android device. But, for a person who has just started using one (*cough*noob*cough*), it seems a big procedure to get those basic necessities done on his/her device.
Changing the icon packs and even the themes has been the very spirit of Android Ecosystem since we probably even remember it. But, for that, you either required an Android device running a Custom Launcher, such as Nova or Apex, or a device running the Cyanogen Theme showcase. However, with the OnePlus 2, backed up with OxygenOS 2.0, you can now change the icon packs on your will, without the need of a Custom Launcher.
In order to do this, you can simply get into Settings by pressing and holding on the home screen, and then selecting the icon pack of your choice. That's a neat feature, now, isn't it?
Shelf – A Place Which Replaces Google Now
With the coming of Android Lollipop, there is a specific page to the left of the homescreen. This differs in different OEMs. In Stock Android, swiping in to the left brings about the Google Now feed, and in HTC, you've got Blinkfeed. In Samsung and LG, the app can be different, and so on with many other devices.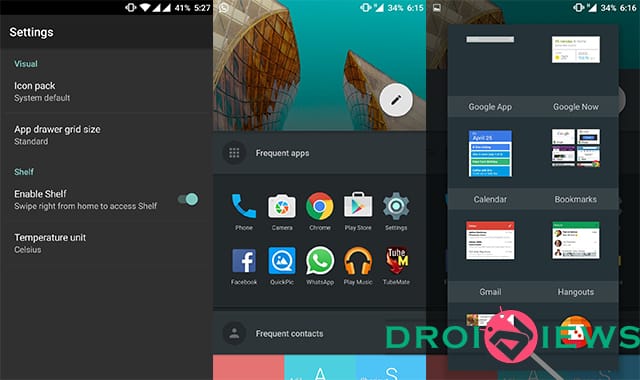 However, with the OnePlus 2 running OxygenOS 2.0, you get a neat little feature known as Shelf. Shelf is a place where you can see all of your frequent contacts, your frequently used applications, and some of the daily news feed. While Shelf follows the footpaths of Google Now, it seems a nifty little feature, which can bring about huge changes in the UI later on.
While OxygenOS 2.0 brings about a lot of changes in the feels of the OnePlus 2, these were some big changes which differentiate it from its previous release. If you have any questions regarding the OnePlus 2, and the OS it is running, feel free to leave us a comment below.