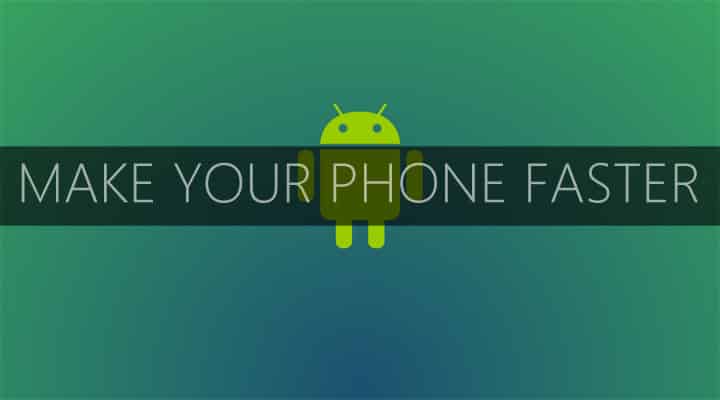 Current Android phones are powerful; we have 4 GB of RAM, 8-core processor, 32 GB of ROM, that's quite a lot of power for a 5-inch rectangular device.
But no matter what the specification of your device is, it will start to slow down after some time, that's the universal truth.
Here are 8 simple tips that will make your old phone faster:
1. Install A Custom Launcher
If your device is not running stock Android than it's possible that it will start to slow down after sometimes. It's user interface will start to lag. One simple solution for this problem is to install a custom launcher A.K.A home replacement app. There are tons of launchers in the Google play store, but I recommend you to install Zeam Launcher, Smart Launcher 3, Holo Launcher, or Hola Launcher. These launchers are very small in size and have very less RAM consumption.
We have earlier mentioned different launchers for different uses, have a look at that to decide which launcher will suit you the most.
2. Uninstall And Disable Unnecessary Apps
Android is available since 2008 but still, its memory management system is not always efficient. Sometimes various processes and applications tend to consume memory long after they have stopped being of use. If this happens a lot it could slow down your device. An effective way of dealing with this problem is to uninstall the apps that you use very rarely or don't use at all (excluding the inbuilt Google apps). You can also disable the apps that came as bloatware since such apps cannot be uninstalled unless you root your device.
Don't miss:
3. Delete Application Cache
Do this only if some app stop working or gives you a hard time but was working perfectly earlier. To delete app cache, go to your app settings in the settings menu, select that app, and tap the clear cache option. Doing so will delete all the saved login information so you'll have to enter your login details again.
4. Keep Your Home Screen Clean
This one is quite simple, don't put unnecessary stuff like apps, widgets, shortcuts, on your home screen. Only put the apps and widgets that are extremely important. Remove that weather widget or that Zooper widget that you use to beautify your home screen. What's important to you, making your phone speed, or making your phone beautiful? Deal with unnecessary home screens too. Make sure to keep your home screen organized and remove empty home screens.
5. Stay Updated
Update your phone as soon as you receive an update from your manufacturer or an update for your apps. These updates bring improvements that improve their performance and eliminate problems. Either you can update apps manually by going to Google play store and then to you apps and games management section or you can enable automatic update from play store settings so that your apps will get updated as soon as an update is available.
6. Remove Animation
Removing animations will surely make your phone faster but it'll remove the visual appeal of your phone. To reduce animation first make sure that you have enabled developer options. After that, head over to developer options and then scroll down until you get to window animation scale, transition animation scale, and animator duration scale. For each of them, you can scale down the animations to 0.5x from 1.0x or even just turn them off. When you do this, you'll notice that menus and transitions will appear faster.
7. Hard Reboot
It's a good practice to hard reboot your phone from time to time. "Hard" in hard reboot stands for "hardware", so it simply means turning your phone off and on but using the hardware. Sometimes a simple hard reboot could fix some performance issue.
8. Factory Reset
This should only be done if you have tried everything you possibly could, but still your phone has lag and performance issue.
A factory reset will erase all your data and settings, reverting your phone back to the way it was when you first took it out of the box. Before you start the factory resetting process, make sure to make a backup of all your data like photos. And for contacts, make sure that contacts sync is enabled by going to your account settings.
To factory reset your phone, go to your phone's settings, then to " Backup & reset", and tap on "Factory reset".
If you know other tips to speed up for phone, let us know in comments below.