We, the humans, are social beings and communication is an essential part of our lives. Just a decade ago, telephones were widely used to contact people while residing in one side of the world, to another. We are so much obsessed with communication and our social life, that a life without it could be unimaginable. Then came the era of smartphones, where people actually started to communicate in the form of chats.
There are a lot of such communication applications available for Android in the Google Play Store. Probably the best social media application till date is Facebook. While WhatsApp might be preferred by the millions of other people using smartphones, Facebook's Messenger is a strong hold in the communication game too. With the major haul over Facebook discontinuing in-app chatting, people were (and still are) forced to download the standalone application onto their smartphones.
However, I would be lying if I said that the Facebook Messenger hasn't improved at all. I now prefer it over WhatsApp, or any other social application for Android. Here are the top 3 things which you can perform in order to make your chatting experience more fun with Facebook Messenger.
Mute Notifications From Single Chat
Do you have that one friend who annoys you by repeatedly sending crappy messages? Is your friend always talking you into using an iPhone instead of an Android? You simply can't read and ignore the message, as your friend would know if you saw it. No problem! Just like WhatsApp, you can mute notifications for a specified amount of time, or forever until you turn them back on (that's cruel). Below are the simplified steps in order to keep the annoying messages from your friend off your Android device.
Launch the Facebook Messenger application on your Android device. Ensure you're running the latest version of the same for optimal performance.
Now, open up a chat which you'd like to mute notifications for. Tap on the little 'hamburger' style menu on the top-right corner of the chat.
Simply tap on the option which reads 'Mute Notifications'.
You will now be able to see a list of available time options for which the notifications will be muted for. Once the selected time has been elapsed, the notifications will automatically turn on.
Going going! To turn them on manually, you will be able to see the 'Un-mute Notifications' option instead of the former option now. Note that this works even for groups, so it doesn't matter which chats you mute the notifications for.
Take Pictures Directly From The App
Have a friend who doesn't believe in what you say? Sending a picture might just prove you right! But, the pain to take a picture from the Stock Camera, re-launching Facebook Messenger, and then choosing the specific photo you just took is just too vigorous. With Facebook Messenger, you can simply take a photo and send it directly from within the application. To do so, follow the given steps.
Launch Facebook Messenger, and open up a chat of any choice.
From the little row to the bottom, select the little Camera icon you see just next to the Keyboard icon.
A little pop-up shows up, and you can maximize it by simply swiping up.
Taking a photo is just as simple as it always was. Tap on the send button once you're good to go.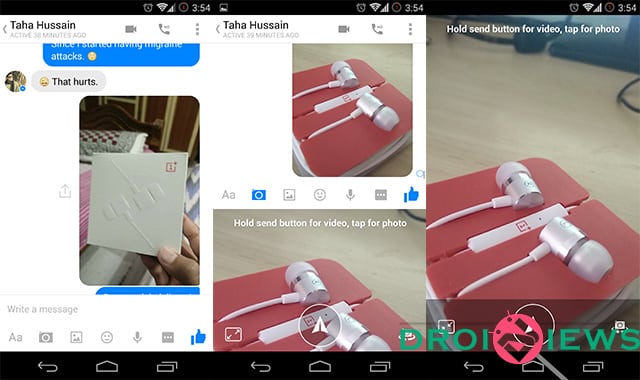 P.S. Once you press the send button, it directly is sent to the person/group you are chatting with. So, please, don't blame us if the person thinks your selfie is too scary. Additionally, you can take front and back facing shots, with the tap of the simply rotatory-button.
Get Extensions For Facebook Messenger
Yes, you heard it right. Facebook Messenger supports in-app apps (if that's even a thing). Obviously, they're not applications which you could use for hardcore selfies, but they come in really handy for improving the chatting experience. For instance, the 'Memes' extension provides you with a ton of themes (they're a lot), which you can use to add your own text on, and send it to the various people. Below are the things you need to do in order to make the most out of Facebook Messenger via in-app extensions.
Launch Messenger, and bring up any chat of your choice.
Tap the little three-dotted menu just beside the Like button to reveal a list of applications available for Facebook Messenger.
Now, the list will only fill up about 1/4th of your screen, all you need to to is pull the little pop-up menu to the top.
Nice! There are now a lot of extensions to choose from. These are simple applications available on the Google Play Store, so installing them isn't an ache either.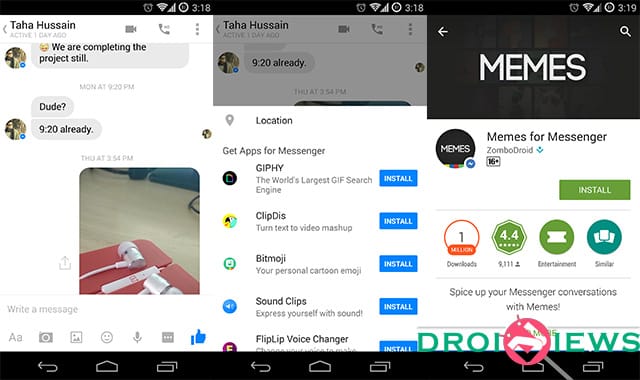 Have you enjoyed our pick of the top 3 things which you can do with Facebook's Messenger to improve your chatting experience? Make sure you leave us a comment below if you have any queries whatsoever.