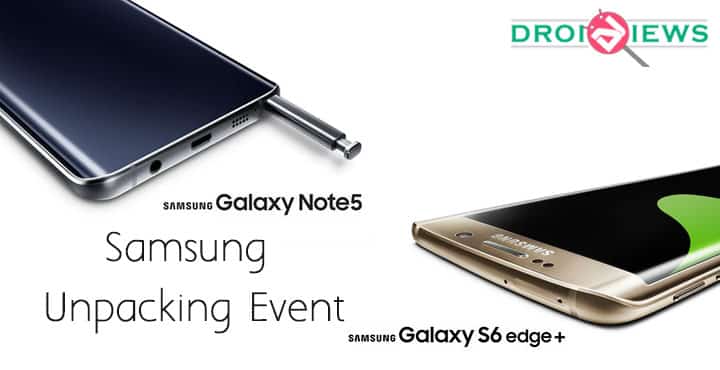 Today, 13th August was the Samsung #Unpacked event. If you have missed the event somehow, don't worry, we've got you covered on the major updates of the event. The ones most exciting.
Called the #Unpacked event, most fans had expected it to be more of launch for just one device, similar to the recent Oneplus Two unveiling VR Launch. But a lot happened, and a series of exciting updates are now present in the Samsung fan world. Let's cover one at a time.
Samsung Galaxy S6 Edge Plus: Yes, a really long name it has got. It's the 6th range in the Galaxy S series, and the 3rd in the S6 line [after S6 & S6 Edge]. It features a 5.7" QHD curved screen while the phone is actually smaller in size thus utilizing the curved edge.
Samsung Galaxy Note 5: Surprisingly so, it has the same screen size as the S6 Edge Plus along with the camera lens. Both devices also have 4GB of RAM on board along with 2.1 Quad core processors.
Samsung Galaxy Gear S2: No details, just an unveiling of the Samsung Galaxy Gear S2 video was played that will bring the round form to Samsung smartwatches, in line with Moto 360 and the LG G Watch.
Samsung Fast Wireless Charging: Fast charging will now be available in the wireless mode as well, as the charging cradles and the phones' capabilities have been improved. A complete charge time of 120 minutes has been advertised.
Samsung Pay: A significant time of the presentation was attributed to the Pay feature which will be present in both the devices and improvements have been made to make it universally applicable. Apparently, any sales point having a credit card reader will support Samsung Pay August 20 onwards.
Keyboard Cover: Yes, you read it right, it's a cover and it's a keyboard, a QWERTY keypad that can be slided and fixed on the back and brought to the front when needed at times of fast texting. This of course may not be shipped, but shall be available as a separate product.
Wireless Headphones : The devices shall support wireless headphones with approved acoustic composition, noise cancellation & other sound goodies.
Samsung SideSync 3.0: Syncing, importing, transferring information across devices [Android, Windows, Mac] shall be possible with this integration which can be used in apps like chat etc. as well.
Samsung AppsEdge: Favorite contacts, apps and shortcuts shall be available on the tip of the curves for fast usage. A key improvement here is that these shall be available not just on the home screen but in other apps as well.
Stylus: the Stylus now clicks, can be removed by pressing instead of pulling, has a ball-point, can write on the screen while the phone is still locked.
Camera: A 16 Megapixel rear and 5 Megapixel front camera is found on both devices with better lens, stabilization and the likes. A key improvement here is direct streaming of videos to YouTube from the 2 devices.
We think it was a fruitful day and marks a new beginning on the Samsung Horizon. Let us know what you think.