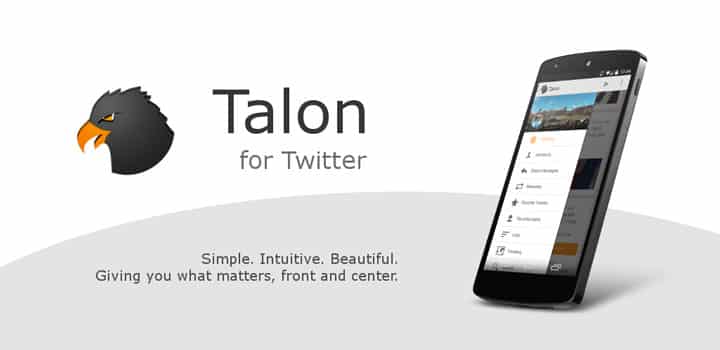 Advanced or frequent Twitter user are now diverting to different apps built for the social network. The Twitter website serves a lot of functionalities to the users but the app still isn't the best at the moment. As said by many regular users of the social network, the official twitter app has been struggling to stay the primary for Twitting.
There are plenty of other apps in the market that can replace the official Twitter app, but Talon for Twitter is one of the best. Talon for Twitter has been in the market for long and got the best feedback from almost all of its users. It is known for its powerful features, smoothness, quick and easy operations and a beautiful design.
Talon for Twitter has beautiful, material design layouts with a support for theme engine for primary and accent colors. Moreover, with Talon you get the privilege to manage 2 Twitter accounts and switching between them is easy. It supports Android Wear to view new tweets on your home timeline and also enables you to compose tweets, favoriting, retweeting, and replying from Android Wear.
Talon comes with many great features and gets updated frequently for stability and bugs fixes and gets all the updates from Twitter covered in no time; sometimes even before time. The latest and hottest among the updates is the support for the latest Android version Marshmallow 6.0.
Although the Marshmallow 6.0 has not been officially released yet, but you can still try it on the the Developer Preview of Android Marshmallow 6.0. So whenever the official update for your device gets out you can update your Talon for Twitter app for it in no time. Not just that but Talon has also revamped its Android Wear app layout with beautiful new design.
The full update summary is here:
Built for Android Marshmallow
Revamp of Android Wear app layout
Support for favoriting and retweeting statuses from Android Wear
Support for composing tweets on Android Wear
Support for replying to tweets on Android Wear
Show images on quoted tweets
Handle links to compose tweets
Direct Messages no longer have a character limit
Show images on user profile pages
Apply Android Marshmallow's new runtime permission model
Don't stream blocked users with Talon Pull
Don't redirect to the external browser for translations
Show embedded tweets rather than links in more places
Some performance improvements
Some bug fixes for direct messages
Fix duplicate tweets occurring for some
Various Bug fixes
Update application dependencies
Although Talon for Twitter is a paid app on Play Store, it is worth every penny and it is a highly recommended app for core Twitter users who want the best mobile experience of Twitter.