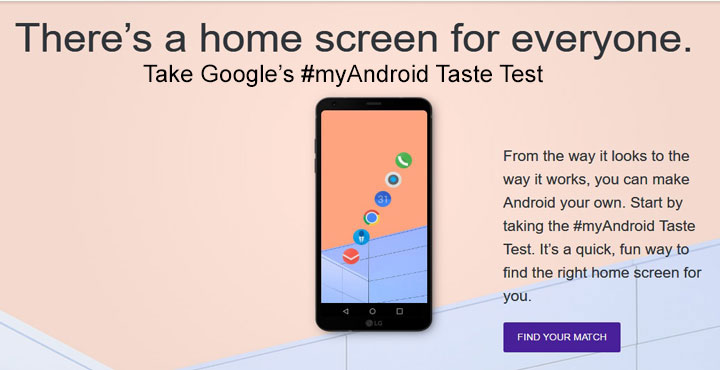 Why did you choose Android over iOS? There can be a lot of answers to that but the most common answer is, yes, money, but the second most common answer to that question is customization. Ever since its inception, Android has been the best at this one thing. But just the sheer number of options available today on the Play Store can be daunting to many, especially a beginner. Google wishes to help you find that perfect home screen for yourself with the myAndroid Taste test.
Luckily, it is not one of the tests that you come to dread. It is fun and simple and hardly takes more than a minute. The test consists of a series of questions that Google wants you to answer impulsively.
Also read: How to Update Apps Not Downloaded from the Play Store
Tap First. Think Later.
All you have to do is pick between two choices most of the times, sometimes there can be more choices to pick from. The questions range from light versus dark, maximalism versus minimalism, modern versus vintage to even some that don't seem to make any sense like if you see a pair of legs or two hot dogs or the shape of sandwich you prefer. Could be Google's weird sense of humor.  The choices are in the form of pictorial cards sometimes even animated so you have a visualization of the theme you lean towards more.
Once you're done answering the quiz Google will suggest at least three different home screens for you along with app recommendations for each one. The recommendations are not restricted to Google's own offerings and also include third-party apps as well. However, we can't say if the third-party apps are selected from the entire Play Store listings or from a pre-selected, probably Google curated the list of apps.
Related article: Make the Most of Google Assistant with These OK Google Commands
Recommendations
The list of apps recommended is a wallpaper app, an icon pack, a launcher app, a widget, and a keyboard along with the Google Play Store links for easy downloading.
I took the test four times picking different answers deliberately and I can already tell the list of apps open to recommendation seems predictable. For example, if at a stage you choose "Give me weather" or "Give me news"  you will be recommended the Google news & Weather app but if you instead choose "Give me music", Google Sound Search will make it to your recommendations.
Don't miss: 5 Must-Have Utility Apps for Android
Furthermore, no matter which options I selected I was always recommended Zedge Wallpapers, Delta Icon Pack, and Gboard. I wouldn't want to claim anything here since four times is probably not a lot of times but I just wanted to put it out here.
Overall it's a pretty nifty tool from Google much like the Android Tips and Tricks minisite that Google had previously launched. The myAndroid Taste test can help newcomers to the platform in finding their customization tools in the deep catalog of Playstore apps but it can also help Android experts find some new inspiration for a new look.
If you're an Android user, beginner, intermediate or an expert, I think you should take the test once even if just for fun. And also because now I'm very curious to know your results. Do share them with us in the comments below.