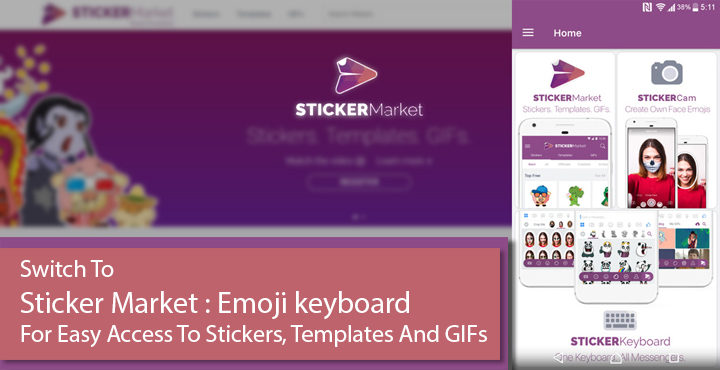 It is hard to chat these days without an emoji or two slipping into the conversation. If you use a messenger app that supports stickers and GIFs, the chat is even more colorful. And why shouldn't it be? After all, a picture speaks a thousand words as they say and so do emoji, stickers and funny GIFs. If you're a person who loves throwing in relate-able emoji, stickers, and GIFs into a conversation rather than typing, there is an app that you should definitely check out. It's called Sticker Market: Emoji Keyboard and no it is not just a keyboard app with built-in emoji support, which is basically every other keyboard on the Play Store.
Sticker market: Emoji keyboard is a keyboard app alright, but it is packed in with a few bells and whistles that you might like. If you're that kind of a person that is. It comes from Sticker Market, which is a global platform for stickers, templates, and GIFs. You can visit the website to take a look at the wide variety of stickers and GIFs available. Sticker Market Keyboard works in almost all popular messaging apps, such as Messenger, WhatsApp, WeChat, Hangouts, Snapchat etc.
The app is available on both iOS and Android but we'll be reviewing the Android one here because… this isn't iViews.
Also read: WRIO Keyboard Promises Fast & Error-Free Typing
Download Mirror Emoji Keyboard & Sticker Maker
[googleplay url="https://play.google.com/store/apps/details?id=com.mirrorai.app"/]
Note: Please note that the app we reviewed has been taken down from the Google Play Store but don't worry, we got a great alternative for you. Try Mirror Emoji Keyboard & Sticker Maker instead.
This emoji keyboard from Sticker Market replaces your default Android keyboard and thus grants you easy access to Sticker Market's huge library of stickers, templates, and GIFs. It works very much like any other keyboard when you don't want those extra fun features. But that's all when you first have the app so go ahead and download it from the Google Play Store. Feel free to use the link above.
Getting started with Sticker Market: Emoji Keyboard
When you launch the app, it asks you to sign in which you can do via Facebook or Google. If not, you can register with your email address but one of these is necessary before you get access to the app. Then, you will be guided through the easy process of enabling and then setting the keyboard as your default. As soon as that is done, you are free to use Sticker Market's large selection of stickers and other stuff. But, as mentioned, this isn't just a keyboard app with built-in stickers and stuff.
What all can it do?
Go ahead and launch the Sticker Market app from your app drawer. Right off the bat, you have three choices on the main screen – Sticker Market, Sticker Cam, and Sticker Keyboard. Sticker Keyboard takes you to the keyboard settings which include the preferred language, light and dark themes and some other usual keyboard settings. Sticker Market is where you can download stickers, templates, and GIFs but before you go exploring, you should probably check out Sticker Cam. Here you can create stickers using your own picture, and templates that you already have.
The Sticker Market app lets you upload your own GIFs to the platform and you can choose to keep those personal or public which shows the maturity of the platform. To make use of all the stickers you have downloaded, all you have to do is tap the sticker market button on your new keyboard while chatting. This lets you select from a set of standard emoji, or you can tap the icons at the bottom to switch between stickers, GIFs and your own emoji faces in that particular order.
Don't miss: 5 Gboard Tips You Must Check Out
Everything that you download or create is stored in the cloud on Sticker Market servers, hence the need to sign in during the setup process. This way, all your stuff is synced between any devices that you use the Sticker Market keyboard on or when you upgrade to a newer device.
Verdict
I wouldn't say I haven't seen these features before. In fact, I could probably name a couple of similar apps but none of them have support for both Stickers and GIFs. Not to mention the slick UI of the Sticker Market app compared to the others. I have used apps like Bobble before, and none of them stick around for much longer. That's mostly because I prefer simpler things in life and not because those were bad apps. From the looks of it though,  Sticker Market probably will fair much better than they did. If you're someone who loves to use emoji in their chats or text messages, you should definitely give this one a go.