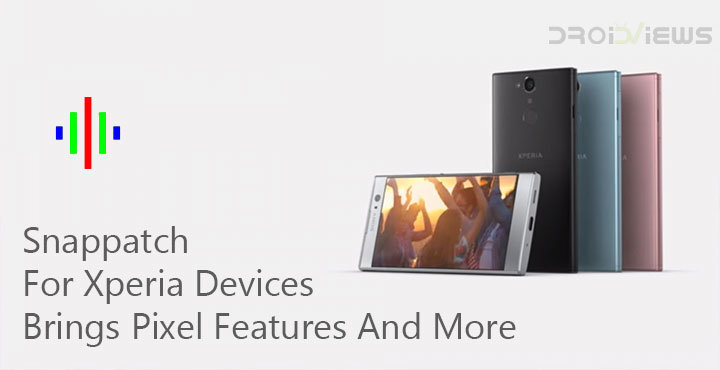 If you're into modding your Android device, installing custom ROMs and kernels, as well as other mods is something you'd be familiar with. Because that's what modding is, the next step in customization. There are all kinds of mods available all over the internet, not only for custom ROMs but also stock OEM ROMs. Most of the times these mods are about bringing features from other devices to your device. Whether you love the Xperia apps and live wallpapers or you want to try the Google camera and its HDR+ feature. There's almost always a mod and lately, the Pixel smartphones from Google have been the hottest targets for modders. Everyone wants what the Google Pixel has. While you can get several mods that port several Pixel features to other devices, how about just one mod that does it all? Snappatch from Miustone is what you're looking for.
Miustone says he started development on this patch with the Nexus 6, yes, before Pixel devices even existed. While most of the patch currently is about bringing the most loved Pixel features over to other devices, it is intended to be more. The developer wanted to develop a patch or mod that could be installed on any ROM, instead of developing a ROM himself. This means users can still have their favorite ROMs and enjoy the features Miustone has been working on.
It's easy to see how this can be really difficult, given the wide variety of hardware on Android devices. Installing a patch on top of an existing ROM further amplifies the problem. Every OEM has drastically different takes on Android already. Yet, many OEMs are now juggling between devices running stock Android and their own skins. Not to mention a number of their devices are never updated. So there is no uniformity even between devices from the same manufacturer. This is perhaps why Snappatch only works only with AOSP ROMs or ROMs that are close to AOSP, such as devices running stock Android. We have previously covered his Snappatch for AOSP ROMs that brought the Pixel 2 features to several devices running an AOSP or stock Android ROM.
Snappatch for Xperia devices is slightly different in that it has been optimized to work with various Sony Xperia devices. Running an AOSP or AOSP-based custom ROM is still a requirement. Thanks to Project Treble this should not be a problem at least for some devices. The developer promises that Snappatch will improve your device's "Performance, Efficiency, and Quality" while also bringing over a number of features.
Snappatch Features
Superuser Modded Services Jar
Xperia Stock DRM Fix and Kernels included
Latest Busybox with 400+ Applets (Excluded on Stock)
Magisk Stable Root included
SafetyNet Passing Changes
Pixel Bootanimation / Apps
Xperia and Pixel UI Sounds
Additions:

Advanced VR Capabilities
Features and Services

Optimizations:

Google Apps Set
Camera Handling
Display Handling
Rendering Handling
Storage Handling
Services Handling
Multitasking Handling
Audio Handling
Microphone Handling
4K & HDR Handling
Hardware Handling
Software Handling
Screenshots
Compatibility
We could have given you a bunch of names and a bunch of requirements for Snappatch to be compatible with your device. Although, this compatibility chart provided by the developer does a much better job at it. If your device falls under the blue region Snappatch is compatible with it. If not, tough luck.
Just in case you have any confusion, yes, Snappatch won't work on any of the Xperia Z series devices. The only X series devices compatible while running Android Nougat are Xperia X and Xperia X Compact. Even then, these should be running Android 7.1, not 7.0. All Xperia X series devices including the X and X compact running Android Oreo should be compatible.
Requirements
A Sony Xperia device from the X series powered by any Snapdragon chipset.
Unlocked bootloader
TWRP recovery
AOSP ROM
Downloads
How to install Snappatch on Xperia devices
Installation is pretty much the same as before. However, Miustone suggests that Snappatch should be installed upon the fresh installation of an AOSP ROM. This is a good practice anyway seeing how Snappatch is a collection of various mods and can conflict with any other mods or changes.
Download the Snappatch zip file from the link provided above. Also, make sure you have your favorite AOSP ROM downloaded because you'll be required to flash a fresh AOSP ROM.
Transfer the ROM and Snappatch zip to your device's external storage or a USB OTG.
Reboot your device into TWRP recovery.
If your device is encrypted, you'll need to format the data in order to remove encryption, albeit temporarily. To do this, select Wipe > Format data and type yes. This will also wipe your device's internal storage.
Once the encryption is removed, you can also create a complete nandroid backup of your device, just in case you want to revert back to the default ROM. To create a Backup, select it in the TWRP main menu, select all the partitions and swipe at the bottom to start the process. You don't necessarily have to create a backup, but it is recommended.
Go to Wipe > Advanced wipe and wipe the system, cache and data partitions. This will wipe everything on your device.
Select Install from the TWRP menu and flash the AOSP ROM.
Select the Snappatch zip file and swipe at the bottom to start the AROMA installer.
Follow the on-screen instructions in the installer as it presents you certain choices. Complete the process and then reboot your device by selecting it from the installer or tapping the Reboot system button after exiting the installer.
You can start using your device normally but Miustone suggests that you let the device charge all the way up to 100% for battery calibration.
You may like: How to Setup Androxyde Flashtool for Sony Xperia Devices (Windows)
sources: snappatch website, xda