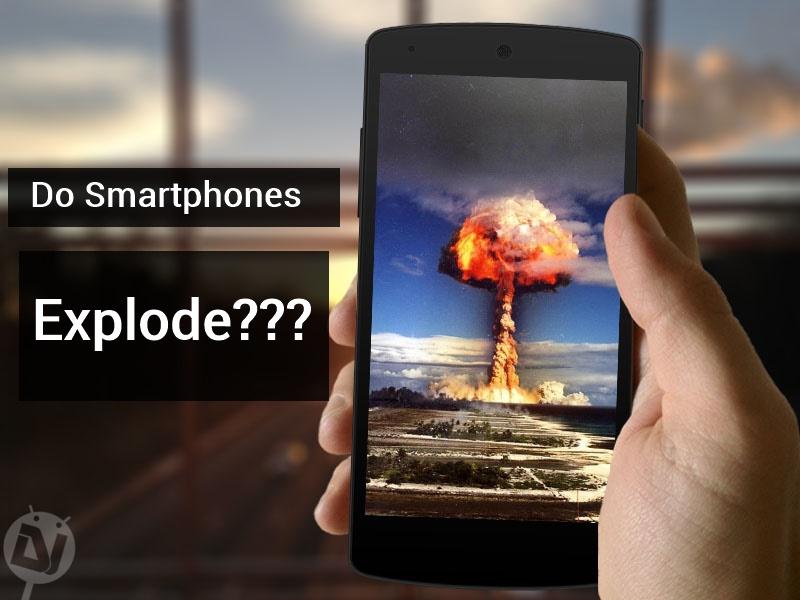 The Galaxy Note explosion incidents are a nightmare to Samsung as well as the smartphone users. While this is the first time everyone caught battery ignitions at a global level, it is one of the infamous accidents associated with smartphones. There are numerous incidents of smartphones catching fire every now and then causing harm to users. They usually catch fire while charging but there are incidents that prove otherwise as well. "Explosion" is quite a dramatic term for smartphones catching fire, but people usually relate it to these incidents. Today, let's see why do smartphones explode and how we can prevent it.
So, Can batteries really explode?
The smartphones batteries are basically Lithium batteries, both Li-ion and Li-Po batteries. They contain inflammable materials which can make your smartphone go haywire if reacted violently. The Lithium batteries operate on the basic principle of Cathode-Anode which you might have studied in Physics 101 class. The cathode reduces and releases electrons while the Anode oxidizes and collects electors. The transfer of electrons between the Cathode and Anode generates current.
The cathode and Anode are separated by a small membrane/valve that protects them from reacting violently. So, if the membrane collapses making cathode and anode to contact, then everything goes south. They both chemically react leading to a violent combustion which is quite rapid. But smartphone batteries doesn't have enough chemicals to really explode in a larger scale. However, things can go worse if the smartphone is encased in a really tight case. The case can build up pressure due to combustion which can lead to a powerful outburst which can cause severe damage to the users carrying it.
So, the batteries don't really explode, they combust quite rapidly. But if you're encasing your smartphone while charging or in hot conditions, things can get real nasty.
Who is the Culprit? Manufacturer or User?
It is quite a tough question to answer as no one can be blamed completely in such situations. Manufacturers usually implement a fail-safe circuit to prevent phone from overheating while charging or performing intensive tasks. It prevents the device from getting too hot for them to explode. A quality hardware and circuit components would definitely prevent such accidents. In the case of Note 7 incident, Samsung has cleared that a batch of devices has battery defects which caused the explosions but this is just a rare event. Usually, only a hand full of devices caught on fire from the millions sold.
Smartphone usage habits contribute a lot to such unfortunate events. Most of the users simply ignore many safety precautions considering them irrelevant in real time. Using smartphone while charging, placing phones in hot areas, usage of damaged chargers and wall ports can also contribute to explosions. So, let your smartphone take some air while it's charging. Don't push the boundaries too far that you regret it later. Moreover, it doesn't even take a full hour for the smartphones to charge 70-80% these days. So, better sit the hour in the real world while your precious smartphone is gaining some juice.
Always purchase a smartphone with good build quality to make sure the device has quality components. It really burns down to trust and loyalty of the users towards the manufacturers. The other important factor is your smartphone usage habits which can prove fatal at times. So, check down the below preventive measures you can take for your safety and that of your smartphone.
Protect yourself from Battery Explosions
If it's a hardware defect, we can't do much but we can surely protect ourselves by following some safety precautions. Check the below tips that protect you and your device from catastrophes.
Look out for danger: You can sense the warning signs in advance that your battery is damaged. Look out for popping sounds, hissing, or swelling of the battery. If you observe something like this, take the device to the service center and get the battery replaced.
Don't Charge When the device is too hot: If you observe that your device is getting too hot while charging, pull the plug out. Allow your device to cool down before charging it again. If it happens repeatedly, better take it to authorized service center.
Always use Company chargers: Always use the charger included in the box to make sure your device is being charged properly. It should receive optimum voltage and current and should not exceed it. Don't use 3rd party chargers if you're not sure it's compatible with your device or not.
Make sure the source is safe: Avoid charging your device from damaged wall ports and power extensions. It could damage your device severely.
Don't use Phone while Charging: Ahh!!! This is the major cause of battery explosions and human casualties. The smartphones become too hot if you use it while charging, this may lead to an aggressive fire.
Remove Case while Charging: Remove the mobile case while charging as this will let the heat dissipate to the surroundings easily. So, your mobile won't get hot while charging.
Don't Charge it too long: Many of us have the habit of charging the device overnight or leaving your phone to the car dashboard for a long time. This could potentially overcharge the device and could lead to unfortunate incidents. Also, this will weaken your battery thus reducing battery life.
Don't Charge near flammable objects: Don't keep your device charging near a radiator, pillows or any flammable objects just to make sure things won't go out of hand.
Conclusion
The smartphone batteries can be a potential danger if you let them. Only a tens of battery explosion incidents are reported out of millions of smartphones sold every year. But that doesn't mean the danger is not real, you need to be alert and take preventive measure to avert any mishap.
If you find a battery swollen or damaged, take it to the retailer or service center and get it replaced. If you have device covered under warranty, you'll get a replacement battery for free. Never throw the damaged battery in open places or trash and it could lead to fire hazards.
Finally, back to the initial question. Do batteries explode and are we in danger? No!!! But that doesn't mean that the threat is not real. It can get as real as it could be. So, play safe and avoid any smartphone accidents.