I always feel lazy when someone who is not in my contacts asks me to send a message to them. It happens especially when it's a one-time affair. I find it easier to convince them to send me the first message. Thankfully, there're 3 methods to send WhatsApp messages to people who are not in your contacts already. There's no need to save a number to send WhatsApp messages and below, we'll be discussing all those ways to WhatsApp without saving a number.
One of the most annoying things about WhatsApp is the fact that you cannot send messages to numbers not saved in your contacts. You cannot simply send a message to anyone just by typing his or her phone number. Well, there's no need to get frustrated about this WhatsApp flaw as there are 3 ways to send WhatsApp messages to unsaved or unknown numbers without saving a number to your contacts list. The methods described below work on Android iOS and Windows PC.
If someone has forwarded you anyone's contact on WhatsApp then you could send them messages without saving their number. But you just can't simply keep on performing these steps every time. Fortunately, there are some workarounds to bypass this limitation. In this guide, we will be discussing three methods to send WhatsApp messages without saving a number on Android devices. Let's have a look at each of them. But this is just one of the numerous amazing tips related to WhatsApp. You should definitely have a look at 25 WhatsApp tips and tricks to use it like a pro.
If you get a lot of messages on WhatsApp, your phone's gallery must be packed with a lot of media files. Using our guide you can make sure that all useless WhatsApp images and videos are deleted automatically.
Send Messages using WhatsApp wa.me links
Using wa.me link, you can send WhatsApp messages without saving a number to your contact list. This method is provided by WhatsApp itself, which you could read more about by going over to their FAQs section. Surprisingly most of the users aren't aware of this feature. If you are among one of them, then just follow these steps. First off, you have to enter the web address https://wa.me/phonenumber on any browser of your choice. Just replace the last part with the phone number and make sure to prefix the country/region code. But you shouldn't add any prefix such as  +,-,(), or 00. For example, Indian users would enter the country code 91 as prefix and then the 10 digits mobile number.
Text Selection Method of Sending WhatsApp Messages
In this section of the guide on sending WhatsApp messages to people not in the contacts list, we will discuss probably the fastest and easiest way of sending WhatsApp messages. Unfortunately, this method does not seems to work for all devices. Although it worked quite well on various Pixel and Android One devices, yet some Huawei and Samsung users weren't able to use this feature. Anyways, there is no harm in trying this amazing trick. It would hardly take a few seconds.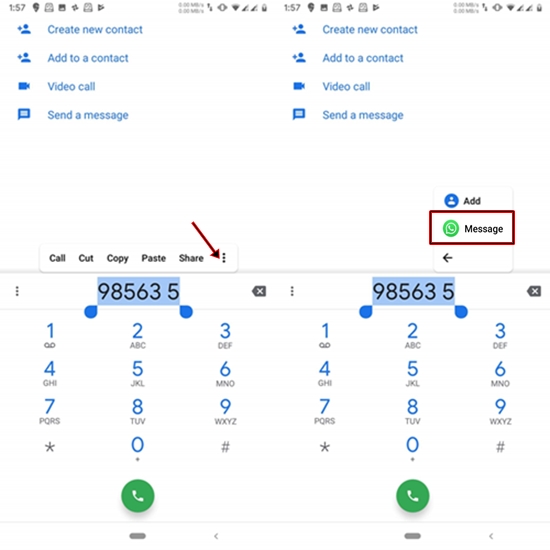 Just select the entire phone number by dragging the selector. You will then be presented with options such as call, cut, copy, paste, and three vertical dots to further expand the menu. Tap on it and select Message next to the WhatsApp logo. That's it. You will now be taken to the WhatsApp write message section with the sender's number already entered.
Don't Miss: How to View Deleted Messages on WhatsApp
Using a Third-Party App
Finally, to send WhatsApp messages to people not in the contacts list, we would take the help of a third-party app. Although I never vouch for any of the third-party apps or software, here I had to make an exception. This has been made possible thanks to the Click to chat app for Android app. It is an extremely lightweight app (119 KB) with no ads whatsoever. But the main reason this app attracted me was that it doesn't ask for any permissions as such. It would only ask to create a shortcut and nothing else. So if you are those who want the work done in an automated manner, definitely give it a try.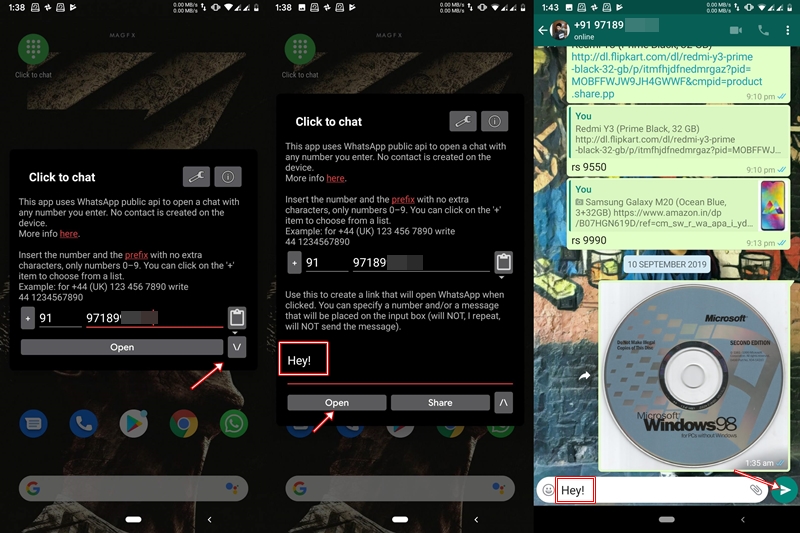 The method of using this app is exactly similar to the one mentioned in the first step. In the prefix section, simply enter the country/region code (for example 91 for India) and then enter the 10 digits mobile number. Again, make sure not to attach any +,-,(), or 00 in the prefix section. It also allows typing of the message from within its app only. Just click on the downward arrow to further expand the app and type in your message in the space provided. Finally, tap on Open. The message will be entered in the write message section of WhatsApp (as shown in the above image), you will simply have to send the message.
With this, we conclude the guide on how to send WhatsApp messages without adding a number without saving a number or adding it to your contacts. Let us know in the comments section below which one method you used out of the three.
Read Next: Schedule Facebook Posts, WhatsApp Messages, SMS and More