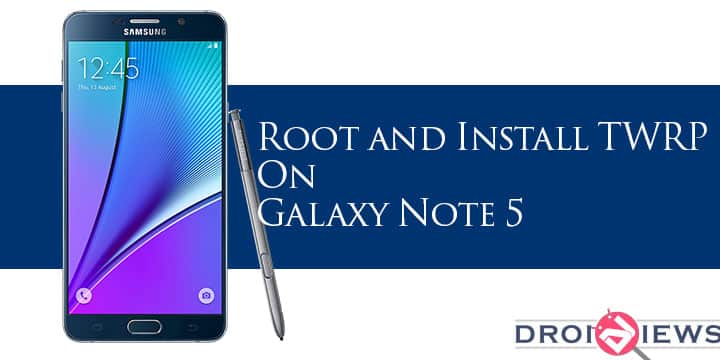 The Galaxy Note 5 is the latest flagship by Samsung and the new entry in the Note lineup. This year's Note has received an overall design change  than the previous iterations. Now Samsung has adopted the same metal and glass design that they introduced with the S6 and the S6 Edge. Though using a metal glass philosophy comes with the downside of non-removable battery and lack of a SD card slot.
Alongwith a design overhaul Note 5 comes with a quad-HD 5.7 inch display, powered by Exynos 7420 and 4 gigs of RAM. It also has a new S-Pen, with some new features that could help you take advantage of it. In the hardware department nothing beats this device and in the software department toned downed version of Touchwiz which we saw in the S6 lineup is back here with Android Lollipop 5.1.1 which provides buttery smooth experience.
Well its not even a month since the device come out and we already have a method to root the Galaxy Note 5 and install a custom recovery on it. Thanks to xda member Manh_IT, his hard work has been fruitful to us and now we have a method to root it. This method requires to flash a custom kernel via Odin and then installing SuperSU application to have root access. You could also flash TWRP via Odin after installing the custom kernel. Read the following guide to obtain root and install TWRP.
NOTE: Installing TWRP is not necessary to obtain root for Note 5. but can be flashed to obtain other functionalities of a custom recovery.
WARNING: Rooting your device following this guide will Trip the Knox counter and you will loose your warranty and thus render your device unusable for upcoming security-reliant services like Samsung Pay. There is no known way at the moment to reset the counter,OEM_unlock or not trip it while still obtaining root. So before proceeding keep these things in mind.
Root Galaxy Note 5 (T-Mobile & Sprint)
Things You Will Need
Samsung Galaxy Note 5 (N920T/N920P): Do not try with any other model
ODIN: LINK
Custom Kernel ( Noble_Kernel_Auto-Root): LINK
TWRP-2.8.7.1-Alpha_N920T.tar.md5: LINK

BETA-SuperSU-v2.49.zip (Download only if you wish to flash TWRP also)
Steps To Follow:
To root the Galaxy Note 5 you need to flash a custom kernel on your device using ODIN. Follow the steps given down below to root your Note 5.
Download the required files. Ensure that you download the kernel zip for your device model only.
Enable OEM Unlock in the Developer Options through Settings app on your device. To do so go to Settings >About Phone and tap build Number several times until it says 'You are a Developer'. Now go into Developer Options and enable the option to Oem Unlock. 
Boot your device into Download mode:

Power off the device.
Press Volume Down + Home + Power ON button at the same time and hold them.
With buttons pressed, wait few seconds for warning screen (with a yellow triangle with exclamation mark inside).
Read the warning screen.
Press Volume Up to continue to Download mode.
Download mode is advertised by red text in the left upper corner.

Now open 'Odin3 v3.10.7.1.exe' on your PC and connect your phone to your PC via USB cable.
Odin should detect your device and change the color of the first box. If Odin does not detect your device, try installing USB drivers on your PC.
Now choose AP and browse the .md5 Kernel file that you downloaded. In the Options tab of Odin only check mark 'Auto Reboot' and 'F.Reset Time'.
Once the file is added, click on Start (Check the screenshot before clicking Start).
Once the process is complete, Odin will flash Pass and turn the box Green. You could also see the log to check what process is going on.
Reboot your device after all process are complete.
Now open Play Store on your device and download the SuperSU application. Open the SuperSU application and update the root binaries if required.
Check if you were able to successfully root your device via Root Checker application available on the Play Store.

[googleplay url="https://play.google.com/store/apps/details?id=com.joeykrim.rootcheck"]
Install TWRP on Galaxy Note 5 (T-Mobile & Sprint)
Download the TWRP-2.8.7.1-Alpha_N920T.tar.md5 from the link given above.
Follow steps 3-5 of the above tutorial and then instead of choosing Noble kernel file browse for TWRP-2.8.7.1-Alpha_N920T.tar.md5 and click on Start keeping other things same as above.
Once the process is complete Reboot your device into Recovery mode by holding Power +Volume Up+ Home key for a couple of seconds.
You could flash SuperSu zip over here instead of installing the application via Google Play Store.
Gain root access on recently launched Samsung's flagship device Galaxy Note 5. Do tell us are you willing to lose your warranty and tripping Knox on your brand new Galaxy Note 5 or would wait for another method to root your device without tripping Knox counter. Also leave us your queries in the comments section below.