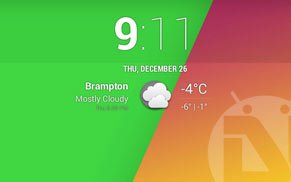 Paranoid SaberDroid is based on KitKat 4.4.2 for the Nexus 4. Don't get fooled by the name it isn't developed by the ParanoidAndroid team, but includes some of the features that are included in most ParanoidAndroid ROM builds. Some of the main   
Features included in this ROM are the following:
All features PA 4.0 currently has 

(no Halo; no Pie; no Hybrid Settings!)

Lockscreen Notifications-Manage your Notifications directly on your lockscreen! It also includes pocket mode and some other very useful features.
Lockscreen Blur
Recents RAM Bar
Custom System Animations
Network Traffic Meter
Immersive Mode
Volume Key Cursor Control
And much more!
One of the features that I enjoyed most of this ROM was the immersive mode. Immersive mode is just basically PIE but a lot cleaner and responsive. Instead of the control wheel that you had to touch on the side of the screen to exit an app etc. you just swipe up on the status bar and it reveals the transparent navigation and status bars. Another neat feature that this ROM includes is the transparent lock screen- It isn't fully transparent however can be blurred to a certain degree, this feature just makes the device looks a lot more stunning especially if you have the right wallpaper.
Battery Life
In terms of battery life this rom did well as expected with franco kernel. I got about 10 hours and 15 minutes, and 3 hours and 15 minutes on screen time.
NOTE: Franco kernel does not come with this rom but can be downloaded from the Play Store.
Just go to playstore and type in franco kernel and downlaod the app and install the kernel.
Installation
Download Rom & PA GAPPS ( Links will be below)
Boot into latest TWRP/CWM
Wipe Data, Cache, and Dalvik Cache
Install Rom
Install Gapps
Reboot & Enjoy