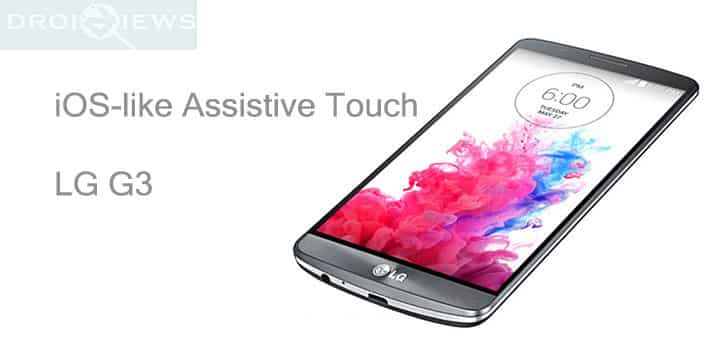 The stock LG G3 touch assistant is not a fancy one as compared to the iOS-like assistive touch. It is bland and doesn't go well with the nice-looking user interface of the LG device. So here is a chance to revamp the touch assistant on your G3. The listed touch assistant has all the functions from the assistive touch and comes with a new user interface. It has Home button shortcut key that can function as your Home button in case it has been damaged or has turned faulty.
Although touch assistants were meant for people with physical impairments or for devices with faulty hardware keys like volume and home key, it has become quite popular among Android and iOS users, as people have grown to the ease of operating it. Touch assistants make accessing different functions and operations easier and quick.
The reason to change the touch assistant on your G3 with this one is that its simply faster than the stock one and moreover, you don't need an external app for this purpose as it replaces the stock one and runs as an internal application and not a 3rd party app. This new touch assistant comes in 2 iOS styles and one touch style. This has been tested on the kitkat firmware for the LG G3 and users can install it on Lollipop firmware at their own risk.
Download Section
Download | LGSettingsAccessibility iOS Style
How to Replace Touch Assistant on LG G3
Download the LGSettingsAccessibility.apk file from the download section for your LG G3.
Go to system/priv-app/LGSettingsAccessibility/ , and you will see the original (LGSettingsAccessibility.apk) file in the folder. Do not replace it just yet. Copy the original file somewhere safe or simply rename the file with something you can remember for later. This way you will have a backup if you want to revert back to the original file. In short, have a backup of the original file in case anything goes wrong.
Now place the LGSettingsAccessibility.apk file in the same system/priv-app/LGSettingsAccessibility/ path.
Set the permissions to rw- r– r– from the properties. To know more about setting permissions click here.
Reboot the device.
Once you reboot your device, you can now enjoy your new touch assistant. If it force closes or causes any problem, then restore the original file you just renamed, going through all the steps and reboot. For any queries, comment down below.