Oxygen OS is known amongst Android enthusiasts as the best or at least one of the best versions of Android to have ever existed. It's nearly stock Android but with some added features that users actually want. Still, you'll find a number of third-party developers trying to add some extra features to Oxygen OS. That's exactly the case with the RENOVATE ICE Magisk ROM for the OnePlus 7 Pro. It's an awesome OnePlus 7 Pro ROM that adds numerous useful features to the device.
Why would you want RENOVATE ICE?
Since OnePlus is very selective about what features they want to put in, it also means Oxygen OS misses out on a lot of features as well. Especially features that custom ROMs have such as the ability to alter the number of tiles visible when you pull down the quick settings. In fact, RENOVATE ICE Magisk ROM is a Magisk Module that gives you those features without having to install a full custom ROM based on Oxygen OS.
RiCE or RENOVATE ICE Magisk ROM Tweaks
System UI
Options to enable:

180-degree rotation
immersive mode
immersive mode per app (subscription only)
Quick settings pull down
smart pulldown
seconds in the status bar clock
battery bar and customization options
expanded notifications

Quick settings animation pulldown styles, pulldown duration, pulldown Interpolator.
User-selectable number of compact quick setting toggles, rows, and columns.
Allows to enable/disable quick setting tile labels, oreo style quick settings
Change the position of brightness slider (above Quick settings, default, hidden)
Statusbar clock position (left, right, center, hidden)
Provides the option of hiding keyboard selection notification, allowing seek bar is media notifications.
Custom Navigation bar height.
Application
Allows enabling screenshots in secure apps such as Snapchat.
Lockscreen:

lock the quick settings on lockscreen
randomize the digits of the keypad on lockscreen
disable power menu on the lock screen
hide the lockscreen time & date, status bar, album art, and lockscreen shortcuts

Thin clock font on default Ambient Display clock style
Option to change horizon lights repeat animation count and color,
Allows hiding the app name, icon, notification title and summary from notifications on the ambient display
Ambient Display Colors
Customize the color of Ambient Display clock, accent, link colors to system accent color, left and right edge notification color
Option to set the edge notifications color to the same as the system accent color.
Statusbar Colors
Customize the color of:

the status bar clock
notification icons
battery icon
battery percentage
Bluetooth icon
location/GPS icon
volume mode icon
Wifi icon
signal bars
carrier label on lockscreen
net speed view

Allows selecting a different color for status bar icons on a light background.
Option to link status bar icons to system accent color
Quick settings Colors
Customize the color of the quick settings panel, status bar clock, date, Bluetooth icon, location/GPS icon, volume mode icon, Wifi icon, signal bars, and net speed view
Option to link status bar icons to system accent color
Miscellaneous
Lock the phone if dropped and free fall is detected
Enable native call recording and extended volume panel
Customize which items appear in volume panel (subscription only)
Window animation scale
Transition animation scale
Animator duration scale
Buttons/Remaps
Disable power button if in pocket
Remap long-press power when screen off to torch
Automatically turn the torch off when waking the device
Set various actions for long-press and double-tap of home, back, and recents button.
Requirements
RENOVATE ICE is a Magisk Module so it can be flashed through Magisk Manager. However, if you want it can also be flashed via the TWRP recovery instead. Needless to say, this means there are a few requirements.
A OnePlus 7 Pro running Oxygen OS 9.5.9. Unlike many other Magisk ROMs, RENOVATE ICE isn't just a collection of some build.prop tweaks. It actually gives you some additional features over the stock firmware like all the other stock-based ROMs that are now out of fashion. This is why having the exact same firmware version is of utmost importance for this to work.
Your OnePlus 7 Pro must be rooted with Magisk and/or have TWRP recovery installed. Since it is more likely that your device rooted with Magisk than having TWRP recovery installed, we're going to use the Magisk Manager method in the tutorial below.
Download RENOVATE ICE Magisk ROM
RENOVATE ICE 4.0 for OnePlus 7 Pro (Oxygen OS 9.5.9)
Once you have downloaded the RiCE or RENOVATE ICE Magisk ROM, flash it using Magisk as described below.
Flash RENOVATE ICE Magisk ROM on OnePlus 7 Pro
Download the zip file linked above in the Download section.
Open Magisk Manager and head over to the modules section using the side menu drawer.
Here, tap on the floating + button at the bottom.
Navigate to the downloaded zip file and select it to install it.
Once installed, tap on the Reboot button to reboot your device.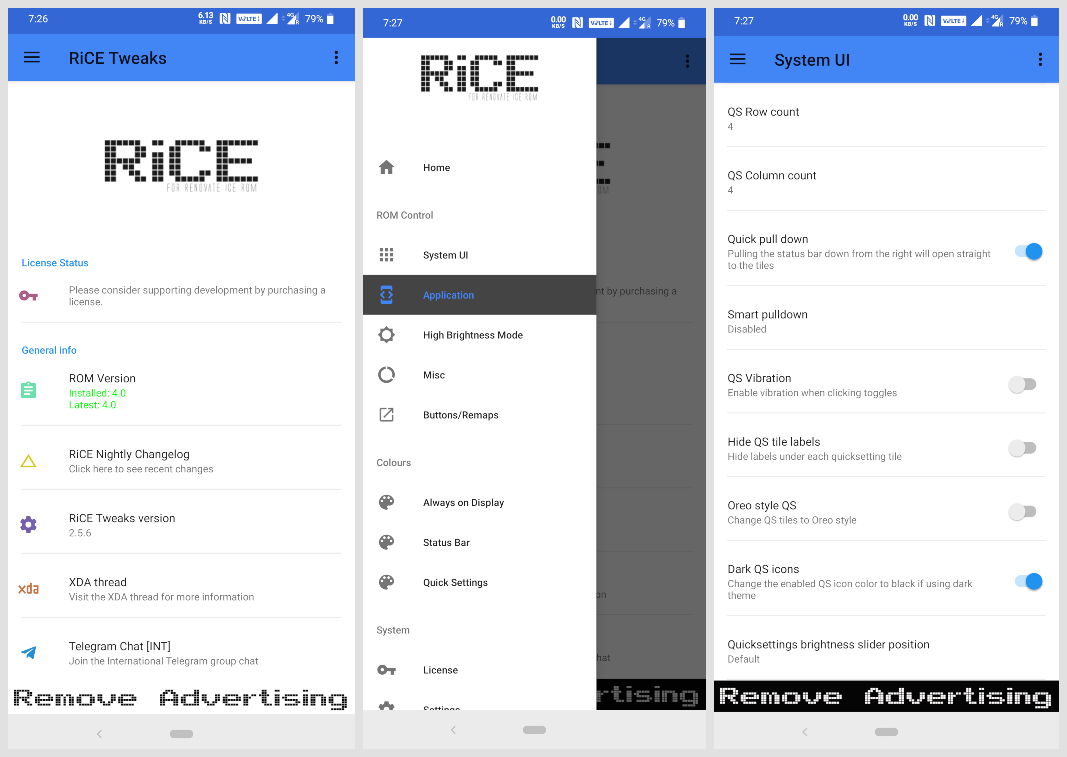 When your device reboots, you'll find the RiCe app in your app drawer. Using this app, you can apply all of the tweaks mentioned above. When your OnePlus 7 Pro boots up with RENOVATE ICE Magisk ROM installed on it, you'll be able to enjoy all-new features.
Read Next: 25 Hidden Android Tricks & Secret Settings You Must Check Out