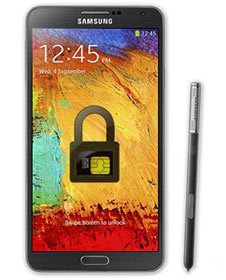 Unfortunately Note 3 users that travel a lot, might face a couple of obstacles while doing so. Samsung has decided to "Region lock" their Note 3 devices. What that means is, you can travel and use your phone all over the world but only with your SIM or the one from the same region.
For example if you have an international version of Note 3 SM-N9005 bought in EU and you want to travel in Asia, US, Canada, you are obligated to use your SIM since local SIM cards won't work. Using your SIM while abroad is much more expensive though. When inserting foreign SIM card while abroad, you will be prompted with this message:
To remove regional SIM lock on Galaxy Note 3 SM-N900/N9005, you can use Chainfire's Region Lock Away which you can purchase from the Play Store.
[appbox googleplay eu.chainfire.regionlockaway]
Region Lock Away app requires root access and works on MI7, MJ1, MJ3 firmwares. However Samsung Germany claims that region lock goes away after 5 minute talk, incoming or outgoing, with SIM card from the same region the phone was bought.
What that means is, if you bought European international SM-N9005 version, you can insert any SIM card from European carrier, as long as that carrier does not also include SIM lock. After a 5 minute talk, region lock should go away and you were supposedly able to use any SIM card of your choice. This is suppose to be a preventive act from selling devices all over the world – black market. They do not want you to buy a phone from India for example where Note 3 prices are lower…
The other roaming limitation is "SIM lock" feature. It is similar to region lock but not the same thing. SIM lock comes from Carrier. Unlike region lock, which is network blacklist – list of countries and carriers  where your network connectivity won't function, SIM lock is a white list of carriers where your device is going to work.  So we could say SIM lock is a lot more tight, narrow limitation.
For example, if phone is region locked and bought in US it should work with any SIM card and in any network as long as you don't leave that region (wouldn't work in Canada or EU for instance) whereas SIM lock, lets say from T-Mobile carrier, they can restrict device functionality on any other SIM cards except on theirs.
Chainfire's Region Lock Away does not unlock SIM (except T-Mobile Note 3 for AT&T network – exception). How ever some people reported that unlocking SIM has in fact unlocked region lock as well, but that is not verified.
To SIM unlock your device, I am afraid there is no application to do that, but there is a way of doing so with help of this web site or this one ( this would work for all Note 3 modems from USA and EU). They provide you with SIM unlock key but you'll have to pay for that service. Also, since CF Region Unlock works on limited number of firmwares and is not permanent (OTA update to newer firmware will remove unlocking app) it might be a better option to buy SIM unlock key from site mentioned above.