Chinese company Jide Tech recently started up a Kickstarter project called the Remix Mini which according to their page is supposed to be the world's first true Android experience. The Remix mini is a small pebble shaped device that is supposed to be an 'Android' miniature PC which comes with fascinating specifications at a very interesting price.
Founded by 3 ex-Google employees, Jide Tech aims to bring Android to those looking to experience its simplicity on a big screen, along keyboard and mouse support and connectivity as same as a Desktop PC.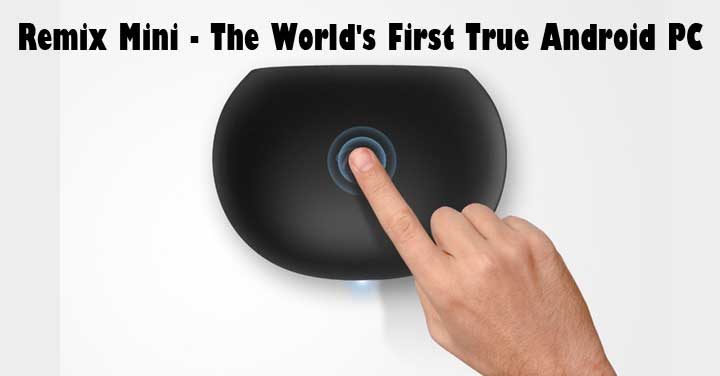 At a mere124 x 88 x 26 mm, the Remix Mini is small enough to be portable, and large enough to handle all features that a mini computer needs. There is a 1.2GHz quad-core AllWinner 64-bit processor inside, along with any one of two memory and storage configurations: 1GB RAM with 8GB internal memory or 2GB RAM with 16GB internal memory. Connectivity wise, you get Wi-Fi b/g/n inbuilt, Bluetooth 4.0, Ethernet, and 2 USB 2.0 ports. The Remix Mini is also capable of handling up to 4K video output and comes with an HDMI port. Also included is a headphone line-out and a microSD card slot to for storage expansion. The detailed specs are shown below.
This mini PC includes a capacitive power button on the top, which makes powering on the PC very simple.
The main highlight is the Remix OS (custom UI that runs on top of Android Lollipop) is what makes this device stand out from the crowd. Exactly like an Android device, it can run the huge plethora of mobile apps available for the platform even though the project page says it isn't Google certified, meaning it may not include the Play Store or other Google apps. But unlike your typical phone, it houses a taskbar, window-based multitasking, and complete mouse and keyboard support, everything needed in a traditional Desktop PC.
The company is was seeking $50,000 for the Remix Mini on Kikcstarter, but has already nearly doubled that goal due to the overwhelming response with less than 40 days to go.
Backers interested in pre-ordering the mini PC could do so for a minimum pledge of $20 for the 1 GB model (sold out!) and $30 for a 2 GB model. After that, the required pledges will jump to, respectively, $30 and $50. The company plans to ship the devices in October of this year.