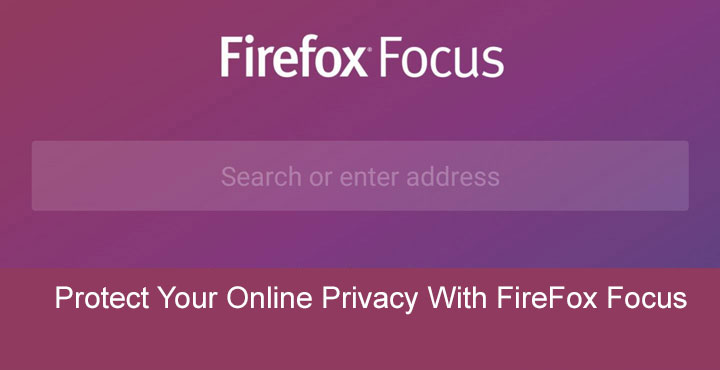 We live in the age where DDoS attacks are common, the NSA is always watching and then there are advertisement companies that are always tracking you around the web. It's becoming increasingly hard to protect your online privacy but it's not like you can't do anything about it. There still are people and organizations concerned about online privacy and luckily, Mozilla happens to be one of them. And that is why they've created Focus. It's a browser that is focused on privacy and not on features. Firefox Focus was originally released for iOS in November 2016 and it sure did take its time coming to Android. It wasn't until last month that Focus was officially available on Android.
The wait has been worth it because Mozilla has added certain Android only features in Focus. That could be because Android offers more flexibility than the other OS. Android-specific features include:
 An ad tracker counter, to see how many ads are blocked per site.
The ability to disable the tracker blocker for sites that are not loading properly.
And the option to have a notification sent when Focus is running in the background.
Don't miss: 20 Google Maps Tips and Tricks You Must Know About
Download Firefox Focus
[googleplay url="https://play.google.com/store/apps/details?id=org.mozilla.focus"/]
Browse around on Firefox Focus
When you launch the app, it gives you a brief description on what exactly Firefox Focus blocks, and then you have a two-in-one search and address bar. That's pretty much it except for the three dot menu button in the top right corner. I don't think anyone will be complaining about that color scheme though. You can start browsing websites right away. There are no suggestions that we've come to expect from almost every web browser. That kind of defeats the whole purpose of protecting your privacy if your browser itself is tracking you.
If you tap on the three dot menu button in the upper right corner, you can go to settings. Firefox Focus is a pretty bare bones browser and if that wasn't already evident from the main screen, it will be when you are in the settings. There aren't a lot of these to tinker around with, but whatever settings there are, they're important. The first setting which almost everyone would want to change is the default search engine.
Must read: Some Tips and Tricks for Chrome Browser on Android
Since Mozilla and Google aren't in a partnership anymore, the default search engine on all of Mozilla's browsers is either Bing or Yahoo. You'll probably be happier changing that to Google. By default, all kinds of trackers – ad trackers, analytics trackers, social trackers – are blocked. I don't see a reason why you would want to unblock any of those but you can if you want to.
There's also a Stealth Mode which is on by default, although you might not notice until you try taking a screenshot. While it's on, it disables screenshots and would not even show the currently open website in the recent apps menu.
But perhaps the best feature on Focus, is how easy it is to clear your entire browsing history before you exit the app. There's a floating button at the bottom-right corner right within the browser and anytime you tap on it, it closes the website you're currently viewing and clears up your history. That's pretty neat. There's also an ongoing notification while you're viewing a website tapping which accomplishes the same task.
Focus is really light-weight and fairly quick too. Even if you're not concerned about privacy, it's a really nice alternative for phones that don't have that kind of processing power or are just dying of old age. There is, however, a really big drawback in Focus. Mozilla Firefox was the browser which introduced the world to tabbed browsing, and I don't need to tell you how it changed things for the better. Ironically, Focus lacks tabs. I can't think of a reason how a lack of tabs is more privacy-focused so I'd consider this as a drawback.
Must read: 5 Best Alternative Web Browsers for Android
Not that it is a deal breaker though. Focus was never meant to replace your favorite browser.Fire