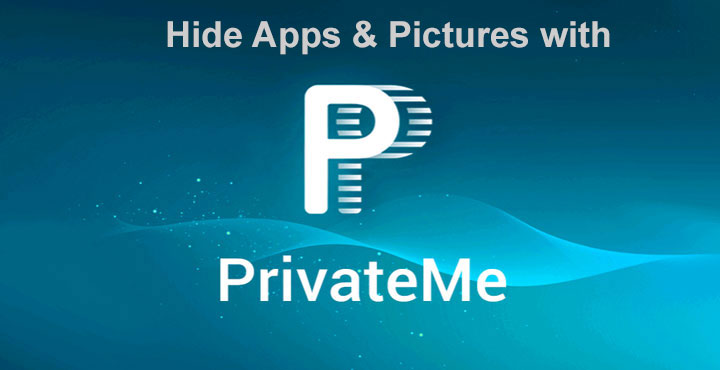 The Google Play Store is chock full of App lockers, some bad, some good, some even better. Some even allow locking pictures behind an encryption. The point is, there is no lack of quality privacy apps on the Play Store. But most of those apps only lock or hide the app from the App Drawer. If someone were to take a look at the Apps section under settings, they could see the apps you have locked or hidden which can arouse suspicion. Or imagine locking a messaging app yet the pictures received by the app are visible in the gallery. You then have to hide them separately or delete them. Have you faced these issues? In that case, let us recommend a new app locker called PrivateMe. PrivateMe hides apps like they don't even exist.
PrivateMe can hide apps from your launcher, recent apps list, app management in system settings.
[googleplay url="https://play.google.com/store/apps/details?id=com.trigtech.privateme&rdid=com.trigtech.privateme"/]
It isolates locked apps in its own ecosystem within your device's OS thus shielding the app and all of its data, wherever it is stored, from prying eyes. PrivateMe reminds us a lot of Parallel Space since it basically does the same thing, except it advertises itself as a locker app instead of an app that lets you use two WhatsApp accounts on the same device. The latter is still very much possible with PrivateMe however.
Related post: Android Apps for Hiding Your Images, Videos, Messages, and Apps
Getting started with PrivateMe
PrivateMe is quite easy to set up and doesn't require a lot of tinkering around. To get started simply launch the app and tap on the 

 icon in the top right corner and select the apps you want to hide. The apps that you have selected will then be cloned and installed inside PrivateMe. This has a small disadvantage, however. The app is installed as a new app without any of the saved data that you may have had before. You should know that before PrivateMe asks you to delete the app from the system.
In case you don't wish to continue using the app installed on your device, uninstall it now. Or you can just run two different instances of the same app if it is something like WhatsApp.
Hiding pictures with PrivateMe
If there are some pictures you would like to hide, select Private Album and then tap the + icon in the upper-right corner. This will open your gallery where you can select all the images you wish to hide and by tapping on them and then tapping the Hide button at the bottom. Since PrivateMe completely transfers everything inside its own ecosystem, this erases your selected pictures from the entire system, and they can not be accessed by any other app nor can they be seen when your device is connected to the PC via a USB cable.
Protecting your hidden data
So PrivateMe can hide your apps and pictures where nobody can find them but you. But what about PrivateMe itself? What's stopping someone from opening the app and accessing all that you've hidden? There are a couple of ways PrivateMe protects itself and thus all your hidden data. You can choose between a PIN lock or camouflage when you open the side navigation menu and tap Protection for PrivateMe.
Unlike other apps which hide behind a different icon or name, PrivateMe hides itself as a fully functioning calculator app.
Like the cool Batman or James Bond movies where the protagonist enters a secret code through piano keys, you will be required to enter the PIN you set via a fully functioning calculator app if you choose Cover PrivateMe. How cool is that? This is exactly how apps you hide something. The app even allows for Multitasking within itself via the floating Quick button which can be turned on or off from the Quick Touch option in the side navigation menu.
There's one huge risk, or feature, with the app which is that you will end up losing all your hidden data if you uninstall the app without unlocking your apps and pictures. This can be really useful in a scenario where James Bond gets captured and manages to delete all the sensitive data easily.
Must read: 4 Apps and Ways to Hide Almost Anything on Android
But in case you're not Mr. Bond, nor do you face the risk of being caught, you can prevent an accidental uninstallation or anyone else from uninstalling PrivateMe. Just activate the app as a device administrator by tapping the Prevent Uninstallation option in the side navigation menu.
Conclusion
PrivateMe despite a different advertising take is essentially another Parallel Space with a different UI. A simple and easy to use UI nonetheless. It only helps that the advertised features, which are probably why one would install the app in the first place, are front and center when you open the app. The app goes one step ahead and provides a mini OS within your device's OS with its own navigation system which works flawlessly as it should. The app's camouflage technique is one of the best available out there if not the best.
So in case you're looking for something that will leave no trace behind of anything that you hide, you should absolutely give PrivateMe a try.