If you often find yourself sharing your earphones with friends to listen to music, then you should check out SplitCloud. This cool application lets you play two songs at the same time and you can split the songs via the left or right channels. Thus, two people can listen to two different songs at the same time using just one device.
What's even more interesting is that the app allows you to stream songs from SoundCloud. Although, you can choose to play music files stored on your device itself. For those of you who listen to the radio, you are in luck as well since you can choose to listen to thousands of online radios. If you love music, then you should check out the best music streaming services.
SplitCloud is a free application and was previously only available on iOS. The app released on Android in July this year and has amassed over 50 thousand downloads. So, if you're interested in playing two songs at the same time, here's how to use SplitCloud on Android.
SplitCloud Double Music App
It might take a couple of minutes to get used to the user interface of the application. However, if you follow the steps below, you'll get the gist of it pretty quick. Of course, you'll need to wear earphones to have the best experience. Nonetheless, let's check out how to use the music splitting application on your Android device.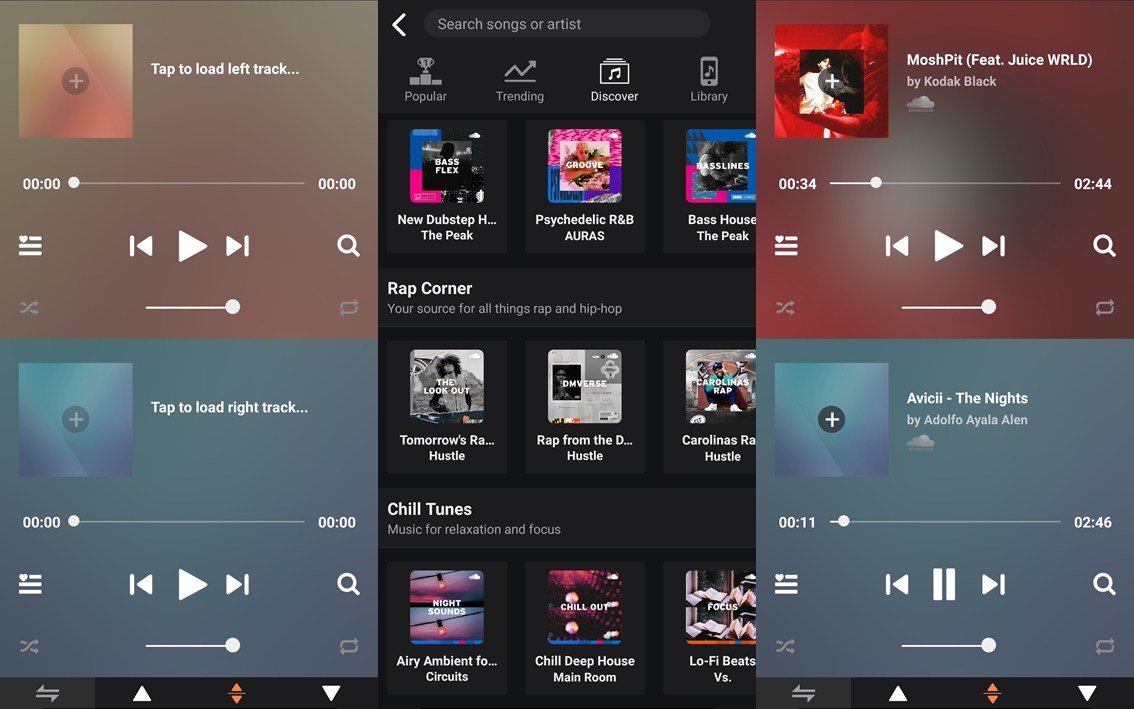 Download SplitCloud via the Google Play Store.
After the app has installed, launch it.
You would have to grant the app permission to access file storage.
Once that's done, you should be able to see the dual audio track players.
Tap on the top or bottom player to load a song.
You can now search for an artist or discover new songs and artists. Else, you can even tap on Library in the top bar to select songs stored on your phone.
Now repeat the process for the second track.
As you select a song, it would automatically begin playing.
That's about it. If you've got on your earphones or headphones, both the tracks would be playing on the selected channel. Thus, if you selected a track for the left channel, you will hear it playing on the left earphone. However, if you selected a track on the right channel, it would play on the right earphone.
Another interesting feature in SplitCloud is that you can instantly reverse the track channel is well. To do this, simply tap on the reverse icon at the left in the bottom bar. This would switch the audio channel from left to right and vice versa.
Moreover, in case you want to play only one song on both left and right channels, then tap on the upward or downward facing arrow depending on which song you want to play. Doing this would play only the selected song and is perfect for the times when you're listening to music alone.
Read next: How to Turn off Music Automatically after a Stipulated Time