HQ Trivia has been a popular game show since it launched on iOS last year. Yes, you read that right, not a game but a game show. Generally, on game shows, participants win prizes and that's true for HQ Trivia as well. The only difference is you don't have to audition and get selected. As long as you have an iPhone, and now Android as well, you can participate in the show live. While such apps do launch on iOS first, consider that simply a test phase. The real test begins when an app is made available to Android and its billions of users. HQ Trivia has been made available on Android just a day before the New Year.
What is HQ Trivia?
The app has been called the future of live television and a harbinger of dystopia by the Internet. This is because this trivia game is not a whole lot dissimilar to other game shows like Who Wants To Be A Millionaire. The only things missing are a live studio audience. Every day at 3 pm and 9 pm US eastern time a host walks in on the mobile phone screens of countless people watching together and presents them a series of 12 multiple-choice questions. If you manage to get all 12 questions right you get a share of the prize along with others who managed it too. Fail once and you're out, there are no lifelines.
The app notifies you typically 5 minutes before a game is about to start so that you don't miss it. In case you are still late, you can watch but you won't be able to participate.
It's not quite ready yet
On Android, the app is still in beta or unreleased state so expect some bugs. Moreover, as we already said, opening up such an app to Android is the real test as this is actually when the masses get their hands on it. I'd expect quite a few server issues if not any other bugs. Remember what happened to Pokemon Go? HQ trivia will be facing even more problems since it needs to stream live video for hundreds of thousands of users if not a million at least at the start.
On New Year's Day, after being available on Android, unreleased, for over a day the app registered 750,000 live users. As a result, the app loaded up with the host standing there in a tuxedo, giving answers to questions that weren't even being displayed on user's screens. There have been a few hiccups in the past months as well. If the app takes off, one can only expect this number to rise ten folds.
HQ Trivia has been founded by Rus Yusupov and Colin Kroll, who created the popular short video sharing service called Vine. So they do have some experience dealing with videos. They sold Vine to Twitter which ultimately shut it down, in case you were unaware. While there's no word on when users can expect a full Android launch, you can go ahead and try out the unreleased HQ Trivia app on Android right now.
Install HQ Trivia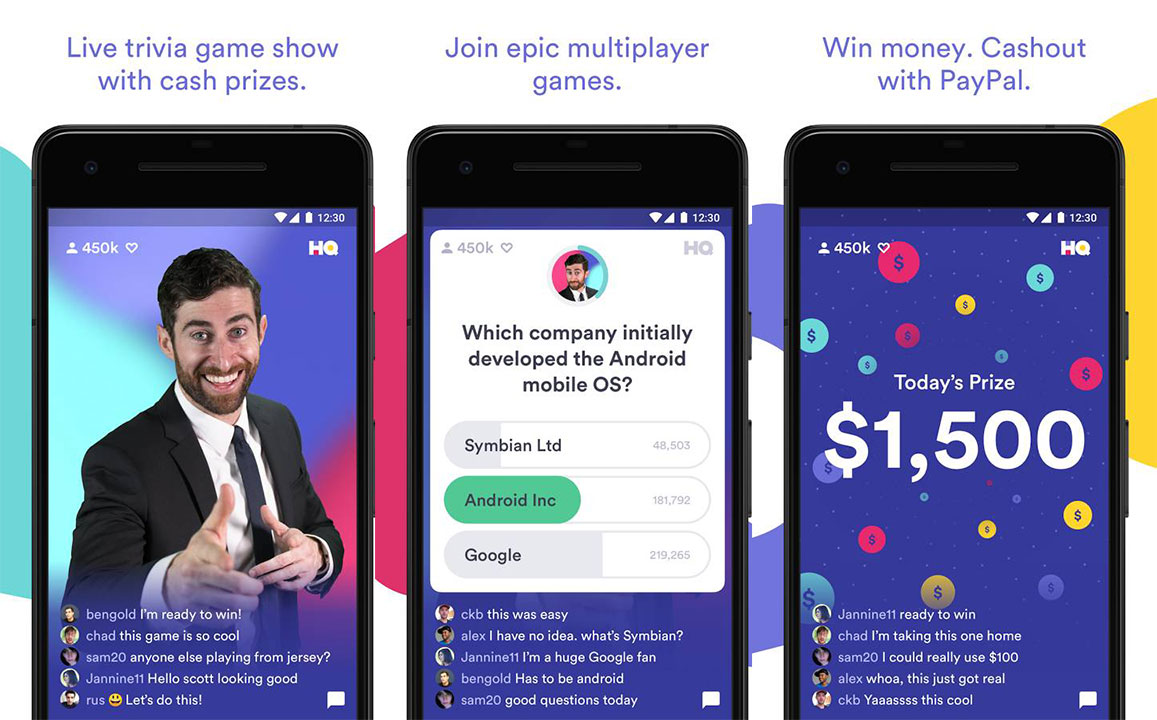 The Hosts
Game shows based on the usual question and answer format depend upon the host who can either make or break them. Creating a set of 12 questions to be asked twice a day is not that difficult but it is difficult to find hosts that can keep people engaged. Such hosts need to be good with scripted material and should also be able to improvise on occasions that demand so.
HQ has a few hosts but you will mostly find Scott Rogowsky hosting the game. Probably why he is also in most promotional materials. The hosts Scott Rogowsky is a relatively unknown comedian. This could be his moment of fame if HQ can really take off on Android. His ability to improvise is probably what makes him well suited (no pun intended) for the game. Another notable host is British journalist and TV host Sharon Carpenter who fills in for Rogowsky sometimes.
See also: 3 Entertaining Weather Apps for Android You Should Check Out
How do you get paid?
To get paid you will need to create a PayPal account. Once you have won $20, you can receive your balance in your PayPal account. While getting a PayPal account is easy, getting it ready to receive payments, especially from foreign sources can be a bit of a hassle depending on where you live. So make sure your account is ready to receive payments.