Gaming is one of the best time killing activity you can do on your Android device. My favorite mobile gaming category is a platformer. Add retro styled pixelated graphics with 90s techno music in the mix & you've got me hooked. I grew up playing video games like Contra, Super Mario, Adventure Island, Bomberman, etc. on my Nintendo. So, whenever I get my hands on a retro platformer today, I'm filled with joy. If you, too, love Pixelated Platformers games, here's a list of my top four.
Sword Of Xolan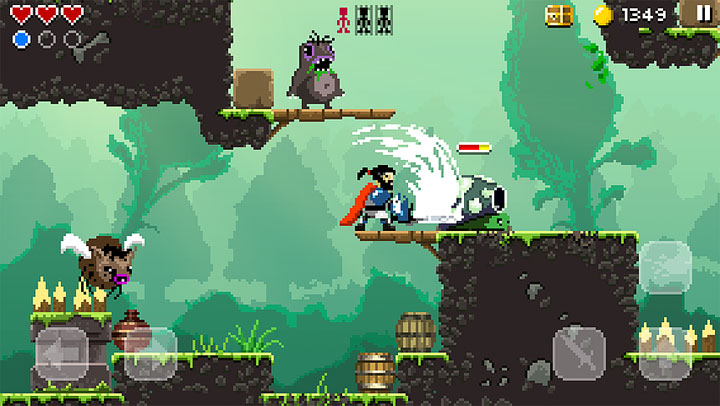 Sword Of Xolan is my favorite action platformer for Android. There aren't too many high-quality side-scrolling platformers available in the Google play store. And, this is one of them.
In the game, you play as Xolan, a young and brave man who fights for justice no matter what the cost. Your goal is to help him in his adventure to stand against the darkness & bring back peace.
The game has 30 unique levels, 3 boss fights & different enemies like zombies, giants, etc.
The controls are responsive & tight. The graphics are awesome. And, the gameplay is challenging.
[googleplay url = "https://play.google.com/store/apps/details?id=com.Alper.SwordOfXolan"]
Don't miss: Top 10 Lightweight Games for Android
Downwell
Downwell is a vertical 2D action pixelated platformer. In the story, you take on the role of a young boy venturing down a well in search of treasures.
The game has 8-bit pixelated graphics which is very enjoyable to look at. It has an elegant & responsive 3 button touch control. You can shop for various items to upgrade your weapons.
The cool thing about Downwell is that each level in the game is procedurally generated. What this means is that no two trips down the well will ever be the same. This does reduce the repetitiveness which most of the games suffer from. Plus, it's a new adventure every time you play the game.
[googleplay url = "https://play.google.com/store/apps/details?id=com.devolver.downwell"]
GameStart Pixel Battle
GameStart Pixel Battle is one of the best platform games on Android. In the game, you take on the role of Alyse, a gamer girl. Your goal is to find out a mysterious figure who has been sabotaging games and making them impossible to play. The game has awesome graphics, simple controls, & engaging gameplay.
The best thing about Pixel Battle is that it's completely free to download from the Google play store. Moreover, it doesn't have any ads or In-Game items for purchase.
[googleplay url = "https://play.google.com/store/apps/details?id=com.eliphant.Gamestart"]
Must read: How to Record Your Gameplay Using Google Play Games
Dan The Man
Dan the man come from one of my favorite game developers, Halfbrick studious. It has everything you can ask for in a platformer – good storyline, responsive & easy to use controls, difficult enemies, multiple boss fights, upgradable weapons, multiple modes, character customization, secret areas, and energetic music.
Your sole goal in the game is to kick & punch the enemies, and collect coins to unlock special moves so that you can kick & punch the enemies even harder.
[googleplay url = "https://play.google.com/store/apps/details?id=com.halfbrick.dantheman"]
That's it, four of my favorite retro platformers. No doubt, there are a lot of other platformers in the store but these seem to be the standouts. And, in case, you like platformers but don't like the pixelated graphics, you can install Swordigo & Phantom Cat. Both these games are amazing platformers as well. They were not included in the list just because they have more of a modern graphics.