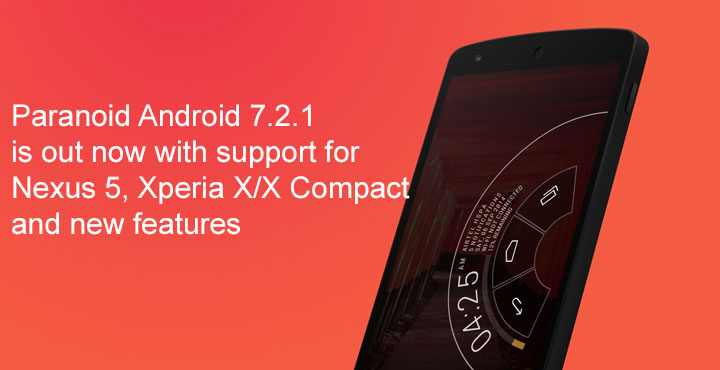 Just over a month ago Paranoid Android made a re-entrance to the world of custom Android ROMs with a Android 7.1.2 based ROM. Earlier this month, the team behind the Paranoid Android ROM released an update to the ROM with support for more devices. Along with that, the PA 7.2.0 update brought in new features such as improved color engine, accidental touch protection, and eliminating pesky bugs. Now less than a month later, Paranoid Android 7.2.1 is out with even more bug fixes, some new features and support for even more devices.
For those of you who are relatively new to the world of custom ROMs, Paranoid Android has been one of the best custom ROMs available on Android devices until its development apparently stopped for sometime. The team behind the ROM is responsible for popular custom ROM features such as PIE controls.
Bug fixes
In this update bugs have been fixed for tethering issues, launcher layout fixes, sensitivity with PIE controls, and a resolution to a bug with media controls when using Pocket Lock. There are also some other minor bug fixes.
Must read: How to Uninstall System Apps or OEM Bloatware without Root
Support for new devices
The new devices added under Paranoid Android's support umbrella are the  Nexus 5 (hammerhead), Sony Xperia X (suzu), and the Xperia X Compact (kugo).
What's new
Among the new features is a three finger swipe gesture to take screenshots. This has been present on a few other custom ROMs as well as on Oxygen OS offered by OnePlus. It's sure is a hell lot more convenient than pressing two physical buttons together at the same time. That is even truer when you have a large phone.  Furthermore, the 7.2.1 update brings an updated Paranoid Android browser app, which most of you may never use. Other than those, there have been improvements in the handling of carrier provisioning and telephony handling. Some performance enhancements and minor improvements are also a part of the new update.
Device specific changes
Moreover, there are also a number of device specific features and bug fixes for the following devices:
Google Pixel – Sailfish
Google Pixel XL – Marlin
Oneplus 3/3T
OnePlus X – Onyx
Nexus 6P – Angler
Nextbit Robin – Robin
OnePlus One – Bacon
LeEco Le Pro3 – zl1
You can check out PA's Google+ post if you're interested in knowing about the device specific changes. The update also brings updated July security patch for Nexus devices.
New boot animation
Finally, the Paranoid Android ROM also has a new boot animation now created by Espen Flagtvedt Olsen. It's mostly stock Android like other than the fact that it spells AOSPA in the end instead of Google or Android. If you're already rocking the Paranoid Android 7.2.0 version you can get the 7.2.1 version via an OTA update which might take some time before it reaches you.
Related post: Resurrection Remix ROM Review – One of the Most Feature-Packed ROMs
If not, you can always sideload the PA 7.2.1 build for your device.  If you need any help installing the ROM, we already have a guide on installing custom ROMs that you may refer to.
Download Paranoid Android 7.2.1
Google – Pixel | Pixel XL
Nexus – Nexus 6P | Nexus 5X | Nexus 6 | Nexus 5
OnePlus – OnePlus One | OnePlus 3/3T | OnePlus X
Nextbit – Nextbit Robin
Xiaomi – Xiaomi Mi5
Sony – Xperia X Compact | Xperia X
LeEco – Le Pro3