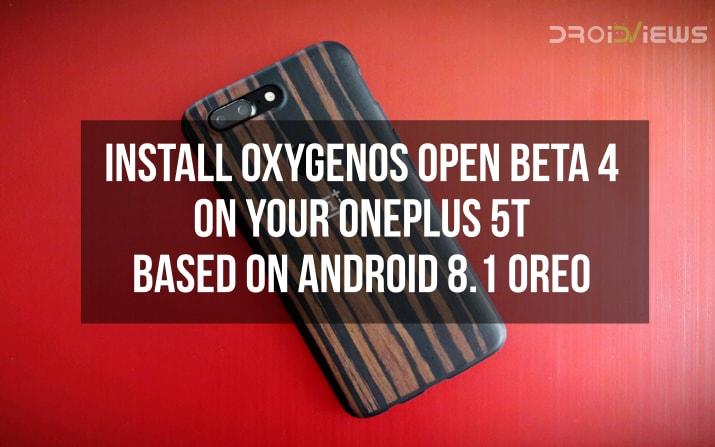 OnePlus released the latest flagship smartphone from the company which was named as the OnePlus 5T and the launch of the latest smartphone was done by the end of last year and the device is currently acclaimed to be the best smartphone in the upper mid-range segment available in the smartphone industry. As far as the OnePlus 5T is concerned, the device comes with a Full View display that consists of minimal bezels at the top, bottom, and the sides. Anyway, the Android 8.1 Oreo-based OxygenOS Open Beta 4 is now available for the OnePlus 5T.
As far as the other changes are concerned, the device has a fingerprint sensor on the back which was present on the front of the previous flagship device launched by OnePlus named as the OnePlus 5. As far as the OnePlus 5T's camera is concerned, the device has a dual camera setup on the back which was also present on the OnePlus 5 and the looks similar to the iPhone X.
Now, we had reported earlier that the OnePlus 5T received the official Android 8.0 Oreo update based on OxygenOS. Also, it is known that Google released Android 8.1 Oreo soon after Android 8.0 Oreo which came as a bug fix and feature improvements build over the Android 8.0 Oreo build which was initially released. Now, OnePlus has started to release Android 8.1 Oreo to its flagship devices and the first OnePlus device to get Android 8.1 Oreo was OnePlus 5.
Now, the latest update has been released on the OnePlus 5T as well. Same as the OnePlus 5, the update to Android 8.1 Oreo for the OnePlus 5T also comes with Open Beta program and the latest build of OxygenOS Open Beta, Open Beta 4 for OnePlus 5T brings Android 8.1 Oreo to the device apart from other changes as well.
Talking about the other changes and bug fixes, there are new Ambient display styles that have been added to the device. Also, there are improvements to gestures that were introduced with Open Beta 3 which are similar to the iPhone X's on-screen gestures. Also, there is a new feature that has been added to the OnePlus 5T regarding the Phone. Now, you can pick up phone calls on the OnePlus 5T by just picking up the smartphone.
Apart from the above-mentioned changes, the OnePlus 5T also gets updated to the February 2018 security patch which was released by Google at the beginning of February. As far as the Open Beta program is concerned, OnePlus advises its users to install Open Beta versions on their phone only when the users are aware of the risks involved in flashing these build to their devices. The Open Beta builds are not as stable as the official updates released by OnePlus so this build may contain bugs so it is not recommended to use them on your daily drivers.
Changelog
Release notes
Updated system to Android™ 8.1 Oreo™
Phone
New auto pick up gesture

answer an incoming call by raising the phone
System
General bug fixes and improvements
Added more clock styles for ambient display
Optimized full-screen gesture support
Updated Android security patch to 2018-02
Gaming mode
Added new optimizations in gaming mode for immersive gaming experience including power saving and pausing adaptive brightness
OnePlus Switch
Added support to migrate application data, allowing you to switch between devices seamlessly
Prerequisites
Make sure that you take a complete backup of your OnePlus 5T before starting the process of installing Open Beta builds from below. In order to take full backup of your OnePlus 5T, follow our tutorial from here.
Also, you should make sure to charge your OnePlus 5T sufficiently and ensure that you have at least 50% or more battery on your device to complete the process mentioned below without any issues
Downloads
Related article: Android 8.1 Oreo-Based OxygenOS Open Beta 6 for OnePlus 5
Steps to install OxygenOS Open Beta 4 based on Android 8.1 Oreo on the OnePlus 5T
First of all, you must follow all the steps mentioned in the Prerequisites section and then, download the zip file from above which is approximately 1.6GB in size
Once the download is complete, plug in your smartphone to the PC via a USB cable and transfer the Open Beta 4 zip file to your OnePlus 5T
Now, you have to enter your phone's recovery mode by turning off your OnePlus 5T and pressing Power + Volume Down button simultaneously for few seconds.
Once you see the OnePlus recovery mode, click on the Install from internal storage/Install from local option in the recovery and select your downloaded zip file
After this, tap on "Install" to confirm installing the Open Beta 4 zip file
Now, you will have to wait for a few minutes after which your smartphone will reboot automatically.
Once rebooted, you will see that the Android 8.1 Oreo-based Open Beta 4 will be installed on your OnePlus 5T
Now, go to the Settings on your OnePlus 5T and see that your smartphone will now be updated to Android 8.1 Oreo as well as February security patch as seen below
Now, just make sure that you follow all the steps mentioned above properly and you should have a safe and sound upgrade on your OnePlus 5T to the latest version of Android