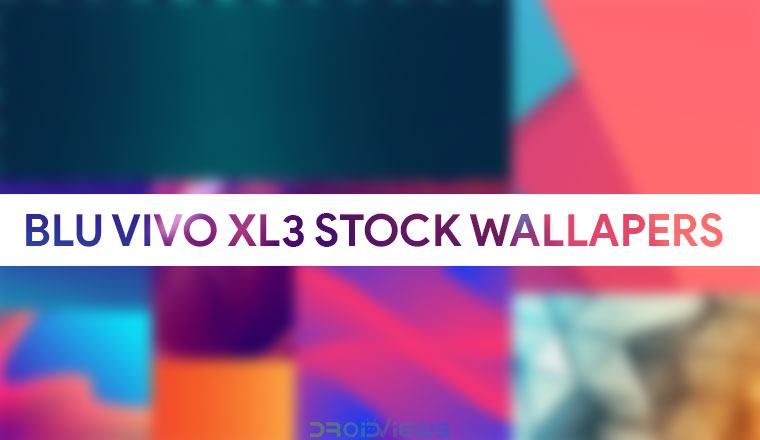 Well, I am not sure how many of you know about BLU or Vivo XL3 but I am sure you'll like the wallpapers from the phone. Today, we have BLU Vivo XL3 stock wallpapers in full HD+ (1080 X 2160 PX) and 6K (3000 x 6000 px) resolution. There are 10 wallpapers in the zip attached below.
BLU is not a very well known brand outside the US. It's not quite as known in the US either but BLU is an American company which is known (by those who know) for making budget-friendly smartphones. The company releases a number of devices each year with new internals and new stock wallpapers like many other OEMs. The BLU Vivo XL3 was the company's first phone to run Android 8.0 Oreo out of the box. It was launched near the end of Q1 2018.
BLU Vivo XL3 Design
The BLU Vivo XL3 looks very much like any other Android smartphone did back in April 2018. It features a glass back with a single camera and LED flash, set up to look like dual cameras. There's a fingerprint scanner on the back as well. Speaking of fingerprints, a glass back means the phone will be a fingerprint magnet.
All the buttons such as the Volume rockers and the power button are located on the right side. The charging port and the headphone jack are at the bottom while the single speaker is at the top. A company selling a hundred dollar device can't really be expected to drive forward innovation though. It is definitely a good looking smartphone for the price.
BLU Vivo XL3 Specs
It features a 5.5-inch IPS LCD screen with a display resolution of 720 pixels x 1440 pixels. If you couldn't guess, the aspect ratio os 18:9. Underneath it sits the Quad-core 1.3 GHz Cortex-A53 MediaTek MT6737 processor coupled with 3GB of RAM. These specs don't really paint a very good picture. But it did arrive with Android 8.0 Oreo out of the box which wasn't something common among budget smartphones in the US when the device launched. The built-in storage is only 32GB but it can be expanded up to 64GB via a microSD card.
The rear camera is a 13-megapixel sensor, nothing fancy, while the front camera is a 13-megapixel shooter as well. Although, the front camera doesn't support PDAF and some other features that the rear camera does. It's a single-SIM device, with the usual connectivity options such as Wi-Fi, Bluetooth, etc.
BLU Vivo XL3 Stock Wallpapers
The device doesn't seem exciting at all with those specs but the stock wallpapers on it, in fact, are. The wallpaper pack linked below contains a total of 10 wallpapers with a resolution of 1080 pixels by 2160 pixels which isn't as bad as the device's display resolution. So these BLU Vivo XL3 stock wallpapers should look pretty good on any smartphone with a decent display.
In addition, we have also got the stock wallpapers in 6K resolution (3000 x 6000 px) for those who'd like something more. We've uploaded some of the wallpapers below for you to make a judgment. Both the regular sized and 6K wallpapers can be downloaded using the download links provided below.
Download Links
BLU Vivo XL3 Stock Wallpapers (6K)
Also Download: