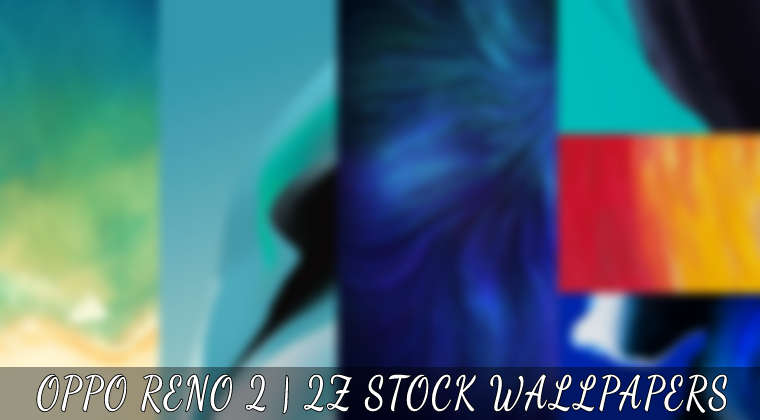 Popular smartphone maker Oppo unveiled the successor to their successful Reno series a few days ago. Yes, we are talking about the Oppo Reno 2 and 2Z smartphones. Anyways, today we have got 6 Oppo Reno 2 and 2Z wallpapers in HD+ resolution (720 x 1560 and 720 x 1520). As usual, let's get into the specifics of the Oppo Reno 2 and 2Z before diving into the stock wallpapers.
Out of the two, the Reno 2 is the only one equipped with a shark fin camera. The Reno 2Z features a pop-up camera module.
Oppo Reno 2 and 2Z: More is better!
AMOLED, Qualcomm, and MediaTek, 8GB RAM…
Both Oppo Reno 2 and 2Z have gorgeous AMOLED displays. The former comes with a 6.55″ ( 1080 X 2400 pixels) panel whereas the latter has a slightly smaller 6.53″ (1080 X 2340 pixels) screen. As for the aspect ratio of the panels, the Reno 2 has a 20:9 panel while the Reno 2Z has a 19.5:9 panel.
Chipset is where the two really differ, as in the Reno 2 has an all-new Qualcomm Snapdragon 730G SoC and the 2Z comes with a MediaTek Helio P90 SoC. The G stands for gaming, meaning the Reno 2 is optimized for gaming sessions. As for the RAM and storage configuration, both the Reno 2 and 2Z have a healthy 8GB of RAM and 256GB of internal memory. For storage expansion, a MicroSD card slot is on board.
An optical (thank god!) fingerprint reader is located under the AMOLED panel for biometric authentication purposes.
Shark fin for the 2 and popup for 2Z, quad rear cam
The Oppo Reno 2 comes fitted with a shark fin front camera. The Reno 2Z gets the pop-up treatment for selfies. The resolution and module are the same on both. As in, we have a 16MP sensor with an aperture of f/2.0 on both Reno 2 and 2Z. However, the rear quad camera is quite different on both the Reno 2 and 2Z. On the former, we have a 48MP (OIS + EIS) primary cam. Next, we have a 13MP telephoto camera. Moving on, there is an 8MP wide-angle shooter. Finally, there is a basic 2MP depth sensor to complete the camera system.
Onboard the Reno 2Z is a 48MP (EIS) main cam followed by an 8MP wide-angle camera. To conclude the camera fest, there is a 2MP B & W sensor and again a 2MP depth sensor.
The front-facing and rear cams are able to record videos at a resolution of up to 1080p @ 30fps and 2160p @ 30fps respectively.
Battery power and charging, connectivity and Android
A decent for 2k19 4000mAh battery is equipped in both the Oppo Reno 2 and 2Z. Oppo's VOOC 3.0 charging tech is onboard (20W). Also, quite naturally, a USB-C port is here.
As for connectivity, the Oppo Reno 2 and 2Z feature Dual-band Wi-Fi a/b/g/n/ac, Bluetooth 5.0 LE along with GPS for navigation and location services. For those worried, an audio jack is present on the Reno 2 and 2Z.
Pricing, availability, and colors
The Oppo Reno 2 and 2Z will retail for INR 36,990 and INR 29,990 respectively on Amazon and Flipkart in the coming days and weeks. Speaking of which, pre-orders have already begun for the new smartphones. The Oppo Reno 2 and 2Z will come in Ocean Green and Jet Black paint jobs.
Oppo Reno 2 and Reno 2Z Wallpapers
When it comes to stock wallpapers, Oppo never disappoints us by having colorful, rich, vivid and vibrant wallpapers. The same goes for the Reno 2 and 2Z wallpapers. Again, the wallpapers are of the HD+ variety touting a resolution of 720 x 1560 pixels and 720 x 1520 pixels.
Download the Oppo Reno 2 and 2Z wallpapers via the Google Drive link or check out our gallery below.
Download Oppo Reno 2 and 2Z Wallpapers
Oppo- Reno-2-2Z-Stock-Wallpapers.zip
Stock wallpapers from other phones