Since I joined DroidViews I've reviewed many games and in almost all the reviews I have said that gaming on mobile has changed a lot in recent years. A few months back I shared one of my favourite platformer called Sword Of Xolan which is a hack and slash kind of platformer. Do check it out if you like such games.
For an uninitiated, exploratory platformer (A.K.A Metroidvania) is a genre of 2D platformer games with an emphasis on an exploratory action-adventure structure.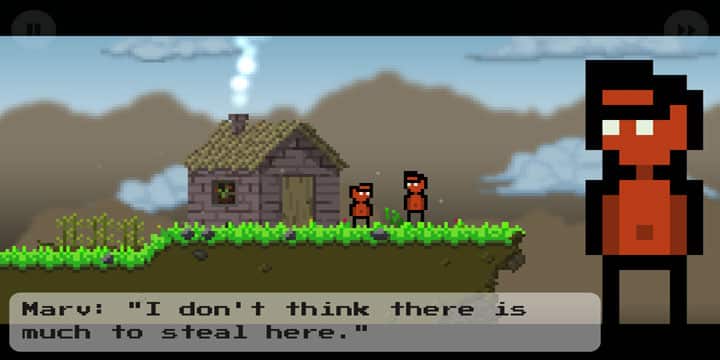 Nubs' Adventure is the story of Nub, a robot-like creature, and the struggle it goes through in order to recreate its house which was destroyed by two thieves in the beginning of the game. Oh, they also throw it down the cliff (but it survives) and when it gets back up to the place where its house was supposed to be he meets a fairy which agrees to rebuild its house. In return the fairy wants the magic dust which is scattered in different places in the form of gems. That's how Nub starts its journey to find the gems by exploring a HUGE area to get a new house. So that's the whole story.
Nub is controlled and guided using the on-screen buttons. Unlike other games that I've played, Nub doesn't learn any new trick or gets any new power later in the game. The only ability it has from the beginning includes moving, jumping, and throwing a boomerang. Usually, the hero in such games has a sword, seeing boomerang was a good change.
Nubs' Adventure has various environments and begins with Grass Valley. This environment includes mountain like structure and ponds. Nub can easily swim in the pond. However, if it stays under water for too long it'll run out of oxygen (assuming that this robot lives on oxygen. Seriously, I can't find any other logic). It'll also die if it falls from some height or touches any dangerous creature which kind of looks like Nidoking from Pokemon laying on its chest. Nub can either avoid them by jumping over or make them unconscious for few seconds by hitting them with its boomerang.
Since the area to explore is HUGE (the game is surprisingly lengthy for its genre) it can get help from a map, its friends (which come rarely), and a teleporter, given it has found and activated these teleporter. Via using it Nub can jump from one field to another.
In certain areas, Nub can communicate and summon a giant worm and temporarily take control of it. It can dig through muddy areas in order to find gems.
The soundtrack of Nubs' Adventure is different from other platformers. It's slow but in a good way. It is kind of difficult for me to describe it in words.
A lot of checkpoints are scattered all over the place to save your game progress. The game also gets saved if Nub enters a new area or collects a gem.
You can get the full version of Nubs' Adventure via an IAP of $2.24.
I have not finished the game yet (only 67%) but from what I've played I can easily conclude that it's one of the best games of this year (seriously) and has become one of my favourite.
I am more than happy that I found this game while looking for something awesome in the Google play store.