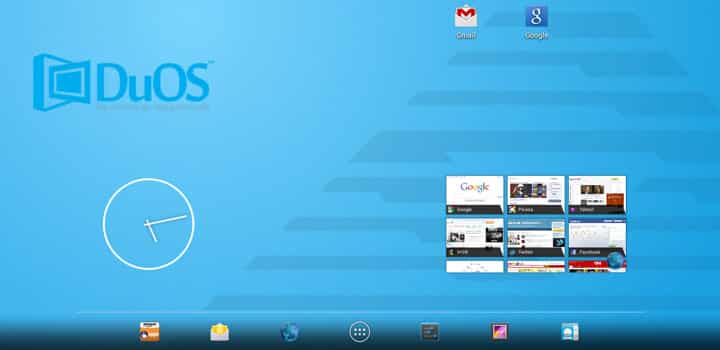 AMIDuOS is well known for its virtualization of Android OS on the Windows OS platform. AMIDuOS was based on Android 4.2 Jelly Bean until recently, it was upgraded to v 2.0 which now supports Android 5.0.1 Lollipop. With Version 2.0 comes features like 64-bit apps, the ART runtime, and better APIs and compatibility for hardware features such as Bluetooth 4.0. Moreover, AMIDuOS supports Windows 7,8 and even the latest Windows 10 too.
AMIDuOS offers Windows users a real virtual machine to support Android OS just like you would run a VMWare virtualization software to run Linux on a Windows platform. AMIDuOS integrates with the Intel's virtualization hardware of your PC and provides you with the core Android OS experience with it. With AMIDuOS you can now run Android 5.0.1 Lollipop and install latest Lollipop Android apps available in the market.
AMIDuOS comes pre-installed with Amazon Appstore but you can also install Google Play Store. It is ARM v7 compatible, so it can run most popular ARM applications as well. AMIDuOS supports 3D acceleration, so you can enjoy a superior Android gaming experience in Windows. It uses Windows OpenGL drivers for improved frame rates to support even the most graphics-intensive games.
AMIDuOS provides a complete Android tablet experience with multitouch and gesture support like Pinch and Zoom, along with a full-featured software keyboard. File sharing between Windows and Android is also supported in AMIDuOS, so you can share pictures, videos and music between both OS modes with ease.
To know how to install Google Play Store on AMIDuOS or to know how to share files between Android and Windows, see it on the official page here. Also to to know keyboard shortcut keys to operate AMIDuOS, get to this link. You can also get root support for AMIDuOS.
AMIDuOS is great Android experience on Windows platform. However, it comes with a price. You can get a 30 day trial for free and you can buy the Lollipop version for $15 and Jelly Bean for $10. If you already have bought the AMIDuOS, then you can upgrade the software for free. Get the downloads from the Download Section.
Downloads
Download | AMIDuOS
Download | Google Play Store