Netflix, Amazon Prime Video, Hulu, etc. have seen growth immensely. These are the best online video streaming services that we have currently. They have a huge library of movies, TV Shows, and other video content. Even if one starts binge-watching their shows, still there would be a lot to cover. While every good thing comes with a price, there are some things that you still get free. Mobdro, for instance, is a great free video streaming for Android devices that gives you access to a huge library of online videos without spending a single penny.
In order to avail the services of these online video streaming services, you need to buy a subscription. Besides, the price varies for each one of the platforms. What if I tell you that there is a better way and has a library that contains all the content at a single place? And, that too for FREE! The answer is "Mobdro".
This article tells you how to install, use and navigate around Mobdro platform. Apart from free streaming of videos, it provides you a great set of features as well. Let's dive down deep into the article;
What is Mobdro?
In short, Mobdro provides you with great quality video content. It has a collection of videos from various platforms like Netflix, Prime Video, Hulu, HBO Now, etc.
Moreover, it also offers a huge collection of old and new movies. The best benefit of using Mobdro is that it is available for free. You do not need to buy a subscription or pay monthly rentals. All you have to do is install the app and voila you are good to go.
It is a great online video streaming app just like the Kodi. With Mobdro, you can search and find for your favorite shows. Though it contains ads. But, there is an option to get rid of the ads.
Mobdro offers tow subscription plans. The freemium version has all the functionality but with ads. However, the premium version gives you Chromecast support, record the content, and no ads. As long as you are good with ads, the freemium version is apt for you.
Besides, you do not need to install different apps for watching their respective contents. Mobdro provides all the different platforms contents in one place. Just search, play and enjoy.
Must Read: Enjoy Faster YouTube Videos Streaming on by Enabling ExoPlayer
How to Install Mobdro
Mobdro app is not available to download from Play Store. You have to go to its official website to download the app. So, this guide will explain to you how to install and use Mobdro on Android.
1. Enable Unknown Sources
Before downloading Mobdro application, please make sure that you have enabled the "Unknown Sources" in the settings. To enable it go to Settings>>Security & Privacy>> Unknown Sources.
2. Download Mobdro App
Once you have enabled this option, then you can proceed to download the app. You can either visit the official website or else you can directly download the Mobdro APK by clicking this link.
3. Complete the process
Once the Mobdro app is downloaded, then you have to open the app and let the app scan your phone. Tap ok to proceed to next stage and let the app set-up completely. After the set up is complete you will be welcomed with a greeting screen and voila! you are all set.
How to use Mobdro
After you have installed and completed the setup, you can use the app right away. The app gives very intuitive interface which is fairly easy to use. Mobdro gives you category wise content which helps in easy sorting. The different category includes News, Shows, Movies, Channels, Gaming, and more.
Don't Miss: Best Image Recognition Apps for Android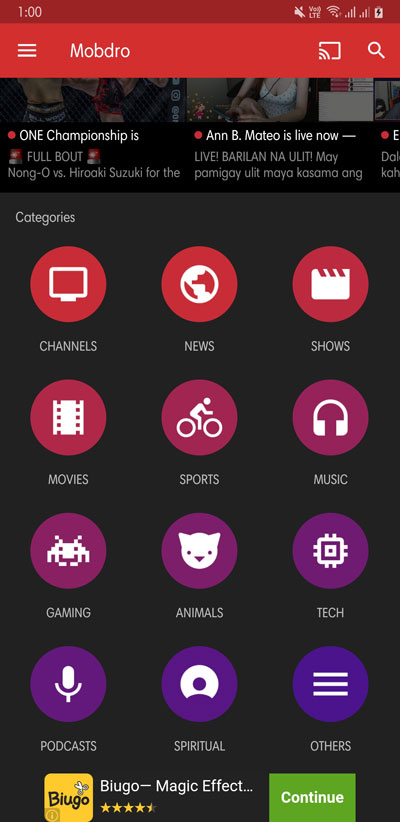 You can see the image above to understand its interface. Once you decide which category content you want to watch, just "Tap" on the category and it will give a list of videos.
When you select content, you will be redirected to another page that will show you a list of streamable links. For example, if you select the News category, it will show you the streamable channels of News. Moreover, it also gives the option to share your stream with others. Besides, you can also set a timer to end your binge-watching.
You have the option to set the timer for as low as 30 seconds to a stretch of 4 hours.
Extra Features
What else Mobdro offers? Yes, there are other great features that this app offers. You can download any content you want directly to your mobile or any Android device. Once you have selected the category tap on the 3-dots button and then tap download as shown in the image below.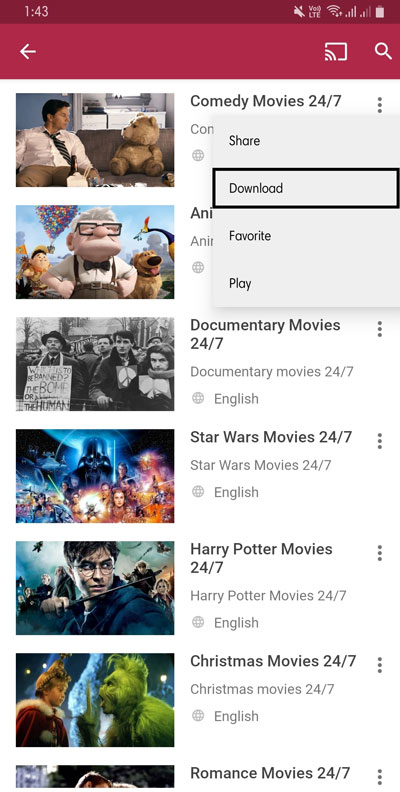 See Also: Get Edge Lighting Border Around Screen on Any Android
Moreover, you will have the option to download the content for a specific time set via live recording.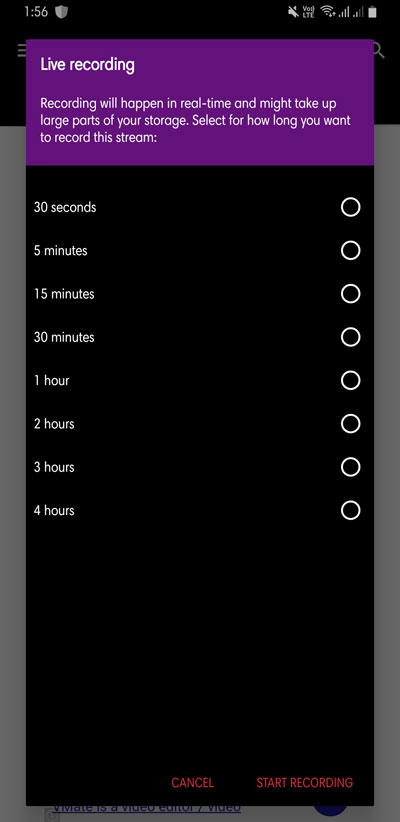 You can add your favorite channels to the favorite list. It can be accessed by tapping the hamburger icon. There you can see all your downloaded as well as favorite videos or content.
The settings option can be accessed by tapping the hamburger icon. This gives you customization option like hardware decoding, languages, UI mode, parental filter, etc.
As all the features are available with the free version of the app, going for the premium one would depend only on choice. It is a great online video streaming service. No subscription, no limited content, just everything is free! Just follow this guide on how to use and install Mobdro on Android and you will be all set to enjoy free video streaming on your device.