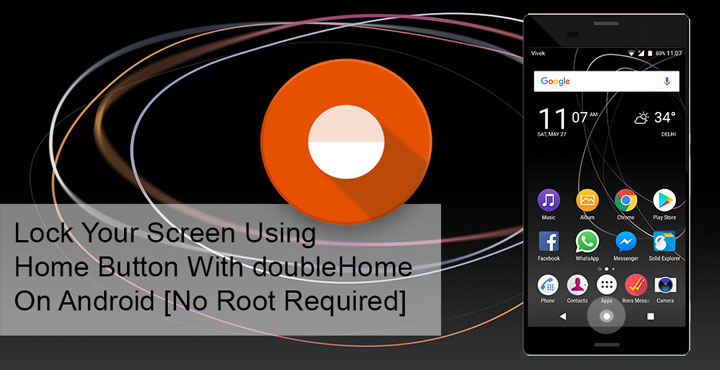 Any device with physical buttons is bound to have those buttons eventually start to fail. Nicely built devices will take longer than others but things do come down to it at some point or the other. One of the most used physical buttons on Android devices is the Power button. And thus, people have found all sorts of on-screen alternatives to the power button. If you feel your device's power button is a bit wonky, it might be a good idea to start using an on screen replacement already before the button runs out of its life. Today we bring you one such replacement which is simpler and seems a bit more natural than other methods we've come across. You can easily lock your screen by double tapping the home button with doubleHome.
Features like these have been available on rooted Android devices and custom ROMs but XDA Senior Member Jawomo's new app brings it to non-rooted Android devices as well. doubleHome lets you lock your screen with a simple double-tap of the home button as mentioned. It also leaves a blue edge glow on the screen for a couple of seconds which looks pretty cool depending on who you ask. It also supports devices with fingerprint scanners but the way it does this is a little odd. We'll get to that in a bit.
Don't miss: How to Unlock Android Devices Having Lost PIN or Passcode
Download doubleHome from the Google Play Store
Since doubleHome is not available anymore, you can try Multi-action Home Button app instead.
How to use doubleHome
doubleHome is a really simple app and using it is as simple as it possibly could get. But there are a few things you should know. The app works with both software and hardware home buttons but users of Samsung Galaxy S7 might have to disable the camera launch on double-tap of the home button first. Basically, if you have any shortcuts linked to a double tapping the home button, you'll have to get rid of that quite obviously.
You may even have to disable the home button shortcut if you use Nova Launcher or another launcher which has a home button shortcut. For instance, I use Nova and I've set it so a tap of the home button from the home screen brings up the Google app. Now every time I double tap the home button from within an app, the first tap lands me onto my home screen. The second tap launches the Google app. All of this happens fast enough to not be noticeable but when I unlock the screen the Google app is right there.
Must read: 20 build.prop Tweaks to Customize Your Android in Awesome Ways
When you launch doubleHome and accept the license agreement, head straight to Settings. Here you can toggle the service on/off, set the double tap time and whether you want the edge glow effect. To lock the screen, however, doubleHome will need administrative privileges. That is to say, you will need to enable it as an administrator. To do this, go to Method and select Direct off.
Screen lock methods
The Direct off feature will lock your screen immediately as long as you double tap the home button. It is optimal for non-rooted users who use a password, PIN or pattern lock or no lock at all. But if you use a fingerprint scanner, it won't be able to unlock your screen when locked with doubleHome's double-tap of the home button. You'll have to unlock it the traditional way.
In order to also use your fingerprint scanner, you will need to select Show black screen option which is selected by default. What this does is display a black screen with edge glow effects (if enabled) instead of locking the screen. And then your device waits for its usual screen out time for the screen to automatically lock. This is fine on AMOLED displays. However, devices with LCD displays might see some battery drain because the whole screen is still essentially on even if you don't see anything on it. Furthermore, during this waiting period, you can double tap the screen anytime to unlock it and so can anyone else.
You can see how that's not really an optimal solution. Either you give up your cool and convenient fingerprint unlock or live with the other two caveats. So while the app does support devices with fingerprint scanners, I wouldn't recommend it. However, if you don't use a fingerprint scanner it is a really great app to have and also really convenient.
Related article: Add New Functions to Your Phone's Home Button with HomeBot
It also does work with rooted Android devices and if you so choose, you can grant it root privileges instead of device administrator right. Although, I don't see a reason why you should.