Material is the new-age design guideline adopted by Google and implemented for the very first time on their latest Android 5.0 Lollipop update. It is solely based on the idea of simplicity and colors. Daily, we see a list of new Apps that are updated with Material Design. Since everything is being materialized, from ROM UI to Apps, then why recovery should be left behind the track. Designers and Developers at XDA are never late to come up with such ideas.
I believe most of you are well aware of what is TWRP. For those who don't. TWRP or TeamWin Recovery Project is a custom recovery which supports touch UI. It assists you to wipe off partitions, flash new files, mount partitions etc. Also, I'm pretty sure that I am not the only one here who feels that the TWRP screen looks way to traditional and outdated. Since we believe in staying updated with the latest design, the TWRP should also not be left alone.
XDA Senior Member s31s1g has successfully designed and published his own and self-created Material Design theme for the TWRP recovery. Our developer here has been successful in his attempts to completely mimic the look of the recovery, similar to an Android App. It offers a wide variety of customization and is available to download for a list of standard screen sizes. Also, a few others have already grabbed the privilege to port this materialized theme to their smaller screen sizes, so it is not just bounded to the high-end devices. Materialized TWRP themes are available in 3 different variants – Dark, Light, and Play (I'm sure you are pretty sensible to have a rough idea). It supports TWRP v2.8 and above. There is a high possibility that it will work on the previous versions, but will mess the things for no good. Let us see below how does it look and also how you could make this theme work on your Android device.
Read more about Materialized TWRP for Android on XDA-Developers
Warning!
Installing a Custom Recovery or playing with its contents could harm your device in ways unknown. Only use this guide if you're well aware of how to get yourself out of such troubles.
Getting Ready
Enable USB Debugging using our detailed guide: Click here
Install latest TWRP on your device, you can find one for your device from our Guides section: Click here
The theme supports the following screen sizes, make sure your device is one of them. It is to be noted that the device make or model do not hold any importance, you just need to be sure of the right screen size:

320 x 480 (HVGA)
480 x 800 (WVGA)
480 x 854 (WVGA)
720 x 1280 (HD)
768 x 1280 (HD)
800 x 1280 (HD)
1080 x 1920 (FHD)
1200 x 1920 (FHD)
1440 x 2560 (QHD)

Appropriate USB drivers for undisturbed connection between the PC and the smartphone: Click here
Screenshot Gallery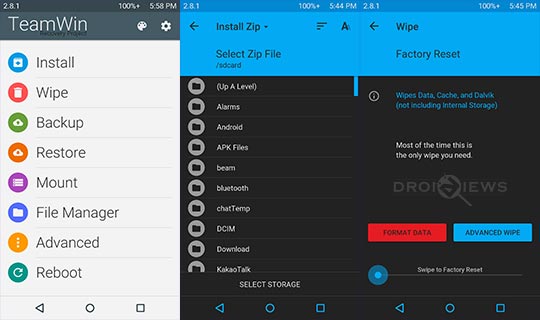 Want more screenshots of the material theme for the TWRP recovery, head over to the developer's Google+ gallery.
Downloads
Click on your corresponding screen size to download the latest version of Materialized TWRP for your device.
Install Material Design Themes for TWRP
Download the latest package of the Materialized TWRP for your device.
Open the folder where the package has been downloaded.
Now, right-click on the package, and select Rename.
Rename it to "ui.zip" (.zip is the extension).
Connect your device to the PC via USB cable in either Mass Storage or MTP mode.
Open the Root of device's storage and open the "TWRP" folder (If you have TWRP installed, it should be there).
Create a new folder named "theme" (without caps) within this folder and open it.
So now the directory would be <storage>/TWRP/theme/
Paste the ui.zip file in here.
Keep the device connected and enter the following command in a CMD window to reboot your device into Recovery mode.

 adb reboot recovery

You will now be able to see the updated design of your TWRP recovery.
Voila! You have just materialized your TWRP recovery with a few easy steps. Cherish the whole new updated UI of your TWRP recovery.
Comment below and let us know how you feel about this new design.