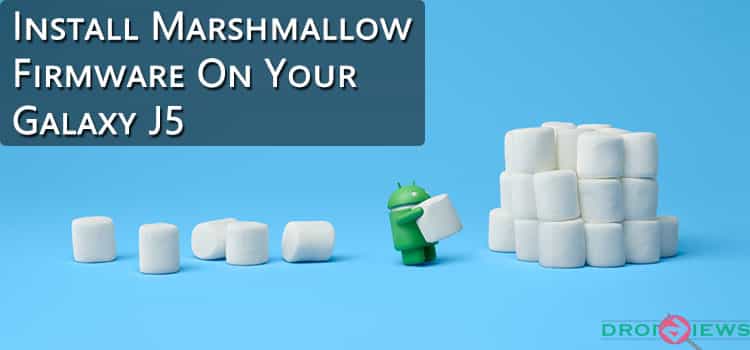 Samsung is done updating its flagship devices to Android Marshmallow and now they are releasing updates for mid-budget level smartphones. We all know that Samsung has the biggest lineup of Android devices which are distributed in all the budget levels. This causes the updates for lower and mid-budget level smartphones to be delayed significantly. Sometimes lower-end smartphones are even ignored. But luckily Samsung has pushed an update for the mid-budget level smartphone, the Galaxy J5.
Galaxy J5 was released in 2015 to regain its market share lost to competitors like Chinese OEMs including Huawei, Xiaomi, Oneplus etc. and other companies like Moto, which have become pretty strong in the lower budget smartphone market. The Galaxy J5 boasts a 5inch Super AMOLED 720p display, a 13MP rear-facing camera, and is powered by Snapdragon 410 processor with 1.5 gigs of RAM. All this hardware is kept running all day via 2600Mah battery. On the software front, the J5 comes preinstalled with the Android version 5.1.1 Lollipop. But recently Samsung has pushed the update for the J5 to update the device to latest Android Marshmallow 6.0.1. Though few models and regions are yet to receive the update.
The new update brings all the new feature of Marshmallow to your device. The update also includes the newer version of TouchWiz UI. Users are reporting improvements in overall performance of the device after the update and they are liking the newer version of TouchWiz UI as well.
If you are the owner of Galaxy J5 and have been waiting for the Marshmallow update impatiently. But you haven't received the notification to update your device OTA then you may follow this guide to update your device the Android Marshmallow manually. This guide will also help the users who are running a custom ROM on their Galaxy J5 or are running a rooted version of stock ROM.
Backup
It is highly recommended to take backup of all your data before proceeding the following guide. As proceeding with the steps given below may result in loss of data. You must backup all the applications, photos, music, and all other important data you might have on your device. You may transfer the data to your PC or use an application that will backup everything to your external storage or to the cloud. Use the link given below to backup your applications and data.
Things You Will Need
We will be manually flashing Marshmallow update using a PC.
Odin is a popular firmware flashing tool for Samsung devices. Download the latest version from the link given.
Download and install Samsung USB drivers on your PC. These are required for Odin to recognize your device.
Installing Marshmallow Firmware on Samsung Galaxy J5
Step 1. Extract (unzip) the firmware file on your PC using any unzipping tool you might have installed on your PC.
Step 2. Download Odin v3.11.1 from the link given above. Extract the downloaded Odin zip file on your PC. Then run Odin.exe that should be present in the extracted files.
Step 3. Reboot Phone in Download mode. To do so, press and hold Home + Power + Volume Down buttons for few seconds.
Step 4. Now connect your phone to your PC using a USB cable and wait until you get a blue sign in Odin, as shown below.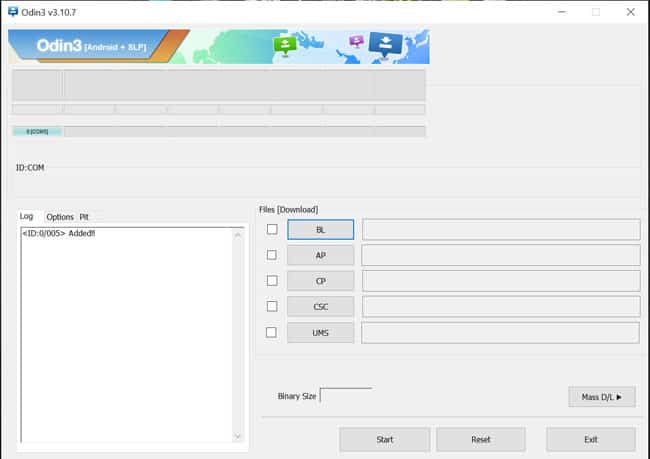 If your device doesn't show up in the Odin then download and install Samsung USB drivers from the link given above.
Step 5. Once Odin recognizes your device click on AP button and select the firmware file that you extracted in step 1.
Step 6. Now click on Options tab of Odin and make sure re-partition is NOT ticked.
Step 7. Click the Start button to start the process and wait few minutes. Your device will automatically boot into the updated firmware.
Congrats! you have successfully installed Marshmallow on your Galaxy J5. Enjoy all the new features with the new version of Touchwiz. Stay tuned for other models and regions links will be added once the updates for them are released.
Need help? Leave us your queries in the comments section below. We will try our best to resolve your issues as soon as possible.