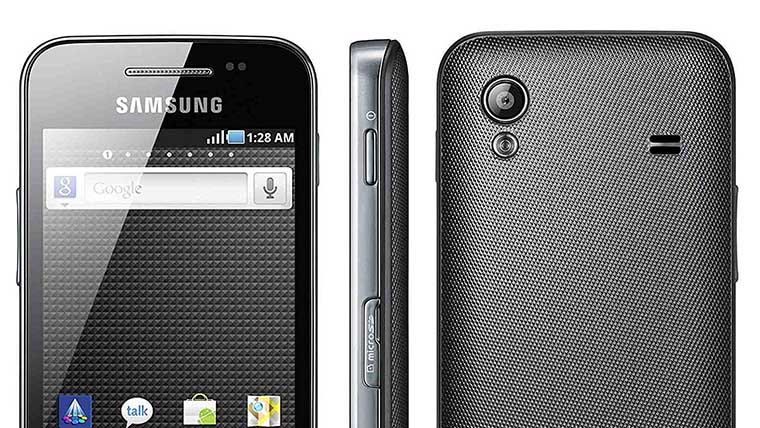 Are you a lover of the iPhone but own a  Samsung Galaxy Ace GT-S5830? If you are looking for an awesome custom ROM for your device, we have something for you. The "iPhone-style-CM7" ROM for the Galaxy Ace GT-S5830 is a powerful custom firmware that turns your Android device into an iPhone 5, at least in terms of look. It is one of the best ROMs for your device.
The "iOS 5 Style ROM for Ace GT-S5830" has been cooked by a group of developers who call themselves "Angeeks Devs". The ROM is based on CyanogenMod 7.2 (Android 2.3.7). It has been modded very minutely to give you a perfect iOS feel on your Android device. It has a very nice user interface. The ROM is fast and smooth and the notification bar looks just awesome!!!
Looking for Best ROMs for Galaxy Ace S5830i? Click Below:
Best Custom ROMs for Samsung Galaxy Ace S5830i
Drawbacks:
The iOS perfection of this ROM comes with a few drawbacks. You will have to compromise with some third-party apps for browsing web and playing music. You can download any free app from the Play Store to fulfill these tasks. If you can ignore such shortcomings, you can proceed to install this ROM on your device.
Video:
The following screenshots of this iOS style ROM will be enough to give you a clear idea as to how it looks on the Galaxy Ace S5830.
Requirements:
If you want to install this ROM to your device you must have a rooted Galaxy Ace S5830 on Android Gingerbread 2.3.X. If you have not rooted your phone, do it now. Read our easy guide to Root Samsung Galaxy Ace S5830.
Among the other things you need to do before installing this ROM are:
Charge your device's battery to at least 70% level.
Backup all your contacts, call log, messages and other important data to the external SD Card.
Turn on the USB Debugging Mode on your device. Go to Settings> Applications>> Development>> USB Debugging On.
Note: Though the procedure given here is tested, flashing a custom ROM on your device might prove fatal for your device. Flash it at your own risk. Droidviews shall not be responsible for any damage done to your device.
How to Install iOS 5 Style ROM on Galaxy Ace S5830:
Just follow the simple steps given below to install this iOS style ROM on your device:
Copy the ROM file in zip to the main directory of your device's SD card by connecting it to the computer via USB cable.
Now boot your device into CWM Recovery Mode. There are three methods to do this. If you can see a utility called CWM Manager on your device, open it and select "Reboot into ClockWorkMod Recovery". Another way is to download the ROM Manager app from the Google Play Store and use "Reboot into Recovery" option. You can also boot your device in the Recovery mode by this way: switch off the device, and keep pressed the Home+Power keys simultaneously till the start-up screen with "Samsung Galaxy Ace GT-S5830" logo blinks for two times.
In the Recovery Mode, use Volume, Home and Power keys to navigate between the options and select them.
The first thing you should do is to go to "Backup and restore" option and  backup your current ROM, so that you might come back to it in case anything goes wrong.
When you enter the Recovery Mode, go to "wipe data factory reset" option and select "Yes".
Then to "wipe cache partition" and confirm by selecting "Yes".
Then come back to the main menu and select "install zip from sdcard> choose zip from sdcard". Now browse to the ROM file and select it.
This will start the installation process and will take a few minutes to complete.
When it is done, go back to the main menu again and select "reboot system now".
It might take a few minutes before your device reboots. Just wait patiently.
The iOS 5 Style ROM should now be installed on your Samsung Galaxy Ace GT-S5830. Cheers!!!
How to Install GApps:
The iOS ROM for the Samsung Galaxy Ace is one of those ROMs that do not come with pre-installed Google Apps. So you will have to flash them separately if you want to use Gmail, Google Search, Maps, Navigation, PlayStore, etc on your device. This is how you can download Google Apps on your Galaxy Ace.
Download Gapps-mdpi-20110501-signed.zip (do not extract) and copy it to the root of your device's SD Card.
Boot your device into CWM Recovery mode as described above.
Select "install zip from sdcard> choose zip from sdcard" option and locate the GApps.zip file that you copied in Step 1.
Confirm your choice by selecting "yes". It will be installed on your device in a few seconds.
When it is finished, go back to the main menu and select "reboot system now". Done!
If you have any doubts or problem relating to this post, please drop a comment and feel free to share your experience with us.
Change the  Device Language from Chinese to English:
The ROM supports only Chinese and English languages. The iPhone style ROM for the Galaxy Ace has been made by a group of Chinese developers. So the default language of the ROM is Chinese. However, you can easily change the language to English. The first boot after flashing the ROM will be in Chinese. To switch to English, do this:
Open device settings
You will see an icon called "A.I".
Tap it and select the first option and choose English.
Reboot the device and done!
Recommended Reading