It has been more than a month since the Samsung Galaxy S5 was unveiled. The device can hit the stores near you any moment. However, before you hold the Galaxy S5 in you hands, you can enjoy its wallpapers, ringtones and apps on your  current device. The Galaxy S5 will be featuring a new version of its TouchWiz with many improvements and features.
Alongside many new apps, UI changes and features, the Galaxy S5 also brings a new version of the AccuWeather Clock widget. Well there is nothing special about new apps and widgets on a new smartphone, but if those goodies are ported to work on other devices, it becomes a thing of wider interest.
Albe95 from the XDA forums has successfully ported the Galaxy S5 AccuWeather widget to work on older Galaxy devices like the Galaxy S4 and Galaxy Note 3. The new weather widget has a flat background and a plain look. While the options available under AccuWeather Widget settings are pretty much the same, there is one good option that most of us always longed for. Yes, the new weather app lets you set the lever of transparency for the weather widget.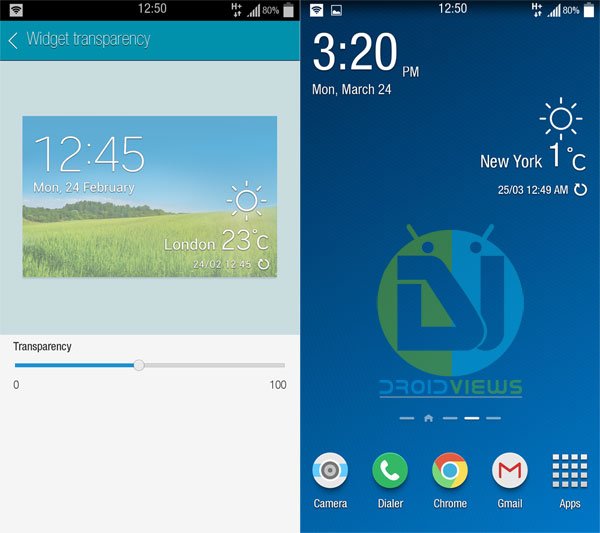 If you own a Galaxy phone or tablet device and have root privileges on it, you can install the Galaxy S5 AccuWeather Widget on your device. We have tested the ported weather widget on the Note 3 and Galaxy S4 successfully. If your phone had HD or Full HD display, try it and it might work too.
Requirements
A rooted Galaxy device.
TouchWiz based Odexed or Deodexed ROM
Galaxy S5 AccuWeather Widget 2014  
Install S5 AccuWeather on All Devices
Flashing the S5 Weather Mod on Samsung Phones
Download the AccuWeather Widget and and Weatherdaemon app from above and copy it  your device.
Install a root file explorer app on your device. We used Root Browser:
Open Root Browser and go to system/app folder.
Look for these 2 files:

AccuweatherPhone2013.apk
AccuweatherPhone2013.odex

Now press and hold both the files one by one and select Rename option.
Then look for the following files:

WeatherWidgetDaemon.apk
WeatherWidgetDaemon.odex

And rename them by adding .bak at the end as shown on the screenshot above.
Now reboot your device.
Open My Files app and install the new APK files.
Reboot your device again.
You can now add the Galaxy S5 AccuWeather Widget on your home screen.
Tap and hold the home screen, select Apps and widgets, tap the Widgets tab and select Weather 4 x 2.
Apply the widget and enjoy!
In case the Galaxy S5 AccuWeather Widget does not work on your device, go to system/app and delete the new APKs that you copied and delete them. Then remove the .bak extension from the old apps. Reboot your device and you'll be back to the original AccuWeather widget.
Galaxy S5 AccuWeather Widget for All Devices
If the Galaxy S5 weather widget from above does not work for you, or if you have a non-Samsung Android device download XWidget app from the Play Store and then download the Galaxy S5 Weather HD widget from the app's online store.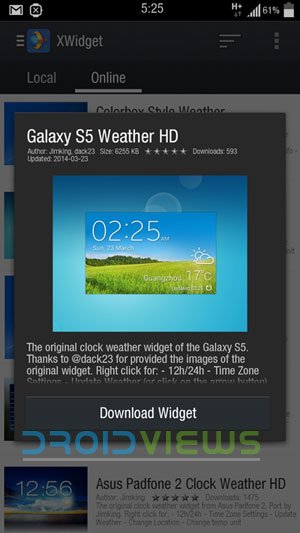 Enjoy the  Galaxy S5 AccuWeather Widget on your Android device and do not forget to share your experience through your comments!