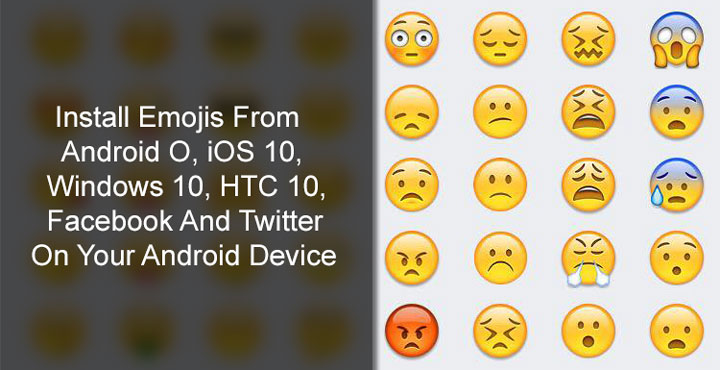 Do you want to change the way emojis look on your phone? Thanks to developer Winb33, you can download and install iOS 10 emojis on Android devices. Besides, you can also choose from the emojis from Android O, Windows 10, iOS 10.3, HTC 10, Facebook and Twitter emojis. Why do you ask?
Well, emojis have changed the way people text, or at least the way many many people. the idea first popped around in Japan and then it became quite popular in the west. Texting today isn't the same without emojis and that's a fact whether you use them or not. They add a flair of emotion to your messages that simple words cannot. Some think they're optional but in many cases, they do become quite necessary.
For instance, there are often times when you text something as a joke, and suddenly realize it could have implications if not seen as a joke so you add a little emoji at the end. For this, emojis have become a must-have feature no matter which operating system or device you use. Lately, emojis have also started making it to the features list of operating system updates thanks to Apple.
Also read: 5 Amazing Android Apps You Won't Find in Google Play Store
It's not just a coincidence that Google is finally taking emojis seriously with Android O. For a long time now, emojis on Android have been … not so standard. The yellow blobs of emotion are fairly likable but they're not so popular on other platforms. Which is why the search giant is bringing new standard emojis to Android with the Android O update. This will replace the goofy ones with more rounded emojis that are commonplace across different platforms. But considering the previous track record of Android updates, there's a good chance that many of you won't get that sweet new Android O update.
Fortunately, you don't have to wait for it, as long as you have a device running Android Nougat. Oh and also, it must be rooted and have a custom recovery, preferably TWRP. Assuming that your device meets those requirements, let's look at how to install new emojis on it.
Screenshots
Downloads Emojis Package
The emoji packages linked below were created by  Winb33 from XDA and are only meant to be used on Android devices running Android Nougat. Their incompatibility with Android Marshmallow and lower versions is a known issue and the developer is working on Marshmallow compatible versions.
Don't miss: How to Install Xposed Framework on Android Nougat
How to install the emojis
First off, download the emoji you want from the links provided above in the download section.
Transfer the zip file to your Android device if not downloaded on it directly.
Now boot your Android device into recovery mode. The button combinations vary with the device so you might have to look it up for your device if you don't know. Assuming you do have a custom recovery installed, that may not be a problem you'll face.
Now that your device is in the recovery mode, you might want to create a NANDroid back up here before flashing anything. In case you wish to go back to the default emojis on your device, the back up can come in handy.
Tap on the Backup button and select the partitions you want to back up. In this case, backing just the system partition should be sufficient. When you're ready, swipe to initiate the backup process.
In case you decide to skip back up, or when the backup process is complete, go back to the TWRP menu and tap on the Install button.
Now browse to the downloaded zip file and select it.
Swipe to flash the zip file and this should install the downloaded emojis on your device.
When done, tap on the Reboot system button at the bottom.
When your device comes back up, your favorite keyboard app(s) should be sporting the new emojis you just installed. Tap the Google search bar or anywhere else where you can type and test out your brand new emojis.
Must read: Add Widgets to Quick Settings on Android Nougat with Quidgets