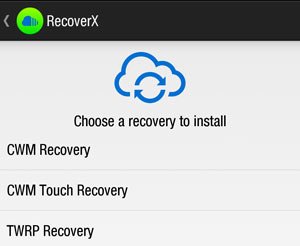 The thing that makes Android most distinct among all operating systems for mobile devices is the great variety of custom development around it. When compared to other closed environments like iOS and Windows Phone, Android epitomizes the sense of freedom. Any Android phone or tablet, in its out-of-the-box state, is pretty much the same as its competitors but what makes it different is the possibility to achieve root access and install a custom recovery like CWM or TWRP on Android devices.
If you have a rooted device with a custom recovery installed on it, you have the key to customize, tweak and enhance its performance. With new easy root toolkits arriving for Android devices, rooting has really become pretty convenient. Today, we shall see how you can install CWM or TWRP recovery on a whole lot of Android devices easily. The RecoverX tool that was available only for Windows PC previously, has now gone mobile.
Warning
If you have been with us for some months, you must not have forgotten that we covered a similar tool called Recovery Tools- Flasher a few months ago. RecoverX is another clean and elegant tool that lets you flash your favorite custom recovery from your device itself. However, to be able to install CWM/TWRP recovery, your device must meet 5 conditions:
Your device comes under the supported list of devices in RecoverX
It must have root access
BusyBox app must be installed on it
It must have an unlocked bootloader (if applicable)
RecoverX supports hundreds of devices from some most popular brands to many less-known ones:
Acer
Advent
Asus
Casio
Commitiva
Dell
Geeksphone
Google
HTC
Huawei
LG
Micromax
Motorola
Nook
Oppo
Pantech
Samsung
Sony
Sony Ericsson
Viewsonic
Wiko
ZTE
Awesome! I really had not even heard of many of the mobile brands listed above.
RecoverX has a very simple and clean user interface and demands just a few screen taps from you. The app searches for available recovery tools for your chosen device model and lets you chose yourself.
You just have to launch the app, select your device brand and device and then select your favorite recovery. RecoverX downloads the recovery image and flashes it within seconds.
The app requires BusyBox to function properly, so download and install it too:
[googleplay url="https://play.google.com/store/apps/details?id=stericson.busybox"]
If you have root access on your Android device and have been looking for an easy way to install CWM/TWRP recovery on it, RecoverX is a marvelous utility. Cheers!