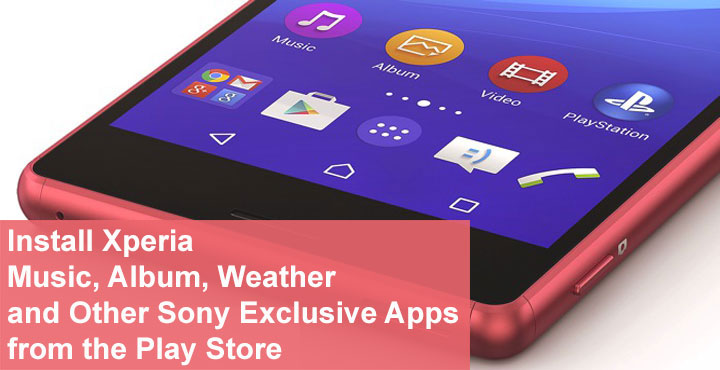 It is no secret that Android is the OS of choice when it comes to smartphones. It is the operating system found on almost all smartphones except Apple's iPhones. Most Android smartphones are running the same Qualcomm or Mediatek chips as the competition, within the same price bracket. It is understandably hard for an OEM to stand out of the pack these days.
As a result, almost every OEM has its own skin that it puts on top of stock Android to make it look unique. Sony also does the same, although their skin is much closer to stock than quite a lot of other OEM skins. Sony makes up for it with a bunch of Xperia exclusive apps. Many of the pre-installed apps on Xperia devices are available on the Google Play Store. While some of them are available for everyone, the core Xperia apps such as Music, Album, etc. are Xperia exclusives.
Also see: List of 70 OK Google Commands for Google Assistant and Google Now
There have previously been many ports of stock Xperia apps to other devices and ROMs, but unlike other OEMs, Sony updates these apps regularly. Previously, they had to use their own update servers to roll out these updates. However, with these apps now available on the Google Play Store, things are easier for both Sony and its users. How nice would it be if somehow you could install these apps right from the Play Store, on your non-Xperia device too?
If you're a fan of the Stock Sony apps but don't want to spend a fortune buying an Xperia, you're in luck. XDA senior member Zenith has developed a flashable zip that can install the necessary library files in the root of your device, thus making it compatible with the Xperia apps on the Play Store. More specifically, these apps include Music, Album, Xperia Keyboard, Calendar and Weather apps. The scripts included in the zip are persistent, so you won't have to flash it every time you update your ROM.
The zip does not contain any stock Xperia apps on its own. Hence you won't be getting any Xperia apps that aren't available in the Play Store.
Requirements
Custom recovery, such as TWRP
Downloads
Xperia™ Keyboard
Xperia™ Calendar
Screenshots
You may also like: Open All File Types on Android with These Apps
Install All Sony Exclusive Apps from Play Store
Download the Sony Apps Enabler 3.0.1 flashable zip from above and transfer it to your device.
Reboot your Android device into recovery mode. The hardware button combinations are different for various devices so you might have to google it for your device if you don't know it.
It is a safe practice to take a full Nandroid Backup of your current ROM before flashing anything, but you can skip this step if you want to.
Select Install in the TWRP recovery.
Browse to the zip file and select it and then swipe right to install it.
Reboot your device.
When your device boots up, go to Settings>Apps.
Scroll down and tap on Play Store and clear all data for the app.
Reboot your device again.
Open Play Store and search for any of the Sony Apps or visit the links above in the download section.
Don't miss: Get Samsung Galaxy S8 Weather Widget and Search Bar on Any Launcher