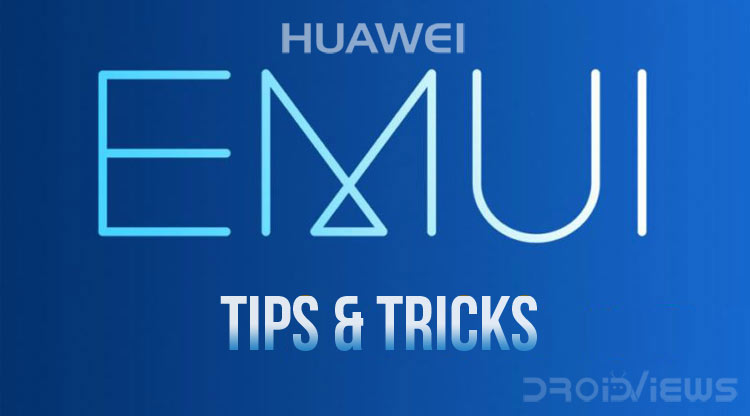 Today we have come up with a set of Huawei EMUI tips and tricks that will help you get the most out of your Huawei device and use it like a pro. Using the tips given below, you can customize EMUI (Emotion UI) for better user experience.
Whenever we buy a new smartphone, we tend to get drowned in the plethora of features it has to offer. Manufacturers try their best to provide a complete and enjoyable user experience by tweaking the settings as they see fit. But since we all like different things and customizability is a major selling point for Android, it's highly unlikely that that combination of settings will suit everyone's needs. The same is true for EMUI, the skin Huawei puts on top of Android on its smartphones. I have tried to find the most useful settings you can tweak to make your smartphone truly yours and to unlock its full potential.
Disclaimer: All mentioned tricks may not be applicable to all Huawei phones as some of the tips may be model-dependent. The following tricks were tested on a Huawei Nova 3i.
See also: Download Honor 10 Themes for Devices Running EMUI
Look and Feel
These tips will help you make your device look the way you want it to.
1. Changing the Homescreen
The most common and impactful way to change the look of your device's home screen is to change the wallpaper. You can do this by following these steps:
Settings> Display> Wallpaper> Set wallpaper
Then you get to choose between different inbuilt wallpapers or you could use one of your images and you even get to choose if you want to change the lock screen wallpaper as well and you can set the device to randomly change the wallpaper every day.
Changing the launcher on your smartphone is the easiest and best way to customize its look. Huawei allows you to change the default launcher by doing the following:
Go to Settings> Apps and notifications> Default apps> Launcher
Now you just need to select the launcher of your choice and you're good to go. I found Nova Launcher and Evie launcher to work the best.
2. Changing the Display Properties
Smartphone displays have reached a point where even the displays on budget devices look really good. The problem is not everyone finds the factory calibration satisfactory. Thankfully, with EMUI you can change how your screen displays colors by altering the color mode and temperature. The color temperature of the screen can be changed on smartphones from many manufacturers. Where EMUI is different is that it allows you not only to choose between warm and cool but also lets you fine-tune it until you find the sweet spot. You can access these settings by doing the following:
Go to Settings> Display> Color mode and temperature
Change the settings as you see fit.
Custom fonts for Huawei devices: Enjoy 50+ Fonts on EMUI 4.0+ Without Root
UI Tweaks
These tips will help you feel more in control of your device by making it function the way you want it to.
1. Enable Gesture Navigation
Bored of the three navigation buttons? Well, worry not cause Huawei has your back. They have included their implementation of gesture navigation for EMUI. You can enable it by going to:
Settings> System> System navigation> Single button navigation
It's a very intuitive way to navigate your phone. You tap the button once to go back, hold it to go home, swipe it either left or right to access recent apps and swipe up to access the Google Assistant.
2. Enable Motion Gestures
Huawei has included certain nifty motion gestures for ease of use. You have the option of taking calls just by raising your phone to your ear, taking a screenshot by swiping the screen with 3 fingers, raise to wake and flip for do not disturb to name a few. You can access these options by following these steps:
Settings> Smart Assistance> Motion control
You can enable the ones you find useful and disable them if you find them annoying.
Must read: Download Firmware for Huawei Devices with Huawei Firmware Finder
Some Other Settings
These are some additional very useful settings for you to experiment with.
PrivateSpace
App locks are pretty common but they are more of a nuisance than they are useful. It basically adds an additional step to accessing your info. This is where PrivateSpace comes in. This is, in my opinion, the most underrated feature of EMUI. It's hardly ever talked about but is very useful. It does what it says. You can basically access another completely different phone on a single device just by unlocking it with a different finger. It is very useful for people who use the same phone for their business and personal tasks. You can enable it by going to:
Settings> Security and privacy> PrivateSpace> Enable
Now you have a separate space in your phone that only you can access that too with the registered fingerprint or pattern.
More about this feature: PrivateSpace: An EMUI Feature You Should Know About
App Twin
If you have more than a single account on Facebook or WhatsApp, then this trick is going to make your life so much easier. What you need to do is:
Go to Settings> Apps and notifications> App twin
and then select the app you want to clone. What it does is that it runs another instance of the same app independent of the other instance. So you can have two functional WhatsApp accounts on a single phone and they'll even have a marking so that you can tell the icons apart.
Try these Huawei EMUI tips and tricks and let us know if they helped you and added to the understanding of your device settings.
Don't miss: Restore Huawei Devices to Stock Firmware