The users of Android naturally fall into three sects. First, there are those who get a new phone, download apps from the Play Store and make the basic use the device without digging into things. For most of these people, "root" and "ROM" are just words of dictionary. Then there are those who, not being satisfied with the performance of their device, turn to rooting, look for a good custom ROM and make themselves happy. Finally, there comes the minority of users whose passion for their device makes them dive deeper and they follow custom development activities as religion.
If you are reading these lines, I am sure you belong to either of the second or third group. Am I wrong? Anyway, you have recently got yourself an all new HTC One and think you are ready to have some play and adventure, it's really time to get high on Android. Squabbi from XDA forums has come with a multi-purpose tool called HTC One Toolkit. It is a feature rich utility for getting you started with unlocking bootloader of your HTC One, rooting it and installing a custom recovery software.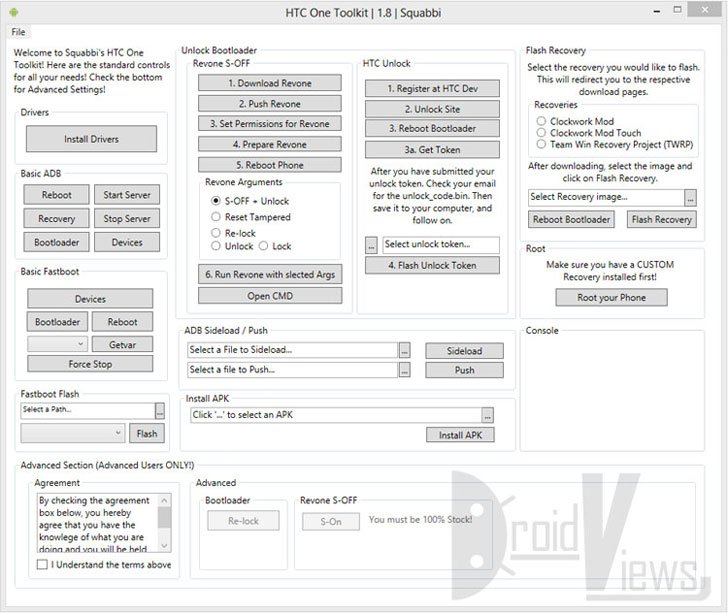 HTC One Toolkit is an extremely user-friendly utility for the users of Windows. It can install the appropriate USB drivers on your computer and do a lot more stuff as well. It helps you with unlocking the phone's bootloader, using HTC Dev or Revone method. What is more, it also lets you change the CID of your device and install your preferred custom recovery like ClockworkMod or TWRP. Besides, the toolkit can also perform tasks like rebooting the device into bootloader mode, launching command prompt directly from the tool's interface, issue ADB commands, installing an Apk file to the phone, etc. The tool also supports sideloading that can prove a lifesaver in critical situations.
So, if you still have a virgin HTC One and are planning to unlock and root your phone the easy and friendly way, grab the tool from the link below and start your journey to the great world of customization.
When you have installed a custom recovery, download the latest SuperUser zip package from here, copy it to the device and flash via CWM or TWRP. Alternatively, you can also use our rooting tutorial.
Also See:
Best Custom ROMs for HTC One