Rooting a normal Android device is pretty easy as all it takes is a little effort and demands an adventurous spirit. However, when it comes to rooting and installing a custom recovery on an Android smartphone from Verizon, things turn tougher. Verizon is considered to be the most ruthless carrier because its devices come with locked bootloaders and are not easy to root. When the Verizon HTC One was released with an unlockable bootloader, it was too pleasant a news to believe.
The HTC Dev bootloader unlock method worked perfectly for some time. Most of us took it as a mistake on Verizon's part and we were not surprised even a bit when the carrier rolled an OTA update to the phone and made its bootloader unlockable and the phone itself, unrootable. Android is a world of possibilities among impossibilities and our great developer community has proved it innumerable times.
If you have the HTC One from Verizon and are looking for some workaround to achieve S-Off and root access on your phone, you finally got a reason to rejoice.  Beaups and Fuses from XDA have released a very convenient solution that not only performs S-Off on your Verizon HTC One but also roots it in a matter of a few mouse clicks. The developer duo's Rumrunner S-Off tool is a one-click utility that pushes unlocked bootloader and Super SU to your HTC One using straight forward steps that do not require any special skill on the part of the user. Rumrunner S-Off exploit is available for both, Windows and Linux.
Warning:
Performing S-Off on your HTC One and rooting it will void its warranty. Also, the procedure described below, though tested, might prove risky. If you decide to follow it, make sure you are not drunk and, in any case, do not blame the developers or us. It's your phone and your decision!
Requirements:
Verizon HTC One with 100% stock firmware. That is to say, your phone must not have a custom or insecure kernel installed on it.
A Windows or Linux computer.
HTC One original USB cable.
A working internet connection on your computer (Windows).
Preparations:
Download  Rumrunner S-Off tool, depending on your computer's OS.
Download and install HTC USB Drivers on your computer (skip this step if you have already done that).
If you have installed HTC Sync, Samsung Kies or any other Android PC Suite, uninstall it.
Turn on USB Debugging on your Verizon HTC One.
Go to Settings> Security> Screen Lock and select "None". In other words, disable all kinds of lockscreen security modes like Pattern, PIN, Facelock or Password.
Go to Settings> Power/Battery and uncheck the "Fastboot" option.
Make sure to use USB 2.0, NOT 3.0, for successful operation.
Turn of any firewall or anti-virus software on your computer.
Root Verizon HTC One
Having made the aforementioned preparations, you can now proceed to root Verizon HTC One and unlock its bootloader. Just follow the simple steps given below.
Extract the Rumrunner .zip/.tar file that you downloaded earlier.
Inside the extracted folder, you will find a file named "soju.exe". Right-click this file and run as administrator. If you are a Linux user, execute "sudo ./soju".
You'll now see a cmd window like shown below:
Connect your phone to the computer via USB and wait for a few seconds.
The tool will ask you if you understand the risks and implications of using it. Type "Yes" and hit the Enter key to confirm.
The exploit will now start performing its magic and your phone will reboot several times during the procedure.
At the completion of things, you will have an HTC One with S-Off and root access.
To verify the root access on your device, you can install the Root Checker app from the Play Store and run it.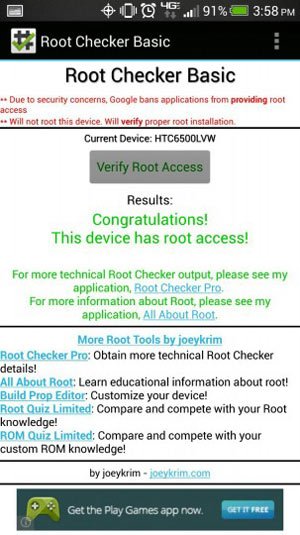 Install CWM/TWRP Recovery on Verizon HTC One:
If you also want to install a custom recovery like ClockworkMod or TWRP Recovery on your Verizon HTC One, please read this tutorial.