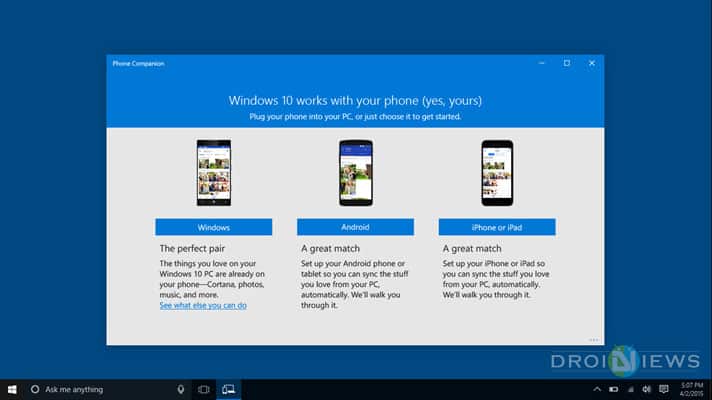 One cannot deny the features of syncing your device with your computer or laptop. Be it for the data transfers or for the settings, sync is always cool and welcome. Windows phone users get the full support from the sync capabilities, given that the OS is built for it, but the same can happen to your Android device, though with the lesser support you can still do basic functionality.
All you need to know is Android independently is not capable to pull off this feat. You need to find and install, Windows Phone Companion app on your PC. Also, make sure that you have a Microsoft live account for it to work. All your information and data, including app privileges and permissions, are to be routed to an account, so make sure you have a live account and app installed. Follow the steps below to connect your android device to your Windows 10 PC.
Steps to Sync Windows 10 PC
Connect your android smartphone to the PC with a USB cable. The PC should detect the device and install USB drivers.
Launch Windows Phone Companion app on PC and select the device platform.
Now select, OneDrive.
Type in your log-in credentials and wait for the prompt and tap, sign-in button
Once you are logged in, you'll get a download link to your email. The link otherwise will take you to the app for download.
Install it, if you haven't or re-launch it and type in the login credentials.
 You just have to go through the app giving basic permissions for it to run at full functionality.
 Now go to the PC, and check the confirmation box that acknowledges the connection on your particular Android device.
Next, confirm the camera upload settings on your handset, and tap the done.
Now you can sync the data from your phone to Windows 10 PC. If you have any queries post them in the comments below.
Read Next: Download Huawei HiSuite for Windows and Mac