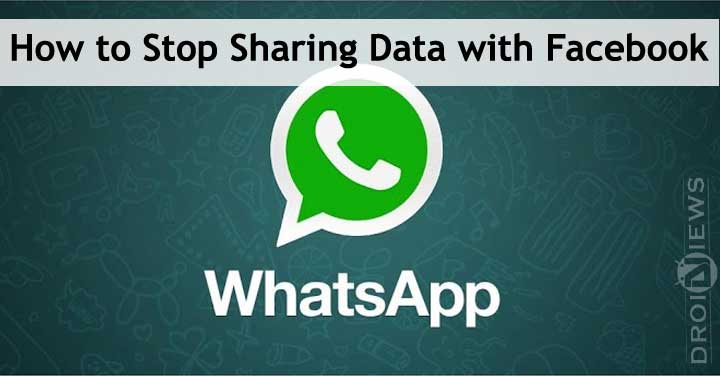 All messenger and chatting apps share your data like contacts, name, email and phone number and WhatsApp is no exception. Today, we'll learn to stop WhatsApp from sharing data with Facebook.
Recently WhatsApp announced that it will start sharing your phone number and other data with its parent company Facebook. This announcement comes along with its new updated terms and conditions, this exchange of data would be used to better combat spam and help WhatsApp learn about the habits of its users. This also paves way for companies to contact you directly through WhatsApp to send relevant data such as flight or delivery status and allow using bots in place of customer support on WhatsApp similar to what Facebook already allows on the Messenger.
Meanwhile, Facebook also benefits with data where it can suggest better friends and show more appropriate ads to you. Although WhatsApp has gone forward with all this, they do state that all chats will keep following the same end-to-end encryption and will be totally hidden from Facebook or any third party advertisement software. All of WhatsApp's new list of terms and conditions can be found on Whatsapp official website.
Can we opt-out?
Since the roll-out is gradual, many of you might have already received to accept the new terms and conditions. Fear not, you do get a 30-day window to go back to that page to retract it. Simply open your WhatsApp app, go to Settings > Account > Share my account info and untick that box. This stops WhatsApp from sharing your phone number and user data, but it may send other data to Facebook. If you use both applications on the same device a lot then it may happen more for you. But don't forget you have only 30 days to opt out, after which you cannot reverse your decision.
But if you haven't received the new terms and conditions then at the bottom of the page you'll find a checkbox which states in short 'Share my WhatsApp account information with Facebook' remember to uncheck that. Once again this just stops sharing of user data, such as your phone number, etc. Targeted ads maybe find their way to you and if you are a part of those few who are completely okay with their data being used then go ahead and leave that box unchecked. The decision is all yours.
We would like to know which side you stand on, do let us know in the comments below about it and why you chose it.
Read Also: 10 Facebook Tips and Tricks on Android