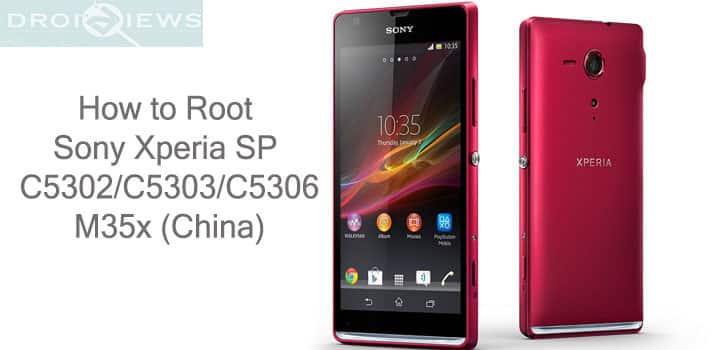 Sony Xperia SP is a pleasant device that comes with some fine specifications. However, Sony seems to have abandoned the software support for this device at KitKat firmware and some of its variants are stuck at Jelly Bean itself. The only option left for Xperia SP users to run the latest available Android software is to flash a custom ROM. There are many Android 5.1.1 Lollipop-based ROMS available for this phone; the most popular being the CyanogenMod 12.1.
Rooting is the first step into flashing a custom package onto your device. So what we have here, is a rooting guide for the Sony Xperia SP C530x. The following tutorial is compatible with many Sony Xperia SP variants and firmware running on KitKat, JellyBean and lower.
Chewlohseng, a senior member at XDA have devised many ways using which you can easily root Xperia SP on most of the device variants and firmware. However, not all of the variants or firmware have not been tested for root procedures given below. Hence, a full backup is essential in something goes wrong.
Warning: Warranty may be void if you root your device. We at DroidViews won't be liable for any damage to your device whatsoever. We won't be held responsible if you brick your device. Reader's discretion is advised.
Prerequisites
This is required if you use the second method to root your Xperia SP
Downloads:
Method 1: Root Sony Xperia SP with Towelroot
Towelroot is the easiest method to root many Android devices. This is a popular method for rooting firmwares running on KitKat, JellyBean or lower. The best part about Towelroot is that it comes as an Android app with .apk extension and all you need to do is tap a button within the app. Moreover, it supports Sony Xperia SP C5303 and has been tested on C5302/C5303/C5306/M35x (China versions of Xperia SP) as well. This root method is compatible with firmware 12.1.A.1.201/205/207.
Download

the latest Towelroot app from the download section by clicking the "λ" symbol.
Transfer the tr.apk file to your device.
Go to Settings and check Unknown Sources option under Settings> Security. You can also enable this option while installing TowelRoot.
Now navigate to tr.apk and install it. If you see security bypass warning from Google while installing the app, select Install anyway.
Now launch Towelroot app and tap the make it ra1n button to root your device.
If the app displays a "Successful" message, that means you have rooted your device. Now that you have rooted your device, wait for a few seconds and verify root using a root checker app.
[googleplay url="https://play.google.com/store/apps/details?id=com.joeykrim.rootcheck"/]
Once you have successfully rooted your Xperia device, all you need to do now is install the SuperSU app from the download section or the Play store and update binaries to grant root access to other apps.
[googleplay url="https://play.google.com/store/apps/details?id=eu.chainfire.supersu"/]
Method 2: Root Sony Xperia SP with Easy RootToolkit
Here is a one-click root tool for the Sony Xperia SP that will root your device in no time. DooMLoRD from XDA has developed a script that will not only root but also install Busybox and SuperSU files on your Xperia SP. This tool works on 12.0.A.1.211 / 12.0.A.1.257 / 12.0.A.1.284 firmware for the C5302/C5303/C5306 variants. It works on firmwares running on Android 4.3 JellyBean or lower. Moreover, it will work on both, locked and unlocked bootloader systems.
Here is a detailed guide on how to use the easy root toolkit:
Download the one-click root toolkit from the download section.
Extract the .zip file on your PC and open the folder.
Make sure you have enabled USB Debugging and also check Unknown Sources options in Settings> Security.
Connect your LG G3 to the computer using USB cable. (Connect one end of the cable to your phone first, and then to the PC)
Now double-click the RUNME.bat file.
When the command window pops up, choose an option and follow the instructions by pressing the number key on your keyboard. You can choose all the 3 options one successively.
Your Xperia SP will reboot into stock recovery mode and perform the operations.
If asked, choose the apply update from ADB option using the volume down key and press the power button to select it.
Once complete, reboot your phone and verify root using the root checker app.
[googleplay url="https://play.google.com/store/apps/details?id=com.joeykrim.rootcheck"/]
In case you have installed a custom Android Lollipop ROM, flash the SuperSU zip file through a custom recovery. Now that you have successfully rooted your phone, you can modify the stock firmware as you like. For more supported variants and firmware for the Sony Xperia SP, get to the developer's page. For queries, comment down below.
Don't Miss: Make Your Android Device Look Amazing with Swift Installer