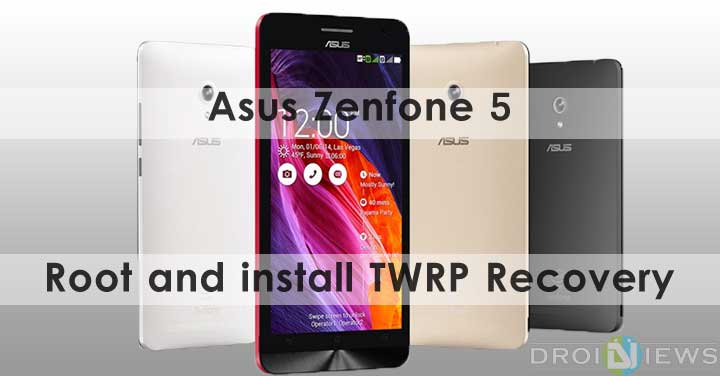 Last year at CES Asus launched the Zenfone 5 and 6, two phones with similar designs, but different screen sizes and a classic hard plastic rubber finish on the body. Flaunting IPS displays on both devices with a resolution of 720 x 1280 pixels and the pixel density which varies from 245ppi (Zenfone 6) to 294 ppi (Zenfone 5).
Both the Zenfone 5 and 6 are powered by a dual-core processor clocked at 2GHz which is based on an Intel Atom Z2580 chipset and they support 2GB of RAM. Also, both have a slot to expand the internal memory up to 64GB, but while the Zenfone 6 has variants of 16 and 32GB, the Zenfone 5 has an added option of 8GB.
Recently Asus rolled out the Android 5.0 Lollipop update for their Zenfone series including the Zenfone 5 & 6. And now we have a guide here how you can install TWRP custom recovery on your Zenfone 5 running on Lollipop thanks to xda member knoneNull.
TWRP is a touch-based recovery environment. Unlike other recovery environments including Android's default stock recovery, which needs to be controlled with the device's volume and power buttons, this recovery environment has a touch-based interface. TWRP even supports themes. TWRP offers ROM installation and backup features the stock recovery environment doesn't.
Once TWRP is installed you will have complete control to freely tweak, modify and play around with different modifications on your device including getting root privileges.
For Zenfone 5
Preparations
Before we begin firstly you need to ensure a few things
Ensure you are using an unlocked Asus Zenfone 5 running Android 5.0 Lollipop only. (This procedure has been known to cause issues with devices running on KitKat).
Make sure you have adb and fastboot setup. If not, refer our guide on setting up ADB and Fastboot on Windows within seconds.
Make sure you at least 80-85% of battery charge.
Ensure you enabled USB debugging on your device.
Make sure that you have backed up all your personal data, apps as all data will be erased!

For Contacts, Calendar and People details use Google Accounts Sync to backup.
For Apps and App Data check out our detailed post here.
Disclaimer: The following procedure is highly risky and there are chances that you may brick your phone if not performed correctly, DroidViews cannot be held responsible if that happens. So the user should tread cautiously and at their own risk.
Downloads
Download these files and place them on your desktop.
TWRP Auto-Installer: Download here
Droidboot Flasher: Download here
Splash screen: Download here
SuperSU: Download here
How to flash TWRP
To install TWRP, connect your device to the PC, and run the auto installer file. After following all onscreen instructions the screen will show a successful completion message.
Note: If you came to lollipop and after using auto installer and your Droiboot changed to the KitKat version, flash The droiboot.img you downloaded above to Droidboot via fastboot commands.
Splash Screen Become White on Kitkat Version?
Flash the splash.bin from the above-downloaded files on Droidboot by typing the following the command below.
fastboot flash splashscreen splash.bin
Once that is done boot into TWRP recovery just like how you would do to enter into Droidboot mode.
How to get Root
Copy the SuperSU.zip file from your PC into the internal memory of your phone. To obtain root access just flash the SuperSU file you downloaded above from the TWRP menu and you will gain root access.
For more information regarding the flashing procedure, do check out the xda thread here
And that's it you have flashed TWRP custom recovery and SuperSU application on your Asus Zenfone 5 running on Android 5.0 Lollipop.
If you have any problems or need any assistance do let us know in the comments section below.