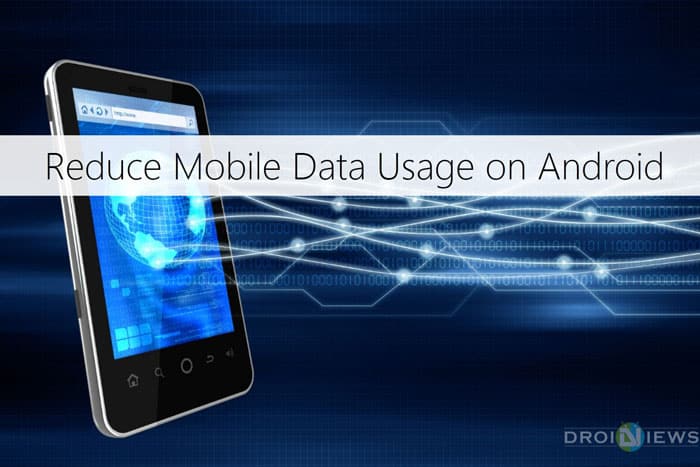 We live in a world where savings are must, whether it comes to saving from the wages or saving mobile data. Many users don't know that saving mobile data is actually possible. All the network carriers from various countries are looting common man with stringy and sticky data plans. Today on DroidViews we present you the ultimate data saving guide. This guide isn't circled off to limited data plans but it also applies to users who opt for unlimited plans.
It's an open secret that no plan is unlimited we are just limited in such plans with the data caps, which are too low in speed that we forget loading a Google page on such capped speeds. Before knowing how to save our data let's just know where our precious data is vanishing? Are we using every byte of our data plan?
The Stolen bytes
Not literally, no one stole it from you but it was consumed without your notice. We use modern OSes and software which are byte-hungry. They post ads, redirect pages and load some alien stuff (cache) on our devices. After all these, there is a hunger king too, the operating system. The OS also consume lots of data in terms of updates, location services, and auto-update apps. Here is our hit list of byte burglars;
Advertisements
The data hungry browsers
Updates and location services
On Android, data management does its job to 'okay' level since the Jellybean update. We can do a lot more savings here. There are many apps on the Google Play store which actually monitor your data usage. Now here monitoring is very different from saving and reducing data usage. As far as my experience goes data monitoring apps consume a lot of juice from your battery and at some point you get irritated and just uninstall them.
Data monitoring apps are not at all recommended because when you do the right saving you get the results in your bill and once you get habituated data monitoring apps sounds useless. If you still concerned, we have that feature available on Android. Although some bytes are lost in the background and they can be neglected if you have a big data plan.
The Blindspot bytes
Blind spot bytes are those which are used at your will but you are not aware of weight and amount of data they carry when you allow this usage, hence they are termed Blind spot in my view. For example, you are playing a game and for coins, you watch a video which seeks with ads. In here you are blind spotted with coins and your data is consumed under your nose.
Although pro users can figure this out beginners are fooled. Few games on Android start loading the stuff without notice and few of them tempt users with their size and later run online which again scores position in blind spot bytes. It doesn't just end here, few apps keep on running background and at an interval, they come up with an ad on the notification panel and this happens because it was you who launched this app a few hours ago.
Now it's time to reveal – data saving mantra.
Ad block
Wise browsing
Limiting the updates
Location services
Firewall
Ad-block
If you wish to save the mobile data the first thing you have to do is manage ads on your device. Many free apps on Play Store are earning on advertisement. Let's block the ads and free ourselves.
Procedure
You must have a rooted device to block Ads.
Download Adaway apk from here and Install on your device.
Launch the App and give it root permission. (This App modifies the host file in your root directory)
Tap on "Download files and Apply Ad Blocking".
It will ask to reboot for the first time. Tap "Yes".
Now you will almost forget ads on your device, especially from free apps. There are some apps which overcame this type of ad blocking but always make sure your update AdAway host file every month.
Wise browsing
There are browsers on Android and sadly they consume heavy data including Google Chrome. Still, you can save data when your stick to Google chrome by enabling Data saver on Chrome. For me, it didn't work well as I wanted high savings when I was limited with a small data plan. My choice for saving mobile data and for blazing speed is UC browser mini which has tiny size and does a better job than any other browsers I have ever used. Browsing with speed mode turned on is just an amazing experience when you're on low data.
It does perform a lot better in downloading too with its speed boost algorithm. In my test Chrome took 30 minutes and UC mini did this job in 17 minutes. Another advantage we have with UC mini is that we can download huge file size of 1GB to external SDcard which is a big deal breaker for me. So go ahead and try UC mini and make sure you download the apk and keep it safely for now. UC mini fluctuated on Play store for some time and it was unavailable for the past few days.
Limiting the updates
By default, auto-updates are done on Wi-Fi networks. But what makes this comes in data saving list is, it does, however, use few of our bytes on mobile data to check the updates and figure out what is the latest version. This is considerable and negligible for a single app but what if it checks for update status for every app on your device?
Here comes noticeable consumption. To avoid even this chance just head over to Google play store Settings > Auto-update apps and check "Do not auto-update apps". Although it's not guaranteed that doing this will prevent update check because the privileges are run by Google by default but this will, however, fetch us some results.
Location services
Location services, when set on High accuracy mode, use mobile data too. Whenever any app requests the location a percent of the data plan is consumed. Hence it is advised to turn of location services which will bring you longer battery life and save your data. If you don't wish to turn it off completely, Device only mode is recommended.
Firewall
This is what makes every app shut in a closet. If you want to control apps and their data usage on your command, Firewall is only the solution. This method doesn't require root permissions. The best app on play store which lives up to expectation is Mobiwol: NoRoot Firewall app. To configure it follow the procedure below;
Procedure
Download the app from here. 
Launch the app and toggle Firewall Status to on and accept the connection request.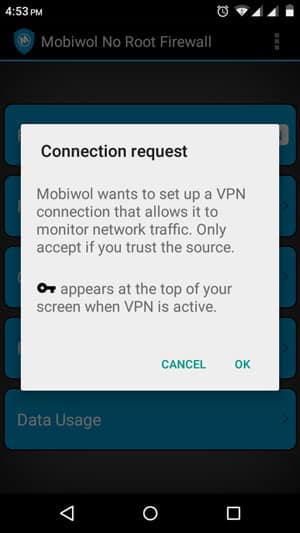 That's' all! Now you can explore the Firewall rules section and decide which app can use your connection. There is also inbuilt Data usage statistics by Mobiwol.
Now you know the mantra to save and reduce mobile data on Android device. Share your experiences in the comments below.
Happy Saving!
Don't Miss: How to Limit Data Usage on Facebook and WhatsApp