The Android 4.1.2 Jelly Bean update or what Samsung calls the "Premium Suite Upgrade" for the Samsung Galaxy S3 blessed this popular phone a host of new features like editable Notification toggles and lockscreen shortcuts, Multi-window and multi-tasking, Music and Video hubs, apps like Page Buddy and Paper Artist, Facebook Lock Ticker, Low Light Shot, Contextual Menu, and many others. Here's how to get the Facebook information ticker enabled on the Galaxy S3.
As you all know, our Samsung Galaxy S3 had the News Ticker feature even when it was released with Android  4.0.4 Ice Cream Sandwich. This cool feature lets us view the latest news headlines from Yahoo News on the lock screen. With the Android 4.1.2 update, Samsung added another cool feature to the lock screen ticker. It is called the Facebook Information Ticker that fetches the latest feeds from your Facebook page and shows them directly on your SGS's lock screen. That's is really cool. Everybody of us would love to have the latest Facebook entries right on the LS.
But before we can enjoy this cool feature on our S3, we will have to configure it. I have heard on a number of forums folks complaining that they have not been able to see the Facebook Ticker on their lock screen on their Galaxy S3 with Android 4.1.2. Here is a question a visitor asked me yesterday: "I updated my S3 with jb 4.1.2 this week but the facebook lock ticker doesn't work. It keeps empty without data, even if I refresh it. Any idea?" Idea??? Yes, I really have and I am going to share it with you all. In fact, it is not a very tricky thing and anyone can easily do this.
Most people thought that just by enabling the Facebook Ticker feature from Settings would begin showing the Facebook feeds. It's just a matter of common sense, that one cannot get one's Facebook info unless he/she is signed in on Facebook account and to do this you need to install the official Facebook for Android app on your phone and sign in. You must also allow your phone to access your Facebook info.
This is how you can configure the Facebook Ticker to show on your lock screen:
Download Facebook for Android:
[googleplay url="https://play.google.com/store/apps/details?id=com.facebook.katana"/]
Copy the "Facebook_2.0.apk" to your phone's SD Card and install it.
Open the app and sign in. Allow access if your phone prompts.
Now open Settings> Lockscreen and turn on the Information Ticker option.
Tap on this option, open "Content Type" and select "Facebook".
Now you will be able to get the latest Facebook information from your Facebook page. Enjoy!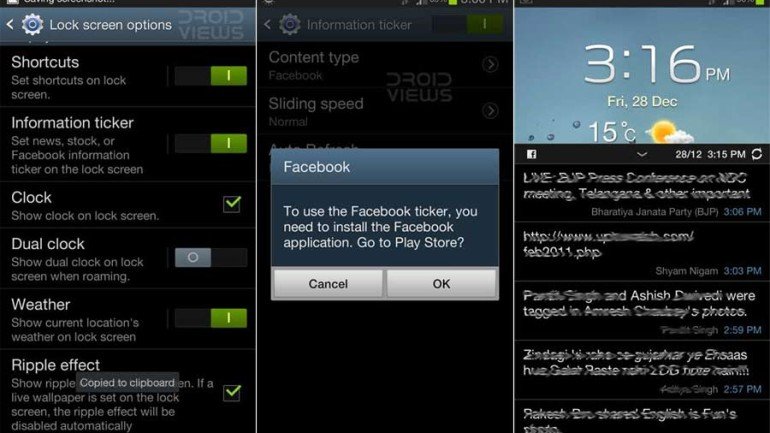 Do share with us how it went for you and if you like this feature!
Learn about more tips and tricks for Samsung Galaxy S3.