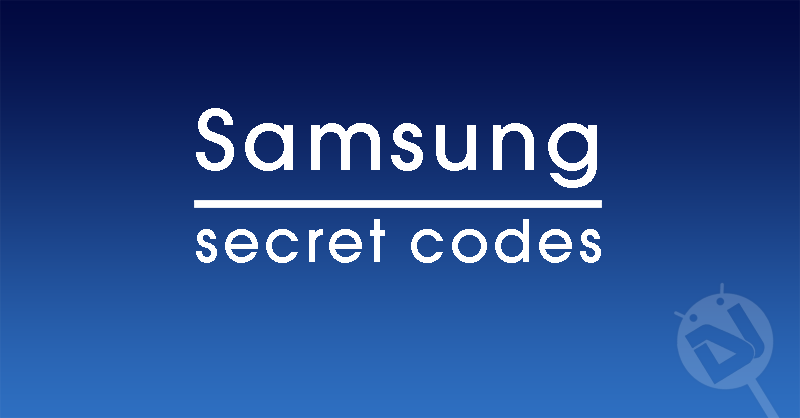 All mobile phones, made by any manufacturer, have some certain set of codes that are used for specific purposes. Most of these codes are not meant for common users, and really they really are of not much importance to most of us. I still remember the good old days with Symbian phones when we used to dial codes like "*#7780#" and "*#0000#" for hard resetting the phone and bringing out phone info. While most of such codes are not for an average or even advanced users, some of them are really important and we should take them down for future use.
Here I will be listing some of the secret codes for the range of Samsung Galaxy devices. Please note that all the codes might not work with all devices. Codes like *#06# and *#1234# are common to all phones, regardless of the manufacturer but some are the device, carrier, and region-specific.
Find Out Manufacturing Date of Samsung Galaxy Devices
The secret codes can be used for several purposes, such getting the info of your device, resetting call counter, manage connectivity and radio, getting battery data, software and hardware version, setting up touchscreen, testing some features, changing CSC codes, and lots more. Here is how you can check the manufacturing date of a Samsung Galaxy device. You can try other options too.
Open your phone's dialer and type the following code: *#197328640#*. In case it does not work for you, try this one: *#*#197328640#*#* . This will open the Service Mode menu on your Galaxy device. Select the option N. 2, that is "Version Info". On the next screen, select 'HW Version" (here HW means hardware). Now you will see another set of options on the next screen. Now tap on "Read CAL Date", and bingo! You can now see the date of manufacture of your phone. In my case, it was August 21, 2012, as you can see in the screenshot above.
There is another way you can know the basic info about your phone through the IMEI (International Mobile Station Equipment Identity) number. Open dialer and type *#06# to get your phone's IMEI number and type in the box at numbering plans. 
Must Read: What's IMEI Number? What Does It Tell About Your Phone?
Other Secret Codes for Samsung Galaxy Devices:
*#0**# -- LCD Screen test

*#06# -- Show IMEI Number

*#2222# -- HW Version

*#1234# -- Phone info/Firmware version

*#34971539# -- Camera Firmware settings

*#9900# -- Sysdump (Logfiles etc.)

*#0228# -- Battery diagnostics

*#7353# -- Function testing

*#9090# -- Service Mode

*#197328640# -- Service Mode Menu

*2767*3855# -- Factory Reset (not tested)

*#32489# -- (Ciphering Info)

*#4238378# -- GCF Configuration

??*#872564# -- USB Logging Control

??*#3214789650# -- LBS Test Mode

*#34971539# -- Camera Firmware Update

*#7412365# -- Camera Firmware Menu

*#301279# -- HSDPA/HSUPA Control Menu

73876766 -- SELLOUT SMS ENABBLE

738767633 -- SELLOUT SMS DISABLE

7387678378 -- SELLOUT SELF SET TEST MODE

7387677763 -- SELLOUT SMS SET PRODUCT MODE

4238378 -- GCF SETTINGS

4387264636 -- SELLOUT SMS MAIN

*#528# -- ?? Wireless Lan Tests 

*#7465625# -- unlock? errors?

*#197328640# – Enabling test mode for service activity

**05***# – Execute from Emergency dial screen to unlock PUK code

??*#07# -- Test History

*#1234# -- View SW Version PDA, CSC, MODEM
*#03# -- NAND Flash S/N

*#80# -- Touchscreen noise test (warning do not press power button)
*#251# -- Wakelock ON
*#250# -- Wakelock OFF
*#350# -- Reboot
*#526# -- WLAN Engineering Mode
*#528# -- WLAN Engineering Mode
*#745# -- RIL Dump Menu
*#746# -- Debug Dump Menu
*#0011# -- ServiceMode

*#0228# -- Battery status
*#0283# -- Audio packet loopback test 
*#0289# -- Audio/speaker test (Melody Test Mode)
*#0514# -- SysDump (System Dumps, logs, etc)

*#0588# -- Proximity Sensor test
*#0589# -- Light Sensor Test Mode
*#0673# -- Audio/speaker test (same as 0289)
*#0782# -- Real Time Clock Test
*#0842# -- Vibration Test
*#1575# -- GPS Control Menu
*#2263# -- RF Band Selection

*#2663# -- Touchscreen FW and version
*#2664# -- HW touchscreen test
*#3264# -- RAM CHECK (Version number)
*#4327# -- HDCP INFO (True/ false)
*#7769# -- PROXIMITY SENSOR TEST
*#7284# -- Phone Utility (USB Settings)
*#7353# -- Self Test (Menu of 12 tests to use)

*#7594# -- Factory mode Enable shutdown on long press
*#8888# -- Service Mode (Read FTA hw version)
*#9900# -- System Dump Mode
*#9999# -- SW Versions (AP, CP, CSC, FTA SW)
*#22235# -- ACCELEROMETER SENSOR INFO
*#86824# -- TOUCH KEY SENSITIVITY
*#5238973# -- LCD TYPE
*#232331# -- BT test
*#232337# -- BT address
*#232338# -- WLAN MAC address & PS mode
*#232339# -- WLAN Engineering Mode test (TX & RX modes) (same 526)
*#272886# -- Auto Answer Selection
*#3214789# -- GCF Mode Status
*#8736364# -- OTA Update Menu
*#7412365# -- Camera Firmware Standard (Front/Rear Cam FW)
*#7465625# -- Personalization (Lock Status settings)
*#22558463# -- Reset Total Call Time
*#12580*369# -- Main Version (AP, CP, CSC, RF cal, HW Rev) (similar to 9999)
*#197328640# -- Service Mode
*#3282*727336*# -- System and Storage Information (Data Usage Status)
*#273283*255*3282*# -- Adjust/Fill Message, Contact, Call Log, etc Limits
*#273283*255*663282*# -- Data Create SD Card
*#7328735824# -- LOT ID

Done with this? Also have a look here-