If there was any doubt to what we were being fed over the past couple of months regarding the various leaks about the 2 new Nexus devices to be launched, it was all smashed true by Google at the unveiling event today. After showcasing the flagship Nexus 6P, Google took to the stage to announce their continuity with LG to design and manufacture yet another Nexus, which will serve as the successor to the hit Nexus 5, the Nexus 5X.
LG's 2013 Nexus 5 was a favorite amongst many Android fans, as the device offered up some really great specifications for an affordable price. This year's Nexus 5X is a continuation of the 2013 model, but with some big improvements, we think many of you will enjoy. So without any further ado, let's take a look at the newly-announced Nexus 5X.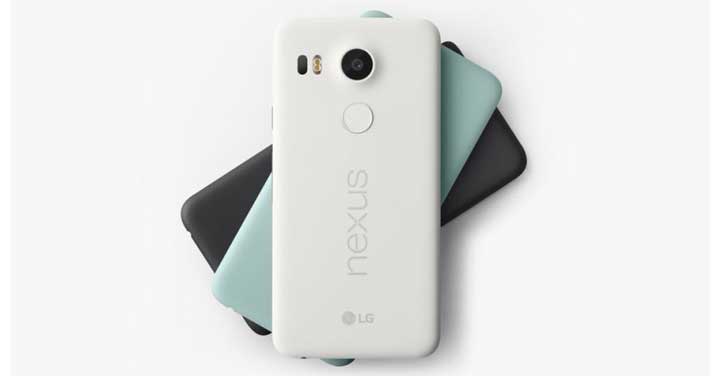 The Nexus 5X features a 5.2-inch Full HD LCD display with Gorilla Glass 3. Google's decision to drop a Quad HD panel shouldn't come as a surprise, as this device was likely made to keep the costs down and improve affordability. The 1080p panel will also be much less power hungry than other higher resolution displays, helping the 2700mAh battery last a bit longer. In hopes that all of the new battery-saving features in Android 6.0 Marshmallow will make up for it, Google didn't include wireless charging in either of the two new Nexus devices. This was a handy feature present in the Nexus line ever since the Nexus 4, and will surely be missed by many fans of the charging method.
Under the hood, the 5X carries a 2.0GHz Qualcomm Snapdragon 808 processor backed by 2GB of LPDDR3 RAM, which should be plenty powerful enough for gaming, surfing the web and performing other everyday tasks without a hitch. This device also comes with either 16 or 32GB of onboard storage. If you need more than that you'll have to rely on the cloud, as the 5X doesn't come with a microSD card slot for expandable storage.
It will ship with the latest version of Android, Marshmallow 6.0 and includes Google's new Sensor Hub chip inside that keeps notifications and fitness stats up-to-date at all times without drawing a ton of power. It also has the new USB Type-C port for fast charging and syncing, while the fingerprint sensor on the back can instantly and securely provide access to the phone with Nexus Imprint.
It houses the same 12.3MP rear-facing camera with an f/2.0 aperture as the 6P, but is equipped with a  5MP front-facing camera with f/2.2 aperture. Both the previous generation Nexus 5 and Nexus 6 featured optical image stabilization (OIS), but unfortunately, the Nexus 5X does not. We aren't entirely sure why Google chose to leave this helpful feature out of the camera. Nexus phones have always struggled in the camera department, and we're really hoping the 5X won't suffer the same fate.
Unlike most Nexus devices in the past, you won't be able to walk into your local carrier store and pick up LG's newest Nexus device. The Nexus 5X (along with the Nexus 6P), will be available for pre-order starting today through the Google Store and a handful of other online retailers in the U.S., U.K., Japan, and Ireland. The 16GB model will start at $379.99 for the 16GB edition and $429.99 for the 32GB edition
Google also included that all Nexus pre-orders in the U.S. will come with a $50 Google Play credit. Google is also launching a protection plan called Nexus Protect, which offers users two full years of coverage if your phone happens to break down. You'll be able to file a claim 24/7, and you can get your new device as early as the next business day. Nexus Protect will cost $69 for the 5X, and $89 for the 6P, and is launching in the U.S. today. However, if you are planning to get this phone, here are 5 things you must know before you purchase the Nexus 5.